By Marie Daghlian
Federal Reserve Chairman Ben Bernanke has assured investors that the economy is on the verge of recovery, ending an otherwise quiet week on a high note. But life sciences dealmaking took a breather as many people seem to be sneaking in vacation time before the end of summer. Several companies announced significant venture capital financings, however, and public PIPES continued at a steady clip.
The crack in the life sciences IPO window last week allowed another company to go public. This time it was for an Israeli biotech company, D-Pharm, which debuted on the Tel Aviv Stock Exchange under the ticker DPRM. The company raised $7.6 million in an oversubscribed offering. The offering price of approximately $4.50 per share was higher than D-Pharm's original minimum goal, but still considered a bargain considering the company's pre IPO valuation of about $32 million.
D-Pharm also raised $15.4 million in a rights offering at the same time and at the same terms. The Rehovot, Israel-based clinical-stage company will use most of the proceeds to fund a late-stage clinical trial of its lead drug DP-b99 in moderate to severe ischemic stroke for which the only currently approved drug is tissue-plasminogen activator (t-PA), marketed by Genentech as Activase.
Adamas Pharmaceuticals closed a $40 million Series D round of funding led by Aeris capital and DAG Ventures, with participation from earlier investors Mohr Davidow Ventures and Northgate Capital. George Rehm, managing partner of Aeris and David Mahoney, a private equity investor, were elected to the company's board of directors.
Emeryville, California-based Adamas is developing small molecule drugs to treat neurological and infectious diseases, including influenza A, the cause of the current flu pandemic. The company's approach to pharmaceutical development is to identify and match proven drug mechanisms that can be developed as optimized combination drug therapies that can optimize the standard of care. Adamas also has operations in Bangalore, India.
Proceeds from the financing will be used to fund clinical studies of its therapy in patients infected with influenza who are at risk of serious outcomes, as well as advance their neurology programs.
Synthetic biology company Amyris Biotechnologies, also based in Emeryville, said that it had raised $24.7 million of a potential $62 million Series C financing in order to achieve the aim of launching its renewable fuels and chemicals business in 2011.
Oncology company Poniard Pharmaceuticals (NASDAQ:PARD) secured a committed equity financing facility under which it may sell up to $60 million of its registered common stock to Azimuth Opportunity over an 18 month period. Poniard can decide when and if it needs to access the money and is free to enter into other equity and debt financing transactions. The company intends to use proceeds from any future sales of securities under the agreement to advance clinical development of picoplatin, its late-stage differentiated platinum-based chemotherapy agent, and to strengthen its position in negotiations with potential global partners for the compound.
AVI Biopharma (AVII) took the secondary route and expects to reap $30 million from a public offering of 21 million shares priced at $1.42 per share, well below its closing price of $1.78 the previous day. Shares dropped 25 percent on the announcement. The developer of RNA-based therapeutics has burned through $250 million since its founding in 1980 without gaining FDA approval for a drug candidate. Recently appointed CEO Les Hudson is looking to change the company's fortunes through creative ways of raising capital and moving the company's headquarters from Portland, Oregon to Bothell, Washington to access stronger talent.
Though Europeans have a reputation for closing up shop in August, they were involved in most of the week's sparse deal activity. Denmark's NeuroSearch entered into a drug discovery and development alliance with J&J's (NYSE:JNJ) Janssen Pharmaceutica focusing on the development of new central nervous system medicines based on joint expertise in neuroscience discovery. NeuroSearch is guaranteed income and funding of $46 million in the first three years, including an upfront equity investment of $21.5 million.
NeuroSearch will be responsible for drug discovery and early development and Janssen will have the option to exercise license rights to individual compounds arising from the alliance with NeuroSearch eligible to receive milestones and royalties for each compound successfully commercialized under the alliance.
Germany's agricultural powerhouse Bayer CropScience acquired North Carolina privately-held Athenix in a deal that will strengthen its efforts to produce genetically modified crops that are more herbicide tolerant and pest resistant. The founders of Athenix helped creat the first genetically modified corn in 1995. Durham-based Intersouth Partners, Huntventures, Polaris Ventures and Boston Millennia Partners are among the investors in Athenix.
Bayer also signed a technological alliance and license agreement with Chromatin to use Chromatin's proprietary mini-chromosome technology for crop improvement. Chromatin has developed a novel approach to gene stacking, using plant DNA to deliver several genes on a single chromosome.
Under the agreement, Bayer CropScience obtained non-exclusive rights to use Chromatin's technology to introduce Bayer's high-value trait genes into cotton. The company also obtained options to expand this program to other crops.
In another deal of note, Pfizer (NYSE:PFE) said it will collaborate with Private Access to develop an online community aimed at increasing clinical trial awareness and participation. The site will be the first to focus on patient privacy rights to connect patients, physicians and researchers with tailored information, tools and technology that will lead to more informed decisions about patient care, including clinical trial participation industry-wide.
The companies will work together to bring a wide range of partners to the online community, including additional clinical trial sponsors, patient advocacy groups, technology providers, and other key public and private stakeholders. The portal, which will encourage social networking on the clinical trial experience, will be rolled out in phases, starting in late 2009.
And in a deal seemed to take forever to finalize, MediciNova (NASDAQ:MNOV) will buy Avigen (AVGN) for $1.24 per share in either cash or secured convertible notes. The offer represents a 7 percent discount to Avigen's closing price just prior to the announcement. The deal, valued at $37 million was reached in principal in June. Avigen's shares collapsed after its lead drug candidate failed a mid-stage trial last October. The company received its first offer from MediciNova in December. The deal is expected to close in the fourth quarter.
Finally, there is some good news that supports a claim that the economy is on the verge of recovery. British biopharmaceutical company Shire (SHPGY) announced that it plans to invest $460 million over eight years to support and expand the company's Lexington, Massachusetts operations.
Shire plans to hire 750 full-time employees to expand their Human Genetic Therapies business unit. The unit was formerly Transkaryotic Therapies before being acquired by Shire in 2005.
click image to enlarge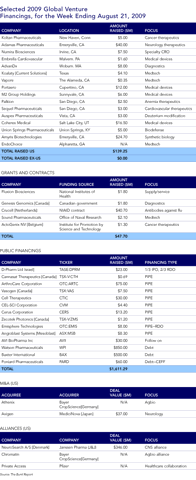 Click to enlarge