By Sumit Roy
Most commodities sold off this week, but gold and silver managed to keep their win streak alive for a third-straight week. Stocks, as measured by the S&P 500, dipped almost half a percentage point from their record highs but are still up 18% year to date.
Macroeconomic Highlights
The data this week indicated that the slowdown in China continues, while the eurozone may be turning the corner. HSBC reported that its flash manufacturing PMI for China fell to 47.7 in July, an 11-month low. At the same time, Markit said that its eurozone manufacturing PMI rose from 48.8 to 50.1, an 11-month high and the first time in two years that the gauge is above the 50 level that separates contraction from expansion.
In the U.S., data showed that the boom in housing remains ongoing, though it may be slowing somewhat as mortgage rates spike. Existing-home sales fell 1.2% in June to an annual rate of 5.08 million from May's downwardly revised 5.14 million homes. However, existing-home sales were still 15.2% higher than last June. Meanwhile, new-home sales rose by 8.3% to 497K units annualized in June, the highest level in five years.
Commodity Wrap
| | | |
| --- | --- | --- |
| Commodity | Weekly Return | YTD Return |
| Gold | 1.94% | -21.14% |
| Silver | 1.54% | -34.73% |
| Platinum | -0.46% | -7.53% |
| Brent | -1.07% | -3.78% |
| Copper | -1.27% | -14.79% |
| Wheat | -1.95% | -16.20% |
| Palladium | -3.09% | 2.74% |
| WTI | -3.19% | 13.92% |
| Natural Gas | -5.54% | 6.87% |
| Corn | -9.01% | -29.08% |
| Soybeans | -9.73% | -5.14% |
Gold struggled toward the end of the week, but put in solid performance for the period as a whole. Prices sliced through the $1,300 mark and even reached the mid-$1,300s at one point. Now they seem to be consolidating near the April-May support area near $1,320. As we've written in the past, if this area can be broken, prices can move to $1,400. But we see that as the line in the sand for this short-term rally. With prices eventually poised to retest the current cycle low at $1,180, the risk/reward on the long side isn't very compelling (see "Using 1980 As A Benchmark, Gold's Recovery Won't Get Far Past $1,400").
Gold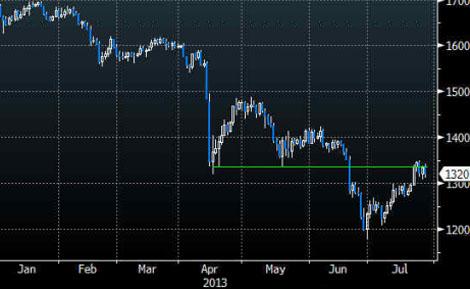 Silver



Platinum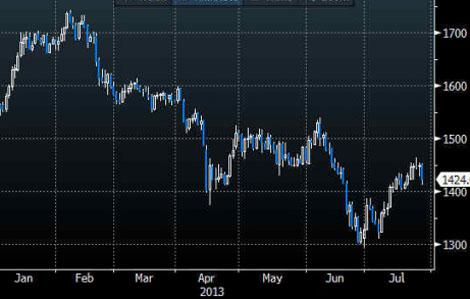 Palladium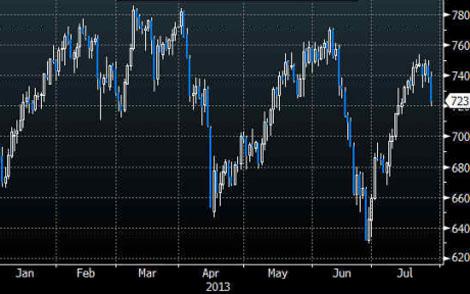 After several weeks of strong gains, crude oil finally retreated this week. Fundamentally, the oil market is unsettled right now. Supply growth is strong and we don't see that changing (see "Historic U.S. Oil Production Boom Continues; Cushing Supplies Sink; Demand Key Going Forward"). The question is whether demand -- particularly in the U.S. -- has accelerated recently, as the data over the past four weeks indicates. If the spike in demand proves transitory, robust supply should push prices back down toward $100 or lower. Outside the U.S., with China slowing, the bias for demand growth is lower.
Brent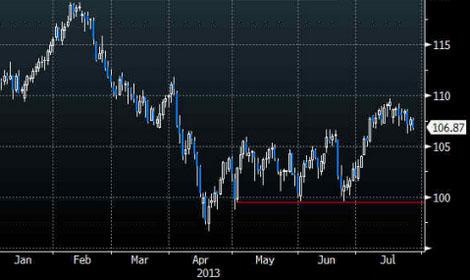 WTI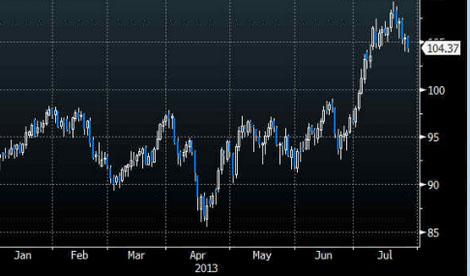 Grains plunged to multimonth lows, led by corn, which fell under $5 for the first time in two and a half years. With the hottest part of the summer over, the risk that weather will wreak havoc on supplies as it did last year has diminished. In turn, the forecasts for a record harvest this fall are looking more likely to come to fruition. We see the potential for much more downside, with no significant technical support until the $3/bushel level for corn.
Corn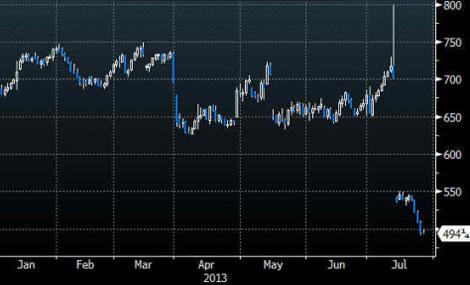 Soybeans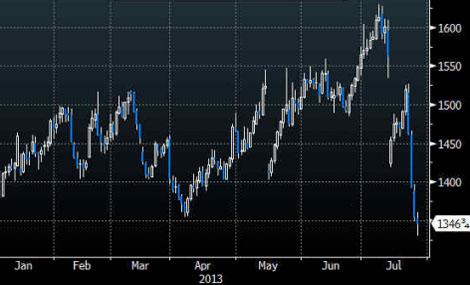 Wheat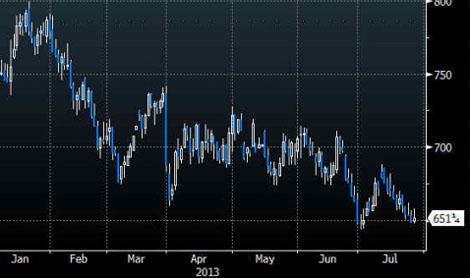 Copper dropped on China concerns and may retest the $3/lb support level in the coming weeks.

Copper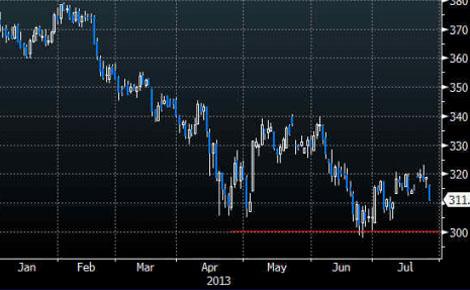 Natural gas plummeted this week despite another bullish inventory report on Thursday. Demand will fall substantially in the coming weeks as temperatures cool seasonally. Expect one last leg lower to the low $3s over the next month before prices bottom out ahead of winter (see "Bullish Inventory Report Can't Lift NatGas Prices As Traders Eye Cooler Temps").

Natural Gas