Sometimes I like to scan for stocks by simply flipping through stock charts. I can tell a fair amount by what the stock price has been doing over the past few months, noticing shapes formed by buying and selling pressures. Really great chartists (of which I am not one) are very good at spotting recurrent patterns that indicate a certain type of investor behavior. The pattern doesn't tell all of the details, but you can see things like steady buying or sharp drops and rises -- and those things tell you about investor sentiment. So when I came across a chart of Darden Restaurants (NYSE:DRI), I clearly saw the common bearish head-and-shoulders pattern. If for no other reason than chartists will start selling because of this pattern, you could expect some weakness in the stock. But let's look under the hood and find out what is going on with the business.
Darden, the owner of Red Lobster and Olive Garden, thrived in the 1990s and early 2000s, with more than 600 Red Lobster restaurants, 700 Olive Gardens, and hundreds of its other chain restaurants. The stock price has increased about 600% since going public in the mid-1990s. But recently, the U.S. economy has negatively affected its business. The 2008 financial crisis has forced cost-conscious consumers to tighten their belts when it comes to casual dining. This isn't specific to Darden as other, higher-priced restaurant chains like DineEquity (NYSE:DIN) have experienced similar sales slumps. There seems to be a $10 price threshold that is hurting these companies' weekday sales.
More and more, consumers have shifted to the sub-$10 offerings by restaurants like Chipotle (NYSE:CMG), Panera (NASDAQ:PNRA), and Buffalo Wild Wings (NASDAQ:BWLD). That's where customers can find the middle ground between traditional fast food places like McDonald's (NYSE:MCD) and the higher-priced chains like Darden's restaurants. This has resulted in declining sales, and the slump is likely to run into at least next year. Management told analysts that it expected EPS to decline 3%-5% next year. That is in addition to expectations of declines the rest of this year.
The company has come up with multiple ideas to combat this sales slump, although it will take time to implement the ideas. And even then it is unclear if they will work. The company has added new lunchtime deals to attract back some of the business they have lost to Chipotle, Panera, etc. They are offering deals in a format similar to Groupon (NASDAQ:GRPN), with daily offers for people who have signed up for their emails. These lunchtime deals are designed to promote a lunchtime deal early in the day to attract the customers. They also have tested serving smaller items in a "Tastes of Italy" program, so that instead of trying to get a customer to pay $14 for a large meal they can get smaller portions for under $5. Additionally, a family-style program for weeknights offers package meals, where a family of four can eat for under $30.
All of these ideas may lead to attracting cost-conscious consumers and subsequently providing better sales results, but they are certain to take awhile to implement these steps efficiently. Additionally, there are a variety of other costs that could disrupt Darden's business plan, like food cost increases, and healthcare costs (Obamacare) resulting from its larger staff. Only time will tell, and anytime when results are not showing up is a time when investors may lose faith and sell the stock. That is a major reason I expect more downside.
Current Valuation
The company sports a forward P/E of 14.57, reflecting a seemingly fair valuation compared to the earnings expected next year. And the whole restaurant space has high PEG ratios, perhaps reflecting expectations for slow economic growth and minimal increases in casual dining. So Darden's high PEG isn't necessarily horrible news.
But Darden is not as efficient as the more nimble Chipotle and Panera, and has a pretty anemic return on investment. Darden also has a sizable long term debt-to-equity ratio of 1.24, when compared to the stars in the space -- Chipotle, Buffalo Wild Wings, and Panera -- which have almost no long-term debt.
Regardless of these valuation metrics, it all comes down to earnings growth. Compared to its competitors, the company has lagged the past five years, and they are projected to lag in the next five years. As an example, Chipotle grew at 32% the past five years and is projected to grow at 20% per year for the next five years. Darden grew the past five years at only 4% and is expected to grow 6% per year over the next five years. This is due to the menu price disadvantages, the time people spend on lunches nowadays, the higher staff costs, and the room for restaurant growth.
Until EPS growth changes, Darden's stock price will continue to underperform in the restaurant space.
Charts
Here are the charts that caught my attention. In the top one you can see that DRI has formed a head-and-shoulders pattern. All labels aside, this pattern shows two things: a major level of support and a failed attempt to regain price highs. Once the price breaks the neckline -- i.e., the major level of support -- you can argue that the momentum has clearly shifted to the sellers. Then you can expect the selling to generally accelerate.
Click to enlarge images.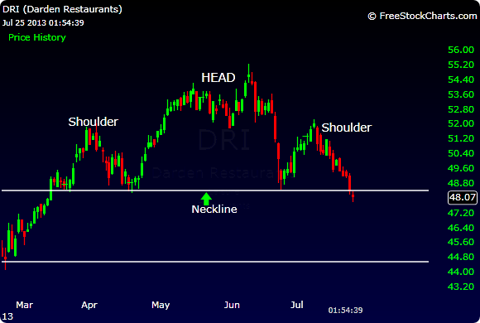 The extent of the downside is frequently cited as the same as the distance from the neckline to top. In this case, that is from about $48 to $55, or $7. So that would mean that you may expect a downside target of $41. In the second chart I marked an initial price target, where there was recent support at about $44.50. The price may bounce off of that, but I expect that to ultimately break and the price to head toward $41. Incidentally, $41 is also multi-month low from 2011.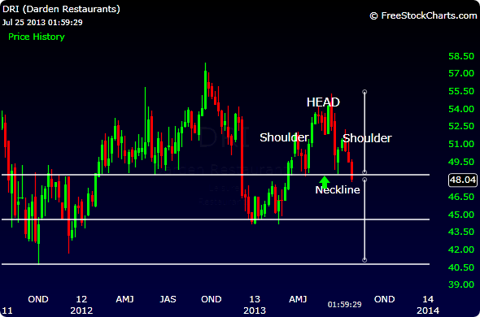 The Play
If I owned Darden and believed in their new business plan to reach cost-conscious customers, I would probably sell covered calls against my current stock position. This would at least bring in some income while you wait for changes to take effect.
If I owned Darden, but was unsure about their strategy or the economic climate for their business, I might sell covered calls and use that income to buy downside protection in the form of puts -- forming a collar. This offers more protection than simply selling calls.
If I were a skeptical investor, I would steer clear of the company for now. And if I were a skeptical speculator I would buy a back-month put spread -- maybe an October $49/$45 for $1.60 ($160).

Disclosure: I have no positions in any stocks mentioned, and no plans to initiate any positions within the next 72 hours. I wrote this article myself, and it expresses my own opinions. I am not receiving compensation for it (other than from Seeking Alpha). I have no business relationship with any company whose stock is mentioned in this article.
Disclaimer: We do not know your personal financial situation, so the information contained in this article represents an opinion, and should not be construed as personalized investment advice. Past performance is no guarantee of future results. Do your own research on individual issues.