The Dollar Reversal

In the first article of this three part series, I mentioned a bearish divergence forming within crude prices. The article depicted a chart displaying bearish divergence between crude prices, the MACD, and RSI.
In support of my bearish stance and reversal prediction, I need to address two other major influences that impact crude prices.
We can almost always say that there is a strong correlation between the US Dollar and the price of crude. Commodities such as crude and gold are considered valid hedges against any dollar weakness. As the US dollar appreciates, commodities priced in USD rise and vis-versa.
Therefore, there is an inverse correlation between oil and the USD.
Recently the dollar has been under pressure, thus, helping drive crude prices higher. To support my bearish stance on crude, the dollar should show a sign approaching a short-midterm bottom.
After analyzing the US Dollar Index, a bullish divergence has formed between the USD Index and the RSI.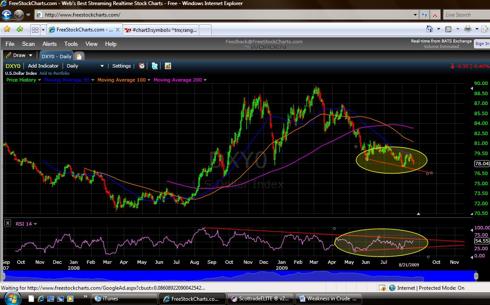 Click to enlarge
In the chart above, I have identified trendline resistance and support levels which support the formation of a bullish divergence in the USD. If the divergence above proves to be valid, the US Dollar Index could trend as high as 82.5, sending the crude prices to $60-$65, and the USO could retrace to $34-$35 range by the end of the month.
Disclosure: At time written, author did not own any securities of USO, but looking to accumulate option puts in the near future. Author is looking to buy the USD and sell the CAD.