Amazon.com's (NASDAQ:AMZN) last three earnings cycles were quite challenging for the AMZN post-earnings trade. As a reminder, the AMZN post-earnings strategy is simply to buy the post-earnings open and hold for up to two calendar weeks. The trade ends if during the 2-week period, AMZN closes below the low of the day after earnings. There is an additional option to go short after that (no pre-defined exit criteria).
In October 2012, AMZN zipped upward 4.2% from the open, but it failed to trade higher over the next two weeks. The stock even closed below the low from the day following earnings. It traded lower for another week, but smartly bounced off support at the 200-day moving average (DMA). So, both the long and the short trades had to be exited quickly. In January and April of this year, AMZN faded smartly from the open and continued selling off. In both cases, the long trade stopped out quickly, but the short trades again lasted for short time periods. In April, AMZN again bounced off 200DMA support after post-earnings selling.
April's post earnings retest of support turned into a critical turning point for AMZN. In another two months, the stock broke out to fresh all-time highs and went nearly parabolic for over a week. The stock cooled off a bit just in time for earnings as mild selling returned.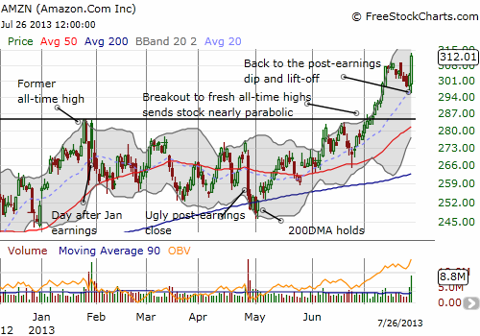 AMZN stubbornly pushes into fresh all-time high territory
The brief post-earnings hesitation was understandable given AMZN delivered mixed results yet again.
AMZN turned out another quarter of amazing sales growth:
"Net sales increased 22% to $15.70 billion in the second quarter, compared with $12.83 billion in second quarter 2012. Excluding the $392 million unfavorable impact from year-over-year changes in foreign exchange rates throughout the quarter, net sales grew 25% compared with second quarter 2012."
Yet, once again, it was profitless growth:
"Operating income decreased 26% to $79 million in the second quarter, compared with $107 million in second quarter 2012. The unfavorable impact from year-over-year changes in foreign exchange rates throughout the quarter on operating income was $18 million.

Net loss was $7 million in the second quarter, or $0.02 per diluted share, compared with net income of $7 million, or $0.01 per diluted share, in second quarter 2012."
Analyst consensus expectations were for $.05 EPS, still a pittance compared to AMZN's massive revenue. Q3 guidance was in-line yet delivers more profitless sales growth:
"Net sales are expected to be between $15.45 billion and $17.15 billion, or to grow between 12% and 24% compared with third quarter 2012. Operating loss is expected to be between $440 million and $65 million, compared to $28 million in third quarter 2012."
These results prompted headlines bemoaning the losses. For example, Marketwatch pondered whether investors would finally start bailing on AMZN given its extraordinarily high valuation: "Amazon investors may start to get fed up. Commentary: Why is this stock trading at such a high multiple?" It was a short summary that hinged on one analyst quote:
"Colin Gillis, an analyst with BGC Financial, talked about Amazon's razor thin profit margins in a recent note, in which he wrote, 'The clock is ticking for Amazon to show that it can sell its goods and services while making a profit that might start to justify its $136 billion market capitalization.'"
Apparently, the clock is not close to finished. After opening down 1.3% and trading down another few points lower, AMZN shot up with just a few hiccups to close at $312.01. This was a 2.8% gain on the day and a brand new all-time high. The first chart above summarizes the daily action this year. The second chart below zooms in on the intraday action in 10-minute intervals.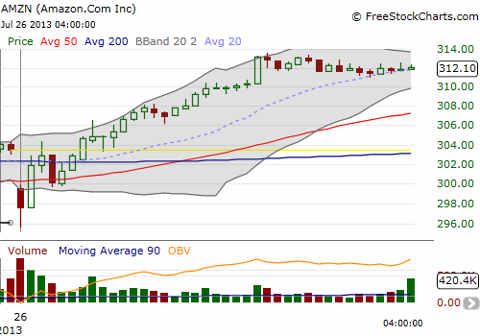 After a volatile start, AMZN short upward on the day
Source of charts: FreeStockCharts.com
The lesson I thought I had learned from the last two earnings cycles was to be patient at the open and go for a lower price on call options. This method worked well this round as the stock dropped quickly at the open and implied volatility began its expected implosion. I almost chose call options expiring the same day but thought better of such hubris. Instead, I chose call options at the $310 strike price expiring in two weeks. This looked a very reasonable target for a bullish stock and consistent with the two-week rule for the trading strategy. The strong intraday performance quickly doubled the value of the options. I held on for an additional 50% before exiting far ahead of schedule (a common rule for options is to exit whenever you get a double very quickly - the assumption is that quick gains can and will be lost just as quickly). The options earned as much as a 288% gain before settling in with a 250% gain.
This one-day post-earnings run is more like the typical behavior I have come to expect from AMZN. The trading strategy built around this behavior has a core, underlying assumption that AMZN is not worth holding because its sky-high valuation is going to end badly with some kind of massive sell-off or collapse. This limited post-earnings strategy avoids the bulk of such risk, especially by using options. Given the stock continues printing fresh all-time highs, this strategy - using shares, not options - still underperforms a simple buy and hold strategy (or especially a buy on the dips and hold strategy). However, given I still cannot make sense of AMZN's stratospheric valuation (now at 101 forward P/E, 2.2 price/sales, and 16.4 price/book), I am fine with this theoretical underperformance!
(For those interested in the numbers, you can review the historical statistics on the AMZN post-earnings trade by reviewing my Google spreadsheet I use for sharing the numbers. Previous articles on the AMZN post-earnings trade are "The Amazon.com Post-Earnings Trade Quickly Turns Bearish" covering January earnings; and "T2108 Update (April 30, 2013): Almost Overbought (includes chart reviews for Apple and Amazon)" covering the April earnings).
Be careful out there!
Disclosure: I have no positions in any stocks mentioned, and no plans to initiate any positions within the next 72 hours. I wrote this article myself, and it expresses my own opinions. I am not receiving compensation for it (other than from Seeking Alpha). I have no business relationship with any company whose stock is mentioned in this article.