In the last few months, the market has vacillated between greed and fear. Sectors which are out of favor can look deeply undervalued and stay so for months and years. On the other hand, stock market darlings (the Dow 30 come to mind) are trading at worryingly high valuations, should you believe (like I do) that there is going to be a double whammy - a slowdown in corporate earnings and a tapering of QE3. Of the value sectors and stocks, I believe Potash (NYSE:POT) to be a value stock that has a balance of (relative) safety with a relatively predictable upside, even without any near-term and novel catalysts. Here are 5 reasons that POT has both relative safety and (within the large-cap universe) a tasty upside.
Speculators Are 'Dead and Gone': On the safety side, the 10-year chart below shows that over the last few years, the speculation on POT has died down. Where you see wild oscillations between 2008 and 2010, the chart (both price and volume) since 2011 looks sedate. This suggests that you are unlikely to have major loss of capital on POT.

Favorable risk-reward: The next question is - if the speculation is dead and gone, then is the upside similarly absent. On this topic - the second chart below shows that high safety doesn't mean low upside. POT has oscillated (almost predictably) 36-37 and 46-47. Timing your buy can then give you a 30% return (not counting the dividends).

Rising Dividends: Potash has aggressively raised its dividend in the recent past, to give investors confidence in the strength and growth of its cash flows. The most recent dividend increase of 25% is an example of this. The current (and rising) dividend of almost 4% should pay you well while you wait, and put a more steady floor under the stock price.
Known (and Discounted) Issues: The market has been anxious about the effect of reduced subsidies in India on POT's earnings. While the earnings aren't stellar, the historically low ratio of Potash to Nitrogen in the total shipment to India suggest a growth of that market in the medium to longer-term.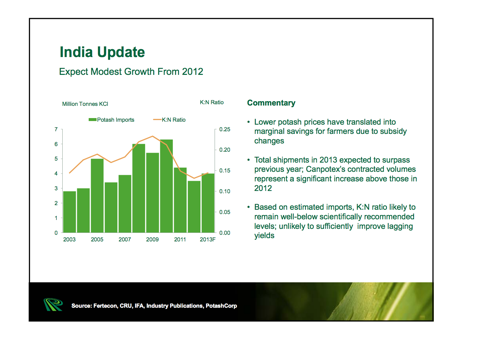 Secular Growth: A study points to the long-term growth of the world population (to 9.2 billion in 2050) and increasing consumption of meat (a catalyst for cattle feed) as secular growth catalysts for the entire fertilizer industry.
While no stock is safe from all capital risks (especially in this market), a lower volatility stock such as POT (Beta - 0.81) trading at a trough valuation, might be worthy of consideration in a conservative to moderate risk portfolio.
Disclosure: I am long POT. I wrote this article myself, and it expresses my own opinions. I am not receiving compensation for it (other than from Seeking Alpha). I have no business relationship with any company whose stock is mentioned in this article.