A year ago we profiled General Motors (NYSE:GM), believing that the price the stock was trading at was vastly different than the actual business value of the company. Since that time, GM's stock has nearly doubled, but I believe that the business has a lot of room for improvement, which could ultimately lead to still significant gains in the stock. The key to realizing these gains will be whether or not GM's current management is up to the task of closing the margin gap with Ford (NYSE:F) and other key competitors. Through the bankruptcy process, GM's balance sheet has become a source of strength while the cost structure is now also highly competitive. The company has invested heavily to overhaul its fleet of cars and trucks across the globe, which should lead to higher margins. These initiatives, in addition to aggressive cost-cutting are what I believe will ultimately lead to greater profitability, and a higher stock price.
While the global economy has been difficult, the automotive industry has been a true bell-cow in North America in particular. Sales were stimulated from pent-up demand that emerged from the oldest fleet of cars operating on the roads on record, while very low interest rates made financing terms reasonable. It has been my belief that we should still see several more years of annual sales in North America in excess of 14.5MM, and potentially sales could get as high at 17-19MM on an annual basis during that time. GM's bankruptcy process not only cleansed the balance sheet to where the company had a fresh start in essence, the company also now operates with a cost structure where it can break even in North America at 10.5MM vehicles a year, assuming an 18-19% market share.
The biggest benefit came from the creation of the V.E.B.A. or Voluntary Employees Beneficiary Association, which saves the company about $3 billion per year in retiree costs. The strong automotive sales have allowed the company to further strengthen the balance sheet, while also enabling the company to invest in the most aggressive product refresh in the company's history. New SUVs, trucks, Corvette, and a Cadillac CTS are all coming out this year. This refresh is critical because there are still a lot of issues that must be worked out within this company, most notably, the disastrous European operations and low profitability in North America.
When GM was taken into bankruptcy, the company was a complete and utter mess, led by an unsophisticated management and financial team. According to the book Overhaul by Steven Rattner, the company could not even produce a formula-based spreadsheet that could be updated automatically via changing the inputs. The culture was insular and naive, while decision making had very little to do with common business metrics such as returns on capital employed, which was clearly worrisome given the tens of billions of dollars that the company invests in capital. Changing a culture takes time and it would be silly to believe that the company can change decades of bad habits in just a few years.
One of the biggest projects that management has taken on has been reducing the incentives, which were such a huge part of the sales structure in the past. In addition, GM utilized the bankruptcy process to significantly reduce the number of dealerships and plates that the company sells. These efforts have boosted dealership profitability, allowing the dealers to reinvest into their properties to create a better customer experience, while less plates allows the company to reduce redundancies and costs significantly. The company also does not get the full economies of scale that it should through global purchasing and is well beyond Ford in this regard. Current management was not part of that culture that created the many issues of the old GM and has made many of the changes that ultimately should lead to better results.
On July 25th, General Motors reported 2nd quarter net income of $1.2 billion, down from $1.5 billion in the year ago period. Revenue was actually up to $39.1 billion from $37.6 billion in the 2nd quarter of 2012. Diluted earnings per share were $0.75 in the 2nd quarter of 2013, down from $0.90 one year ago. Net income for the 2nd quarter of 2013 included an increase in tax expense of $0.5 billion, or $0.39 per share, that was not part of last year's results. Adjusted-EBIT was up to $2.3 billion from $2.1 billion a year ago, and automotive net cash flow from operating activities improved to $4.5 billion from $3.8 billion. Adjusted automotive free cash flow improved to $2.6 billion from $1.7 billion. The GAAP operating income margin was 4.5% and the EBIT adjusted margin was 5.8% in the quarter. These numbers significantly trail Ford and in my opinion provide significant room for improvement moving forward, as GM refreshes its fleet of vehicles to higher margin offerings.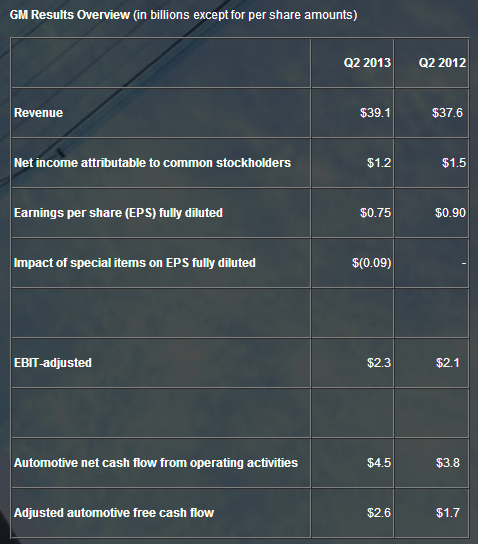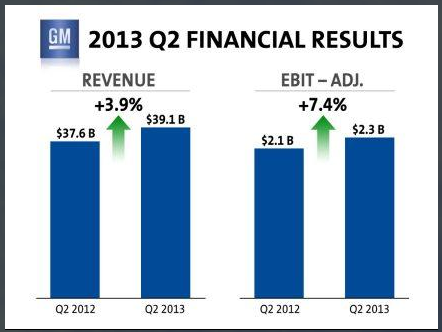 Source: GM 2nd quarter Press Release
GM North America (GMNA) reported adjusted-EBIT of $2.0 billion, compared with $1.9 billion in the 2nd quarter of 2012. North American vehicles have been very strong for GM, but the company needs to deliver higher profit margins while the going is good. GM Europe (GME) reported an adjusted-EBIT of ($0.1) billion, compared with $(0.4) billion in the year ago period. This is the most positive development of the quarter in my opinion, as Europe has been a loss-leading albatross for the last decade. It will still be a long road towards regaining profitability and an adequate return on the capital employed, but if GM could get GME to a breakeven, I believe the stock would be nicely rewarded. GM International Operations (GMIO) posted adjusted-EBIT of $0.2 billion, compared with $0.6 billion in the 2nd quarter of 2012. These results were a bit disappointing based on a slowdown in India and Australia, along with increasing competition from Japanese companies benefiting from the weaker Yen. GM South America (GMSA) reported adjusted EBIT of $.1 billion, up from a breakeven in the year-ago period. The company recently refreshed its product portfolio in South America and Brazil in particular, so I'd look to see performance strengthen over the 2nd half of the year. GM Financial had earnings before tax of $0.3 billion for the quarter, compared to $0.2 billion in the 2nd quarter of 2012. The company used $67MM to acquire preferred shares in GMIO, and also had $37MM in pension settlement income in its North American operations.
GM ended the quarter with a robust $34.8 billion of total automotive liquidity, while automotive cash and marketable securities stood at $24.2 billion compared with $24.3 billion at the end of the 1st quarter of 2013. The company has taken some steps to reduce its funding costs by redeeming preferred stock and there is more work ahead that can be done in that regard. As of June 30th, the U.S. pension was still underfunded by about $12.9 billion, but I expect that as interest rates rise, this number will be greatly reduced. The same story goes for the Non-U.S. Pension, which at the same time was underfunded by about $13.1 billion. GM has taken a number of steps to reduce the funding gap, which I believe is really the biggest weight on the stock from trading higher.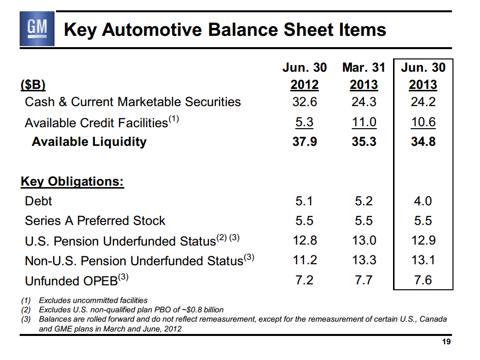 Click to enlarge
Source: GM 2nd quarter 2013 Investor Presentation
Based on 1.677 billion shares outstanding and a recent price of $36.67, GM has a market capitalization of roughly $61.5 billion. The company has been earning between $6 billion and $7 billion over the last several years, despite an extremely weak Europe and uncompetitive profitability relative to its closest competitors in North America. The company has just over $20 billion in net automotive cash and securities, so the biggest liabilities moving forward are clearly the underfunded pensions. I believe GM could earn in excess of $7.5-$8 billion in the next year or so, bolstered by the new and improved models, which should lead to better profitability. Longer-term, if the company can win market share, there is certainly upside well-beyond that. At the current level of profitability, I believe that GM is slightly undervalued, but I believe that this company could be radically different five years from now, and investors should wait it out. Once the government is out of the stock, I believe that GM will begin significantly increasing the amount of money that it returns to shareholders. These would be two catalysts that could ultimately send GM's stock in excess of $45, which would only imply a 10 multiple on potential earnings of $7.5 billion, and the ultimate valuation would be a lot cheaper due to the fact that the Enterprise Value is much cheaper than the market capitalization.
Disclosure: I am long GM. I wrote this article myself, and it expresses my own opinions. I am not receiving compensation for it (other than from Seeking Alpha). I have no business relationship with any company whose stock is mentioned in this article.