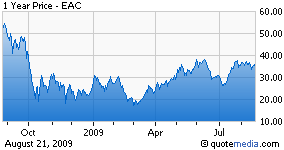 Buy-recommended Encore Acquisition Company (NASDAQ:EAC) offers unlevered appreciation potential of 15% to a McDep Ratio of 1.0 where stock price would equal Net Present Value (NPV) of $44 a share. On July 14 we reduced NPV from $48 when we reduced estimated Present Value of North American Natural Gas by 20%.
Released late July 28, second quarter results demonstrated strong recovery in unlevered cash flow (Ebitda) from the first quarter not only with oil price, but also in lower than expected operating cost. Volume is resisting decline despite reduced drilling. The turn in Ebitda may be the start of a new trend. Futures prices for oil over the next six years provide another sign of change after crossing the 40-week average into an uptrend at the end of May.
Finally, EAC announced an agreement to procure a supply of carbon dioxide in Wyoming for injecting into the Bell Creek oil field in Montana. A $345 million capital investment is planned for the next two years to neutralize the presumed pollutant as it facilitates the production of an additional 30 million barrels of oil beginning in 2012. Encore has a larger potential project to inject carbon dioxide for greater oil production from its Cedar Creek Anticline in North Dakota, perhaps taking advantage of the political interest in reducing emissions.
Originally published on July 29, 2009.