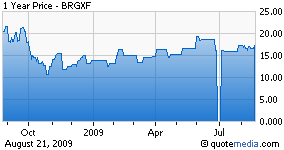 Buy-recommended BG Group plc (OTCQX:BRGXF) offers unlevered appreciation potential of 25% to a McDep Ratio of 1.0 where stock price would equal Net Present Value (NYSE:NPV) of $22 a share. Second quarter results released today matched our estimate for unlevered cash flow (Ebitda) from three months ago with downstream liquefied natural gas higher than we thought and natural gas price outside North America lower than we thought.
The Pre-Salt fairway of the Santos Basin offshore south of Rio de Janeiro is an exciting part of the outlook for BG stock that enhances its long-term appeal. In the three most advanced finds, which have production equipment on order or in design, BG has 25% of 5-8 billion barrels equivalent (Bbbls) in Tupi, 25% of 3-4 Bbbls in Iara and 30% of 3-4 Bbbls in Guara. An exploration well at Corcovado awaits the installation of casing to withstand higher than expected pressure. Hydrocarbons were declared in the first well at Corcovado. Abare West, on the Sugarloaf structure, is drilling and is expected to reach target depth in the third quarter. Visions of that structure being filled with tens of billions of barrels of oil have been only slightly dampened by a recent dry hole, the first in the Santos Basin Pre-Salt, drilled on the Azualo Prospect by ExxonMobil.
Originally published on July 29, 2009.