Have you ever wanted to travel to, and see, the future and come back? For a few minutes on Friday afternoon, Micron (NASDAQ:MU) gave you the chance.
Micron put up the following page --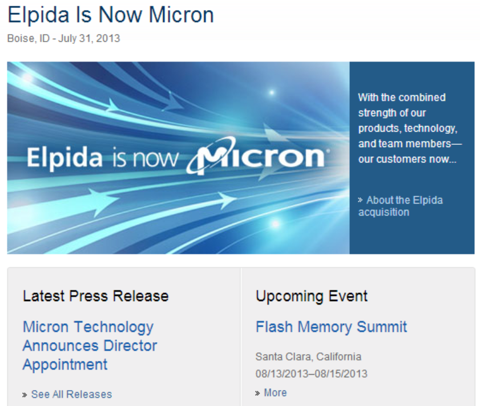 -- showing that as of July 31, "Elpida is now Micron" and soon thereafter pulled it back down from the website, and put up its HMC memory graphic, bringing us back from the future. A really quick trip, but thanks to screen grabs, I've brought back the future for you.
Now Micron has an interesting dilemma. Either it waits until Wednesday to put the page back up and make its announcement and gives those who saw the future the chance to buy in now at a discount price, or it will make the announcement earlier. If you buy in early on Monday, you might beat the Micron PR machine figuring out how to fix this mini-boo boo.
Assuming it wasn't a July 26 Fool's Day joke, VP of Investor Relations Kipp Bedard gave a huge hint on the Sterne Agee conference call of July 15, 2013 (replay no longer available). When asked about the Elpida close, he replied, "sooner than later." With this early web posting, we might want to take him at his word.
On Elpida's website, from September 7, 2012, the company states (last paragraph) the condition for closing as being the last day of the month with a minimum of 10 days from the last closing condition, such as court approvals, etc. July 31st works here.
A Taiwan news service reported on Friday that Rexchip will become Micron Taiwan on August 1st.
So we have Kipp's hint, the Elpida website saying it will be the last day of the month, the Rexchip Taiwan article, and now a slightly early release on the Micron website stating it is July 31st. Absolute proof? No, but, in total, a very good road map for a trade.
The FUDsters had a fun couple of days driving the price of Micron's stock down over 10%, just in time to get those worried to sell their stock right before the details of the big news come out.
At the moment, the sell-side analysts have not put up changes for the current quarter to reflect Elpida and Rexchip being added. In this installment, I am going to take you through the quarter and what you can expect.
In the next installment, I am going to walk you through the Elpida acquisition so you can understand that Micron truly got "sumthin for nuthin." In fact, after it writes the $590 million check to Elpida, it will open up the rather amazing gift, and I will detail the reasons why Micron had to be quiet on how it bought Elpida with the creditors' own money. At least the Native Americans got some beads for Manhattan.
By the way, when that $590 million goes to Elpida, guess what? It is nothing more than Micron moving the money from Boise to Hiroshima -- It's still the company's money! From the left pocket to the right one. The cash will be restricted, but that doesn't mean Micron will not be able to use it; it just comes back as inventory and finished goods with payment terms.
Here's what the analysts' estimate for FYQ4 ending August and FY 2013.
The most optimistic analyst expects Micron's fourth quarter revenue to be $2.71 billion with full year FY 2013 revenue at $8.94 billion and earnings for the quarter of $400 million and the full FY 2013 of -$120 million.
However, with Elpida included, they will have to adjust to: fourth quarter revenue of $3.7 billion to $3.9 billion and earnings for the quarter of $800 million to $1.1 billion; for the full FY 2013, they will have to adjust to revenue of $11.9 billion to $12.3 billion and full year earnings of $300 million to $600 million.
How can we be confident of these numbers, which so greatly exceed the analysts' projections? Easy -- most of it is already baked in, and there is strong evidence to support the numbers. What do we now know?
1. Micron closed at $12.59 on Friday, giving it a market cap of $13.07B. If it makes $1B this quarter, the P/E would be 13 just for the quarter! How does Micron make the $1B?
2. When Micron entered into its 200B yen Sponsorship Agreement with Elpida, it unfortunately decided to hedge against a stronger yen when it was about 80 to the dollar. Luckily, it only hedged half of the deal, so it lost ONLY $214M on this hedge in the first 3 quarters, which was OVER 40% of all of Micron's losses for the first 3 quarters of FY 2013. Through the magic of purchase accounting, Micron will reverse this loss, as well as mark-to-market the balance of the Elpida 200B yen buy-out for the yen drop to 98, which should recognize approximately $480M in one-time earnings, or by this single event, all but $38M of Micron's FY2013 loss will disappear. This would be almost $0.40 per share of earnings.
It is possible Micron will choose only to reverse its actual costs of the currency hedges and simply adjust down the aggregate cost of the acquisition of Elpida, but it has changed its accounting of hedges on a quarterly expensing to mark-to-market, so if it is consistent, it will take the full adjustment of $480 million. Otherwise, it will only be the $214 million gain.
3. Micron was required to support Elpida with up to $700 million of guarantees and financing, but funny thing, Micron only needed to provide $145 million, and even then, Elpida repaid early $79 million of it in late June, even before the close of the transaction, so it seems reasonable to assume Elpida is beating plan. Based upon documents filed as part of Elpida's bankruptcy, it appears Elpida will have more than $2B in cash, accounts receivable and inventory, which is more than the creditors will be paid over the next 7 years. That giant Hiroshima wafer fab comes virtually for free, as well as 60% of Rexchip's fab in Taiwan.
4. SK Hynix (OTC:HXSCL) just reported its Q2, showing sales of almost $3.6 billion, increasing 41% QoQ, and profits of $850 million, up 430% QoQ. Hynix's DRAM and NAND ASPs increased 16% and 5%, respectively last quarter. We also know that memory prices continued to increase all the way through the middle of July, so halfway through this quarter, Micron is benefiting from higher ASPs than it predicted. While I do not believe Micron and Elpida will match SK Hynix's incredible Q on Q growth, if it achieves 1/2 of Hynix's increased results, it will have over $4B of combined revenues.
5. Elpida provided the bankruptcy court an operating plan that showed it selling over $1 billion and making more than $220 million this quarter, so this would be almost $0.20 per share for Micron this quarter. I believe these are conservative numbers as Elpida is not likely to give the bankruptcy court a plan it cannot make for the first quarter after coming out of bankruptcy.
6. Inotera, Micron's 35.5% subsidiary, just reported its results for Q2, showing revenues up 48% QoQ, and profits of over $110 million, which means Micron will consolidate over $38 million, or almost $0.035 per share.
7. Micron had $0.15 per share of earnings in Q2, up from a loss of $0.10 in Q1. Based upon the increasing memory prices through mid-July (remember Tim Cook of Apple recently said it was suffering increases in memory costs and it expected them to continue), plus the increases in wafers coming from Inotera, it seems likely Micron will have over $0.30 of earnings before non-recurring events and Elpida's contributions.
So if Micron fully adjusts for the Elpida yen currency devaluation, that is $0.44, Inotera is $0.04, Elpida should be almost $0.20, and Micron should do $0.30, which is how Micron could make almost $1.00 this quarter. If Micron only reverses the currency hedge losses, it would be $0.75, which means Micron would be profitable for FY2013, which no analyst is showing today.
So you can expect to see all of the analysts adjust their numbers in the coming days and weeks, and most of them will have to acknowledge Micron will be profitable for the year. Remember, you heard it on Seeking Alpha first.
8. A big unknown is the effect the bondholder lawsuit had on Elpida's behavior during the bankruptcy proceeding. The US chapter 15 bankruptcy proceeding was finalized in June (I assume somehow the bondholders were paid off to settle the suit). Its whole case was based upon the idea the deal was too good for Micron, a sweetheart deal. So it is logical to assume Elpida did not do anything that would have helped prove its case. If that proves to be true, Elpida could be on the cusp of a major step-up, which could start this quarter, so there could be some upside surprise. We will get a look when Rexchip, its subsidiary, reports its revenues or July on August 9th.
Tomorrow, we'll look at the details of the Elpida/Rexchip acquisition. Micron has pulled off an amazing feat. It acquired Elpida/Rexchip for less than $500 million net cash, a company that has 40% of the wafer capacity of SK Hynix, which has a market cap of almost $18B. The way Micron structured the acquisition will minimize the increase in book value, which will hurt price/book calculations, but will greatly improve EBIT. When you see how Micron structured the cost-plus contract with Elpida, you will see how Micron will escape the 35% Japan corporate tax on its future earnings. As Elpida also has almost $4B of loss carry-forwards, pre-tax and after-tax should be the same.
Disclosure: I am long MU. I wrote this article myself, and it expresses my own opinions. I am not receiving compensation for it (other than from Seeking Alpha). I have no business relationship with any company whose stock is mentioned in this article.