This is my first article on Kodiak Oil & Gas (NYSE:KOG). Kodiak is a company that has been around since 1972, but is just starting to get attention as a respected oil producer in the Williston Basin area. The company has not provided a dividend like I usually write about, but the company is on the radar screen because it has the potential to become an outstanding growth stock. The opening price on Friday, 26 July 2013 was $9.49 and the stock was up at the time of writing. With a price near $10, you can buy a nice quantity of shares and let them grow. This would be an excellent investment for your ROTH IRA account, because the growth over time will return a non-taxable income for you in the future.
I consider this a buy and hold stock as I believe the potential growth is expected to return double-digit increase in the value of the stock over the next several years.
Company's Profitability
Kodiak earned $493.80 million in revenue during the last 12 months. In the company's latest quarterly report, total revenue of $165.05 million represented a 106.48% increase for the year compared to the earlier quarter of $79.94 million. This kind of top line growth is typical of companies gaining market share and, if managed smartly, should produce strong profits in the next few quarters. Also based on its latest report, profits grew very strongly last quarter when compared to the year earlier period and when measuring full year results.
On 12 July 2013, Kodiak announced the closing of the previously announced acquisition of core Bakken and Three Forks producing properties and undeveloped leasehold in the Williston Basin from Liberty Resources, a Denver-based private oil and gas company. Read announcement from Kodiak Oil & Gas Corp.
The area included in the acquisition is approximately 42,000 net leasehold acres and net production of approximately 5,600 barrels of oil equivalent per day (average net production for June 2013) located in McKenzie and Williams Counties, N.D. The acquired leasehold includes 35 controlled drilling spacing units, based upon 1,280-acre units, and is 90% held by production. The southern Williams County lands, approximating 14,000 net acres, are adjacent to Kodiak's core Polar area. An additional 25,000 net acres are located in McKenzie County to the west of the company's Koala and Smokey areas. Kodiak has also assumed Liberty's contract for one drilling rig, which has 13 months remaining on its term. Kodiak's total leasehold position in the Williston Basin is now approximately 196,000 net acres.
The announced purchase price for the asset package was $660 million. Post-closing adjustments were $52 million, including $31 million in working capital items and $21 million of cash flow adjustments to reflect the acquisition's March 1, 2013 effective date. The company paid an additional $20 million for acquisition costs associated with increased working interests acquired by Liberty subsequent to the effective date.
Kodiak has continued to expand its capability for producing more crude with proven wells of production and confirmed oil fields waiting to be drilled. This production will come on line immediately for an increase in revenue and bottom line profits. Growth from this company will continue at an impressive rate over the next several years.
Kodiak Oil & Gas's cash flow grew considerably in its latest quarter to $114.57 million, a 102.60% increase from $56.55 million reported in the year earlier period. One limited drawback to this purchase was the company reported an estimated $50 million of cash outlay during the purchase described above. This nullified its earnings this past year, but will enhance the growth of the company. We do not anticipate a dividend in the near future as the company rebuilds its cash-on-hand and improves the infrastructure in the area of new growth. Source is from Kodiak Oil & Gas Corp.'s annual report.
As of June 30, and the July 2013 acquisition, Kodiak had estimated proved reserves of 123.9 million barrels of oil and 120.7 billion cubic feet of natural gas, or 144.0 million barrels of oil equivalent (MMBoe). The company's reserves are comprised of 86% crude oil and 14% natural gas. These proved reserves reflect a 28% increase over year-end 2012's proved reserves of 94.8 MMBoe.
The company funded the acquisition through borrowings under its revolving credit facility. In connection with the acquisition and reflecting year-to-date completion activities, Kodiak and its lending group, led by Wells Fargo Bank, N.A., entered into an amendment to the company's amended and restated credit agreement to increase the company's borrowing base and aggregate commitments under its existing senior secured revolving line of credit facility to $1.1 billion. This compares to the prior-level borrowing base of $650 million. Upon closing of the acquisition, the company's borrowings under the credit facility were $976 million. The company continues to evaluate all available financing alternatives to support its capital requirements.
The company's debt to cash flow ratio is 10.34, which is considered high, but it decreased 14.14% from last year's level.
On 26 July 2013, Kodiak announced the closing of its private offering of $400 million in aggregate principal amount of senior notes due 2022 in a private placement to eligible investors. The notes bear interest at 5.50% per annum and were issued at a price of 100% of their face amount. The notes were issued pursuant to an indenture entered into on July 26, 2013 among Kodiak, Kodiak Oil & Gas (USA) Inc. ("Kodiak USA"), Kodiak Williston, LLC ("Kodiak Williston") and KOG Finance, LLC ("KOG Finance", and together with Kodiak USA and Kodiak Williston, the "Subsidiaries"), U.S. Bank National Association, as the trustee, and Computershare Trust Company of Canada, as the Canadian trustee. The notes are jointly and severally guaranteed on a senior unsecured basis by the Subsidiaries.
The net proceeds of the offering, after deducting initial purchasers' discounts and our estimated offering expenses, were approximately $392.5 million. Kodiak intends to use the net proceeds of the offering to pay a portion of the outstanding debt under Kodiak's credit agreement. I appreciate the mindset of the company's leadership to pay the interest of the loan to investors who directly believe in the company. As an investment, I believe that the common shares will increase much more than the 5.50% the senior notes will pay, with very limited risk for investing in the company.
KOG's management will reveal its second-quarter revenue and EPS numbers on 1 August 2013 after the market closes. Twenty-two analysts who follow KOG are estimating an average increase of EPS of 40%. For the third quarter the company anticipates a whopping 54% increase in EPS over the year-ago quarter. Revenue for the second quarter is estimated to be up around 118% and over 126% for the third quarter.
Bakken and Williston Basin Oil Province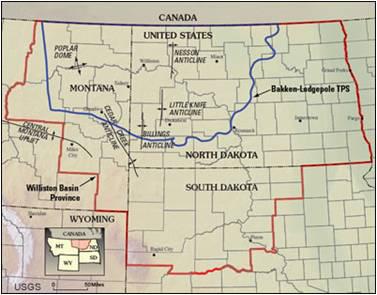 On April 30, 2013, the United States Geological Survey (USGS) released updated oil and gas resource assessments for the Bakken Formation and a new assessment for the Three Forks Formation in North Dakota, South Dakota and Montana. The USGS assessment found that the Bakken Formation has an estimated mean oil resource of 3.65 BBO and the Three Forks Formation has an estimated mean resource of 3.73 BBO, for a total of 7.38 BBO, with a range of 4.42 (95 percent chance) to 11.43 BBO (5 percent chance). This assessment of both formations represents a significant increase over the estimated mean resource of 3.65 billion barrels of undiscovered oil in the Bakken Formation that was estimated in the 2008 assessment. The USGS also found 6.7 trillion cubic feet of associated/dissolved natural gas, and 0.53 billion barrels of natural gas liquids in the Bakken and Three Forks Formations in the Williston Basin Province of Montana, North Dakota, and South Dakota. The USGS report is published.
Kodiak Oil & Gas Corporation is a Denver-based independent energy company, which is focused on the exploration, exploitation, acquisition and production of natural gas and crude oil in the United States. The company develops an oil and natural gas asset base of proved reserves, as well as a portfolio of development and exploratory drilling opportunities on high-potential prospects with an emphasis on oil resource plays. The oil and natural gas reserves and operations are concentrated in the Williston Basin of North Dakota. Kodiak Oil & Gas was founded on March 17, 1972. Kodiak has a market cap of $2,508,331,124 and outstanding shares 265,431,865.
This is an excellent opportunity for investors to buy into a growing company with good leadership and solid business operations. The anticipated growth by many analysts including myself is for huge potential over the next few years.
Disclosure: I have no positions in any stocks mentioned, and no plans to initiate any positions within the next 72 hours. I wrote this article myself, and it expresses my own opinions. I am not receiving compensation for it (other than from Seeking Alpha). I have no business relationship with any company whose stock is mentioned in this article.
Additional disclosure: I do plan to invest in the company in the near future. All information collected for this article include the company's website, its press releases, media reports and the USGS reports.