The earnings season continues in a big way this week, and I would like to focus on LinkedIn (NYSE:LNKD) because there are so many indications that the stock is in for a big drop when it announces earnings after the close on Thursday, August 1, 2013.
Over the last several months, I have been testing the proposition that the level of expectations prior to an earnings announcement is a better indicator of what the stock price will do than the actual earnings themselves. I call it the Expectation Model. Basically, I examine recent stock price activity, estimates vs. whisper numbers, past post-earnings price changes vs. results, current RSI levels, and come up with a measure of whether expectations are unusually high or low.
If expectations are usually high, there is an excellent chance that the stock will be flat or fall after the announcement, regardless of how much the company might surpass estimates, and conversely, the stock is more likely to move higher when expectations are low, even if estimates are merely met.
Last week I wrote a Seeking Alpha article How To Play The Seagate Technology Earnings Announcement This Week (NASDAQ:STX) in which the model predicted a lower stock price after the announcement (it fell over 10%). The week before that, another article successfully called the Google (NASDAQ:GOOG) drop after earnings. In both cases, people who sold the stock short prior to the announcement did extremely well although our GOOG call with options made the greatest gain (58%). Our options play on STX made only a small gain last week because the stock dropped so much - the short sellers outperformed our options play.
Going into earnings, LNKD seems to share many characteristics with both GOOG and STX, especially the price action. Here is the record of how LNKD has responded to earnings announcements over the last year (with the price change from just before the announcement until the Friday close after the announcement when the weekly options expired):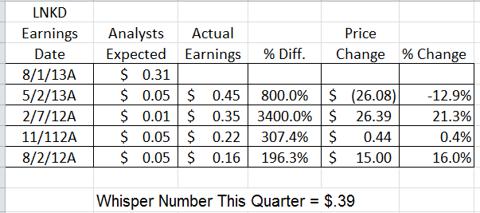 Click to enlarge
The company seems to surpass estimates every quarter by a huge margin. In retrospect, estimates seem to have been dreadfully low. At least this time around, the analysts have come up with a number that bears some resemblance to recent earnings numbers. A quarter ago, they beat estimates by 800% but the stock was clobbered after announcing such a big win. Three quarters ago they beat estimates by over 300% but the stock hardly budged. The quarter which showed a positive response to the earnings announcement (stock up 21.3%) the earnings were over 30 times as high as estimates. That seems unlikely to happen again with estimates at $.31 (vs. $.01 six months ago).
In the January 2013 announcement, actual earnings exceeded estimates by 800% yet the shares were clobbered by almost 13%. The company's chart yields an explanation of why that happened (adding support to our Expectation Model):

Click to enlarge
Check out the sharply higher stock price going into the January announcement. Expectations were clearly quite high. Even though the company exceeded estimates by a large margin the stock was crushed. Our model would have predicted just that kind of price action. The run-up in stock price has occurred once again going into next week's announcement.
Option prices are predicting a move of about $20, or 10%, less than the size of the change in the past two quarters.
This time around, expectations seem to be unusually high. Whisper numbers are higher than estimates, ($.39 vs. $.31), and the stock has enjoyed a dramatic run-up going into the announcement (and reaching a new high last week). The stock is up almost 20% since the last quarterly announcement and has more than doubled in the last year.
RSI numbers add even more support to this notion of high expectations - at 84 and in an "overbought" condition. Even if actual earnings are much higher than estimates and whisper numbers, it is doubtful to me that the stock will trade significantly higher after the announcement, and there is a very good chance that it might trade much lower if any part of the announcement (earnings, revenues, margins, or guidance) disappoint in any way.
There is another bit of evidence suggesting that the stock may be headed lower. Institutional investors have sold 9.3% of their holdings over the past three months and insiders have unloaded a huge percentage (68,5%) of their holdings over the past six months (source: Yahoo! Finance). The institutions are surely not always right, but with their superior resources, they are in a better position than any individual to be able to predict what is likely to happen next. And they are selling. So are insiders, and in a big way. What do they know that we don't?
Bottom line, if you would like to own LinkedIn, I would wait until after the announcement to make your purchase. If you are an options nut like me, with the stock around $208 as I write this, I would buy a diagonal call spread with the buy side (Aug2-13 215 calls) at a strike higher than the Aug1-13 weekly 210 calls I sell for a credit of about $1.50. I would also add a "just in case I'm wrong" calendar spread at the 220 strike (same option series). Here is the risk profile graph if you assume that IV of the Aug2-13 calls falls by 40, from 70 to 30 after the announcement: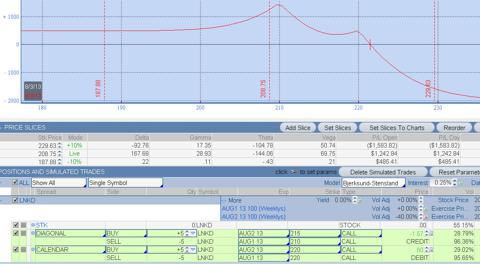 Click to enlarge
These positions (5 contracts for each spread) should cost about $1600 to place and should make a gain if the stock falls by any amount or if it moves higher, but by less than about $20. I think it is unlikely that the stock will move up by $20 after the announcement given the high expectation level, regardless of how much they surpass estimates.
LNKD has had a spectacular year so far, but it looks to me that it has gotten a little ahead of itself right now, especially since it has picked up almost 20% since the last earnings announcement. Expectations are sky high and the stock is vulnerable to a disappointment of any kind when the numbers and guidance is announced on Thursday.
It seems clear to me that the stock is due to take a breather, and possibly fall back a fair amount once the numbers are revealed, even if the company manages to beat the estimates (which it is likely to do given its history).
Disclosure: I have no positions in any stocks mentioned, but may initiate a short position in LNKD over the next 72 hours. I wrote this article myself, and it expresses my own opinions. I am not receiving compensation for it (other than from Seeking Alpha). I have no business relationship with any company whose stock is mentioned in this article.