For many weeks now I have been interested in researching the Canadian energy industry. It is not that I believe oil prices should be going up any time soon. In fact, as I wrote three months ago, oil fundamentals are quite weak. Since then, oil prices have marched ever higher but concern over trading prices being disconnected from fundamentals is becoming a fairly mainstream position of late.
Whether prices go up from here or (as I believe) they take a precipitous fall before eventually heading higher, the long term demand for energy is undisputed. Even in the presence of alternative energy sources, more sources of oil will be needed, if for no other reason than tp replace existing production as it is depleted.
One of the most likely sources for production growth is Canada, oil sands in particular. So I set out to understand which of the Canadian energy companies stand to benefit.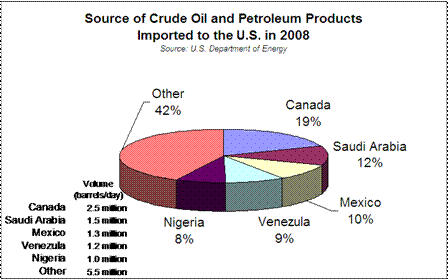 Canada is the largest supplier of oil to the United States and accounts for 19% of its imports of crude oil. The almost 2.5 million barrels of oil transported each day to the U.S., mostly by pipeline, is 50% more than is shipped in from Saudi Arabia, the next largest supplier. Even if the oil demand of the U.S. continues to decline in future years as it has in 2009, the U.S. will likely continue to increase this ratio of supply from Canada for energy security reasons.
Growth in oil sands has happened over the last four decades. The growth in oil sands production is fairly recent. The first barrel of oil processed from the heavy tar-like sand was shipped in 1967.
The Great Canadian Oil Sands, Ltd. (now part of Suncor Energy (SU)) made a made a bold and risky bet that it could transform this sludge into oil. Thus began the "Canadian Oil Sands" industry that has overwhelmed northern Alberta ever since.
Since then such vast quantities of oil sands (known as 'bitumen') have been identified that Canada's 178 billion barrels of proven oil reserves ranks only second to Saudi Arabia.
According to the Cambridge Energy Research Association, the region produced 1.3 million barrels/day in 2008 and this could rise to over a level of six million in a few decades under the right conditions. Even in its most pessimistic scenario, CERA pegs future production at 2.3 million barrels/day, a 77% increase over today.
Creating synthetic crude oil from the tar sands is now a proven but expensive process. Many Canadian energy companies along with foreign oil companies such as ExxonMobil (XOM), ConocoPhillips (COP), Total S.A. (TOT), Shell (RDS.A), and the Korean National Oil Company all have their own operations in production or under development. Most investments are joint production ventures between 2-3 companies, an approach common throughout the oil industry.
Despite this, supply of skilled labor and infrastructure in northern Alberta is finite. As activity ramped up this decade, costs increased substantially for both production and the construction of new facilities. Cost estimates for the new bringing new capacity online ranged from $60 to $85 per barrel.
It is important to appreciate the environmental impact debate. Critics contend the process is devastating to the environment and it takes almost as much energy to create a barrel of crude as the eventual oil contains. Natural gas is a large input to the process and contributor to costs.
The oil companies and the Alberta government are quite aware of these concerns and have focused on resource efficiency (in use of water and natural gas), rules for returning mining sites to their natural state, and a public awareness campaign of their efforts. Efficiency is improving and costs are coming down due to lower natural gas prices and the slowdown in exploration activity.
Today, industry and government estimates claim profitability with crude oil from oil sands in the $50-$60/barrel range.
The environmental impact debate continues with the government touting its first example of former mine site returned to wilderness condition and environmentalist countering with examples birds and fish dying from contaminated water. A good place to understand the environmental issues is the March 2009 article from National Geographic. Efforts to move to a more sustainable approach to exploration and production can be found at websites from a trade association and the Alberta government.
Canada is one of the few non-OPEC countries in the world expected to grow its oil production in the medium term. About five million barrels per day of production capacity can be identified through existing or announced oil sands projects. The Alberta government tracks 94 separate mining operations in three distinct regions including the original Athabasca region near Fort McMurray as well as the Cold Lake region to the south and Peace River to the west. Slightly over half of the future production can be attributed to Canadian companies. This represents a large investment opportunity if oil prices are sustained at high levels over the next decade.
So which Canadian companies are most tied to oil sands?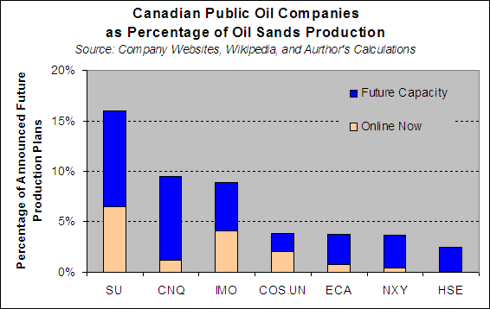 Suncor (SU), Canadian Natural (CNQ), and Imperial (IMO) are becoming the big oil sands players. The above graph breaks down the existing and future oil sands production capacity. Of the roughly five million barrels per day of production capacity, Suncor Energy has announced plans to eventually secure 840,000 barrels per day (bpd) of capacity or 16% of the total for the industry. As of today (including capacity acquired through Petro-Canada (PCZ)), Suncor's total output is around 340,000 bpd of 6.5% of the eventual five million.
In addition to the Canadian companies, international oil majors such as ConocoPhillips, Royal Dutch Shell, StatoilHydro (STO), and ExxonMobil have investments in oil sands productions, but other than ConocoPhillips (an early investor in Syncrude, Inc.), relatively little output to date. In general, it is the Canadian companies rather than the international majors that provide the most leveraged play on oil sands.
That leverage works both ways though. While ConocoPhillips and ExxonMobil produced Q2 returns that, on an annualized rate would be 9% and 13% respectively, with global oil prices averaging about $60 in the prior quarter, Canadian companies ranged from a loss (Suncor) to about 5%. The only exception was Imperial Oil (partially owned by ExxonMobil), which exceeded a 9% annualized return.
There is one pure play oil sands investment. Canadian Oil Sands Trust (COSWF.PK) trades as symbol COS.UN in Toronto and over-the-counter in the U.S. With no conventional oil production or refining activity, it is the most direct way to play oil sands serves as an attractive income stock. The trust distributed almost C$5 in dividends in the last two years and trades in the mid to high 20s now. The present yield is 4.5% but that is after the quarterly dividend has fallen by 75% from its peak last summer.
The trust owns 36.74% of Syncrude, a joint venture that began as a research consortium in 1964 but eventually followed in the wake of Suncor. Syncrude provided a way for companies other than Suncor to gain experience to the new process and technology.
Today, most partners in Syncrude (Imperial Oil, Nexen (NXY), ConocoPhilips, etc.) have their own oil sands operations and are unlikely to push Syncrude to expand beyond the 550,000 bpd production plans in the works. It is already producing over 300,000 bpd now from its open pit mining operations.
While the future capital investment will be lower than that of other companies, the future upside is also limited. Dividends will rise and fall with crude oil prices but even at the maximum production of 550,000 bpd, Syncrude is sitting on 25 years of proven reserves.
Suncor is the biggest and most experienced player. As a result of the recent merger with Petro-Canada, Suncor Energy has the most oil sands production capacity online today (more than 340,000 bpd) and the most to come (nearly 500,000 bpd). This includes a 12% investment in Syncrude as well as the MacKay River and Fort Hills operations that came from Petro-Canada.
Even prior to the merger, Suncor's own projects were reaching the 300,000 bpd level from oil sands production, putting it on par with Syncrude.
Experience and scale is showing real benefits. Suncor contends that in the last year (from 2Q'08 to the most recent quarter 2Q'09) it has realized a 40% drop in operating costs per barrel of synthetic crude made from oil sands. Lower natural gas prices contributed to that result but it was unclear by how much.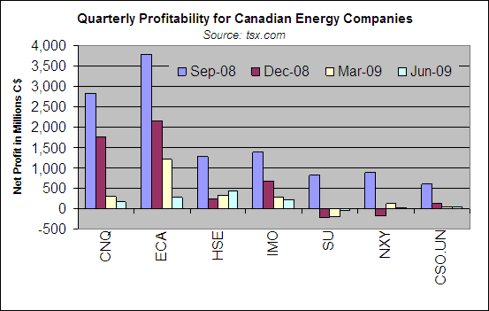 Suncor has many issues to work through. 2Q'09 was the third in a string of loosing quarters at a time when its Canadian peers all managed profits.
All these companies with ties to oil sands saw their profits fall from record levels in 2008 by 80-90% or more. Yet Suncor's profits have been more volatile due to mark downs on project investments, changes in the value of US$ denominated debts and losses on price hedges.
Combine this with the integration challenges in a merger of equals and it's clear that Suncor management has its work cut out for it. If management can successfully work through integration and profitability issues and oil prices remain elevated in the long term, Suncor probably has the most upside of the group.
Canadian Natural might be the safer growth play. If there is a company in the mix just now benefiting from the upside of oil sands production it is Canadian Natural Resource, Ltd. (CNQ). Canadian Natural was one of the few companies to increase production in the most recent quarter. The ramp up of its project known as 'Horizon' is exceeding it target production levels and is now outputting 60,000 bpd. Phase 1 will bring that to 110,000 bpd by year's end.
Horizon is planned to provide Canadian Natural with 500,000 bpd of production in the next decade putting it on par with Suncor and Syncrude for the highest production from a single project.
Canadian Natural has charted its own organic growth path, entering the oil sands arena in just the last decade. However, this effort has doubled the company's proven oil reserves to the 1.35 billion barrel level in the last few years.
The success of the Horizon project shows that the company has the technology to bring these reserves to market. My concern is that capital investment requirements over the next 2-3 years may be difficult to sustain if there is a correction in oil prices to the sub $60/barrel levels.
Imperial Oil means investing along side Exxon. A full seventy percent of the stock of Imperial Oil (IMO) is held by parent ExxonMobil. In addition, Imperial Oil's newest oil sands project, known as Kearl, is a joint venture with ExxonMobil.
Thus an investment in Imperial Oil is an investment in Exxon's handiwork. That can be a benefit or detraction depending on your perspective. On one hand, ExxonMobil is seen as one of the most disciplined of companies in the world in terms of capital investment. On the other hand, can you ever be sure cash flows from projects favor IMO shareholders as much as they do Exxon?
Imperial Oil has experience in oil sands production through its investments in Syncrude and its own project at Cold Lake. Its total oil sands production today stands just less than 200,000 bpd, about three quarters coming from Cold Lake and the rest from its share of Syncrude production. Kearl has only just moved past the approval phase and the entire project investment is still in the future.
Ultimately, Kearl should bring 300,000 bpd of oil production on line, half allocated Imperial, half to Exxon. Not surprisingly, Imperial Oil has the best balance sheet of any Canadian energy company and should have no problems funding the effort.
Beyond the four plays discussed above, EnCana (ECA), Husky Energy (OTCQB:HUSKF or HSE in Toronto), and Nexen (NXY) all have meaningful upside expected to come from oil sands production. Yet my focus today is on those where the bulk of the future capacity will come from: Suncor, Canadian Natural, and Imperial Oil.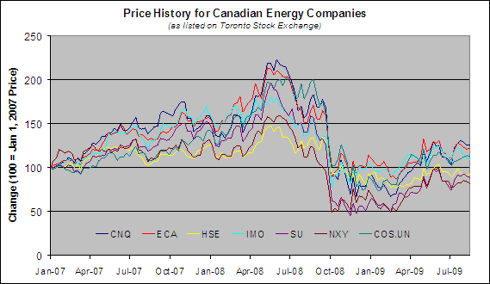 The above graph shows the prices of these stocks as traded in Toronto to remove the effects of the USD/CAD exchange rate. In local currency terms, Canadian Natural, EnCana and Canadian Oil Sands Trustall saw a doubling of their share prices from the beginning of 2007. As a group they are trading at about early 2007 levels with those three plus Imperial leading the pack. Husky, Suncor, Nexen are lagging the group.
If crude oil prices remain elevated and increase from here, as the commodities market seems to imply, it will not be long before 2008 profitability levels return. In this case, it would not be unreasonable for the stocks to double.
However, it is my expectation that "oil as an asset class" has caused a spike in prices not sustained by fundamentals and a correction is due. My plan is to pick up Suncor Energy or Canadian Natural when that correction happens.
Disclosure: No positions