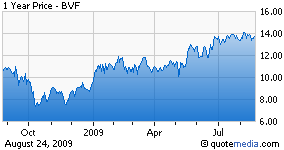 With news of a second licensing deal for a Parkinson's disease-related product in just three months, it appears that Canadian specialty company Biovail (BVF) is rapidly and surely coming good on its longer-term strategy promise of transforming itself into a niche player in CNS diseases.
The latest transaction struck Monday with Santhera Pharmaceuticals (OTCPK:SPHDF) sees Biovail add fipamezole, a phase IIb drug to treat dyskinesia in Parkinson's disease, to its expanding portfolio, for an upfront payment of $8m and up to $184m in developmental and regulatory milestones. Swiss company Santhera is also inline for royalties of 8% to 15% if the drug hits certain sales targets.
By acquiring fipamezole, Biovail now has 36 CNS drugs in its portfolio, and is building its credibility with deals. This has been reflected in the group's share price, which has risen by 13% since it announced in May 2008 that it would be moving away from using delivery technology to produce extended release versions of existing drugs. Since the beginning of the year, Biovail's shares have gained 45% to sit at $13.65.
What appears to have worked for Biovail is not only management's ability to execute the deals, but the decision to pursue products that have a good strategic fit, are earning-enhancing in the short term and are relatively inexpensive, as shown by the modest upfront payments.
M&A Boost
Alongside in-licensing, Biovail has also used M&A to change its business shape. The first transformational move happened in September 2008, when it announced it would be buying Prestwick Pharmaceuticals for $100m in cash, primarily with the aim of bagging Xenazine, a treatment for Huntington's chorea.
The drug which was approved the previous month is now sold in 11 countries, and impressively is being marketed with a price tag of $30,000-$50,000 per year, a sum that provided early validation of the decision to switch focus.
Since then a deal with Cambridge Laboratories to acquire worldwide rights to Xenazine has followed, alongside the slightly less well received decision to buy back the US rights to anti-depressant drug Wellbutrin XL from UK partner GlaxoSmithKline (NYSE:GSK) for a high looking $510m (Glaxo's gain causes Biovail pain , May 6, 2009).
However, mitigating the high seeming cost of the acquisition is the group's tax status that has also enabled it to look at licensing opportunities that others may have passed by. Biovail pays lower tax than many of its peers due to the fact that a large portion of revenues are earned through its Barbados subsidiary and its use of carrying forward operating losses into profitable years reduces its taxable income in the US.
Comfort Zone
What Biovail also appears to have cleverly done in recent transactions is avoid tackling difficult CNS diseases, such as Parkinson's, head on, and has instead licensed niche product that are associated with the disease, that often have orphan drug status and require smaller, inexpensive trials.
Chief among this plan has been the licensing of pimavanserin from Acadia Pharmaceuticals (NASDAQ:ACAD) to trials to treat Parkinson's disease psychosis (PDP). Biovail has the rights to the drug in Alzheimer's disease psychosis and schizophrenia, as well as PDP.
There is currently no FDA approved product on the market to treat PDP, meaning that if it is approved, the group would have access to an underserviced niche, again playing into its overall strategy.
Hopes are high for a green light given the drug's cleaner safety profile and its ability to be used in elderly patients for whom existing anti-psychotic medications are not appropriate. Phase III data is due in the third quarter and, if positive, it could provide a catalyst for the shares. A filing is expected at the beginning of 2011 with a potential launch date of either late 2011 or early 2012.
Take Out
As Biovail paid $30m upfront and agreed to $365 in milestones for US and Canadian rights to the drug (Acadia finally delivers deal which could turn to takeout, May 11, 2009), the size of the licensing deal has led some to believe that Biovail could eventually buy out its partner, which currently has an enterprise value of $145m, thereby avoiding paying out the milestones.
Given Biovail's hunger for niche CNS assets, that has been fuelled by the recent cut in the dividend, giving it $319m in cash, more deals in the space will follow and could indeed include Acadia.