There are only two good reasons to buy gold or make gold investments:
You think the currency you use to buy things might be devalued, one way or another
You think you might get lucky in timing gold's price swings.
If your objective is 2), here is why you shouldn't buy gold: There's lots more play in the stocks (and ETFs) than there is in the metals, including silver. Take a look at the price range swings of just the last year in the near 3 dozen precious metals issues for which we daily update market-maker price range forecasts.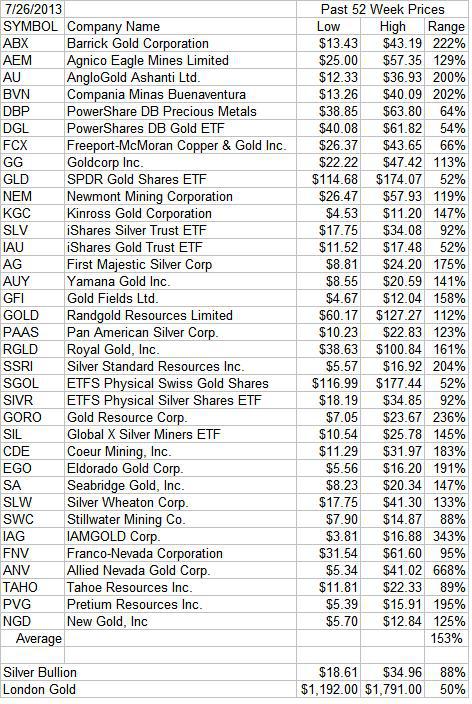 That group's one-year market price ranges average 153%, low to high, compared with gold's 50% and silver's 88%. All of the stocks and ETFs had bigger price swings than gold, and 29 of the 35 by more than silver.
Now here's why, even with most of them near or at their recent lows, it may not be a great idea to try your luck in them right now:
Every day market-makers [MMs] are called on to help fill the stub-ends of volume "block" orders by their big-money fund customers. Some clients may think it's now about time to pick up bargains, others may think it was a bad idea a while ago, and enough's enough. But their ideas of in and out don't often coincide to a perfect balance, and to get the deals done the MMs frequently have to put some of their firm's capital temporarily at risk.
They hate risk. So they hedge, buying insurance against possible hurtful price changes. What they will pay out of what could be a larger trade-spread profit, and the way the protection is structured, tells just how far they think prices can move. Here's what they are thinking now about these stocks and ETFs:
This is not game that gets played perfectly, even when the stocks are ho-hums like grocery stores or rural electric utilities. We keep careful track of what the MMs said about each stock every day, with particular interest in when each stock previously looked to them, in terms of potential upsides vs. downsides, like they see it now. Surprises confound even the experts.
Especially on stocks like these beauties, where so few real "experts" exist that "the one-eyed man" is king. Or, maybe the king is just the consistently luckier one.
We put all their similar past forecasts to a rational standard sell discipline to gauge how well the MM community has done previously when they had sensed (and bet money on) outlooks like today's. In the table above, the column captioned "Win Odds /100" tells how often a price reached the top of their forecast range, or at least were ahead of the entry cost, by the end of 3 months. The next column to the right tells by how much. The only ones they really scored on are DB Precious Metals ETF (NYSEARCA:DBP), Kinross Gold Corporation (NYSE:KGC) and iShares Silver Trust (NYSEARCA:SLV). At the bottom are the averages for the whole set.
Those are pretty ugly numbers in comparison with our whole forecast population of over 2,000 names. Remember, these are the guys who "always" make money, big money, at what they do. UGH! 51 out of a hundred is a coin-flip. But give 'em their due. At least they don't lose much.
The important message is, that is what they see now. There have been better days, much better, and there will be again. It seems what they're saying is "Maybe not now. Try something else to play with." But you don't have to listen. Maybe when you pull the "bandit's" arm you might hit one of those rare 2 or 3 big quick payoffs of a CDE or an NGD.
Do you feel lucky?
Disclosure: I have no positions in any stocks mentioned, and no plans to initiate any positions within the next 72 hours. I wrote this article myself, and it expresses my own opinions. I am not receiving compensation for it (other than from Seeking Alpha). I have no business relationship with any company whose stock is mentioned in this article.