Bemis Company INC. (NYSE:BMS) is a US-based manufacturer of various packaging products around the globe. The company has been in existence since 1885 and operates in three segments: U.S. Packaging, Global Packaging, and Pressure-Sensitive materials. The firm mostly works with companies in the food industry. The company had record sales in 2011 of $5.3B on assets of $4.3B, $5.1 on $4.2 in assets, and TTM sales of $5.1B on $4.3B worth of assets. Bemis Company has been steadily increasing dividends for 30 years straight.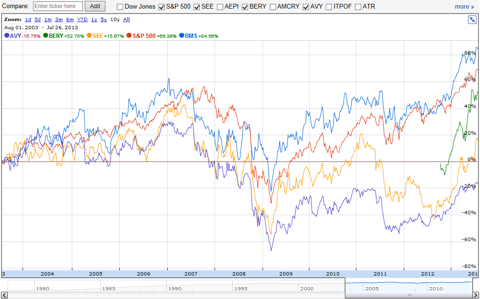 Click to enlarge
The stock has beaten the broader S&P Index in most years and has beaten its comparable-sized competitors in 9 years out of 12 (including the last 5 years).
Its direct competitors include Amcor Limited, Berry Plastics Corporation (NYSE:BERY), Bryce Corporation, Exopack Company, Hood Packaging Corporation, Printpack Inc., Sealed Air Corporation (NYSE:SEE), Sonoco Products Company (NYSE:SON), Wihuri OY, Winpak ltd (OTC:WIPKF), 3M (NYSE:MMM), Acucote Inc., Avery Dennison Corporation (NYSE:AVY), FLEXcon Corporation, Green Bay Packaging Inc., Ricoh Company, Ltd., Ritrama Inc., Spinnaker Industries, Inc., Technicote Inc., UPM-Kymmene Corporation (OTC:UPMKF), and Wausau Paper Corp. (NYSE:WPP):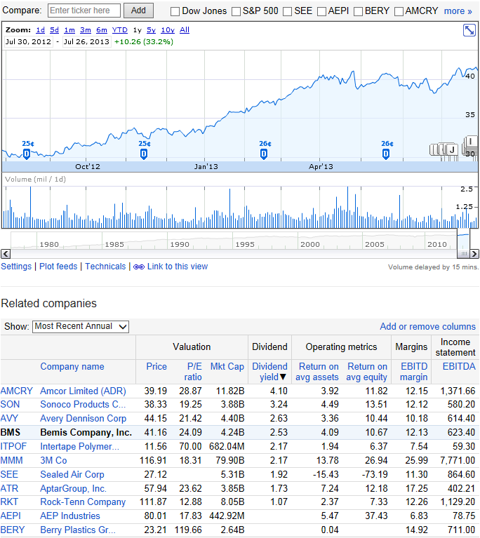 Click to enlarge
The nearest competitors by absolute EBITDA are Avery Dennison Corp., Sonoco Products, Sealed Air Corp., Berry Plastics, and AptarGroup Inc. (NYSE:ATR). Bemis Company trades on P/E of 24.1X and 8.8X Adjusted EBITDA. The stock is up ~33% this year (52wk High of $42.00 and 52Wk Low of $29.59) after having traded in the range between about $22 to $36 per share in the last 10 years, and offers a dividend yield of 2.5%, comparable to 10-year average U.S. inflation rate.
Financials
Below is given the sales distribution figure of the three segments: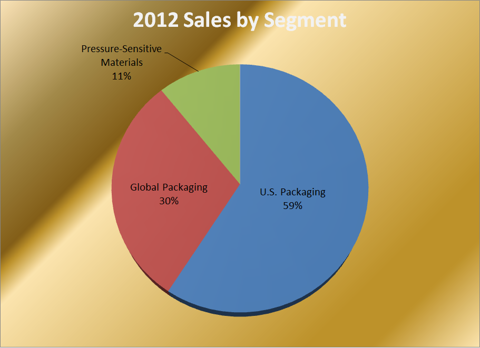 Click to enlarge
Bemis Company's American business accounts for almost 2/3 of total sales, which gives a certain sense of stability to company owners. The 3-year dynamics have been the following: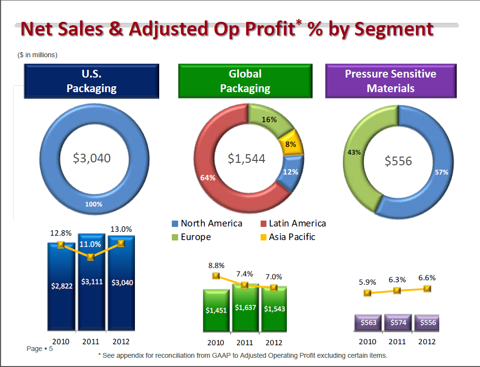 The U.S. division's Adjusted EBIT has rebounded in 2012, climbing above 2010 levels. Global Packaging has seen a slide in profitability in the last three years. Pressure-Sensitive materials are on a steady rise.
Bemis Company's Adjusted EBITDA has been growing at a CAGR of 4.5%, while Sales and Adjusted EBIT have been adding 8.1% and 4.0% a year, respectively. The term "Adjusted" means that regular figures (i.e. EBIT and EBITDA) have been recalculated to balance effects of one-time expenses and M&A costs.
The company has demonstrated astonishing cash flows:

Click to enlarge
Cash Flows from Operations (CFOs) have been stably growing at a rate of 3.9% a year, and the company has performed in the black 9 years out of 10 in the Free Cash Flows' territory. Adjusted FCFs, which is calculated by subtracting dividend payments and stock repurchases from FCFs in order to show long-term sustainability of earnings, have been in the positive territory in 8 years out of 10. To put it simply, the company has paid out $9 per share in dividends in the last decade and reduced the total amount of shares outstanding by 6%.
Another notable feature is that the D&A expense exceeded CAPEX in 7 years out of 10, which means the company has become less aggressive in acquisitions and more attentive to delivering strong cash flows to stakeholders.
Valuation Method 1 of 2: P/E and Dividends
I have analyzed the trend in dividend payments (2002 - 2012):

Click to enlarge
The last figure is TTM and does not incorporate the effects of the recent 4% dividend hike to $1.04 per share. While the incremental changes may seem volatile, the CAGR is a nice 6.6%. I think it is safe to project dividends 5 years into the future at this rate:

Click to enlarge
Discounted at a WACC of ~5% (all calculations are in the workbook), dividends represent a solid ~$5.5 per share addition to current share price of $41.16 (as of Friday, July 26, 2013 close).
Now let us look at the analyst estimates of 2014 and 2015 EPS and translate that into the PV of the stock:
| | | | | |
| --- | --- | --- | --- | --- |
| YR Ending | Q1 Mar | Q2 Jun | Q3 Sep | Q4 Dec |
| 2015 | 0.60 | 0.67 | 0.73 | 0.72 |
| 2014 | 0.56 | 0.63 | 0.66 | 0.62 |
(Estimates found on the corporate website)
The quarterly estimates can be easily changed into annual projections: EPS of $2.72 in 2015 and $2.47 in 2014. Discounted at ~5%, these figures translate into stock prices of ~$59 in 2015 and ~$57 in 2014. This is largely in line with my Net Income estimates in the DCF model and goes along closely with the historical rates of growth of the Adjusted EBIT.
Valuation Method 2 of 2: Discounted Cash Flows
The output of the analysis is given below. As always, the reader can access the details in the workbook.

Click to enlarge
The D&A and CAPEX figures have been adjusted as per Q2 Earnings Call estimates. Let us see the end-result of the projections:

Click to enlarge
The model gives us the range of fair prices per share between $41.74 (lowest multiple and highest WACC) and $59.77 (vice versa). I think the true figure lies between around $50 and $53 per share given current EV/EBITDA of 8.8X and WACC of 4.9%.
Summary
The reader can quickly assess the potential upside to be around 21%, not considering further ROIs resulting from strong ROE and earnings growth. Dividend payments will account for about 50% of the trip to fair value (i.e. real cash returns). Share buybacks may slightly add to price appreciation, although the company has been reducing the total number of shares by less than 1% a year on long-term average.
Given strong financials and considerable rates of growth, why is the company trading below its fair value? In other words, why does this arbitrage-like opportunity exist in the market? First of all, in the past 5 years the S&P Industrials Index has returned about 1% less per year than its peer S&P 500 Broad Index, compounded. This means the sector returned about 5% less over this time frame. All this is not to mention the mediocre return on the S&P Basic Material Index (3.36% vs. 7.56% CAGR), where Bemis Company belongs to. Secondly, as it turned out, Bemis Company has missed overly optimistic analyst consensus EPS estimates 16 quarters in a row. As a result, institutional investors have not been overly optimistic on loading on the stock until about a year ago when the price finally broke above all-time high of ~$36, achieved in 2007.
Conclusion
I believe that Bemis Company is unfairly undervalued compared to its cash flow potential and strong dividend history. Quite a few good opportunities lie in the "boring" sectors of the market and Bemis Company is just one of them. Investors should see at least a 21% upside to fair value grouped with a solid dividend return and strong earnings growth in the next 5 years.
Disclosure: I have no positions in any stocks mentioned, but may initiate a long position in BMS over the next 72 hours. I wrote this article myself, and it expresses my own opinions. I am not receiving compensation for it (other than from Seeking Alpha). I have no business relationship with any company whose stock is mentioned in this article.