Editors' Note: This article covers a micro-cap stock. Please be aware of the risks associated with these stocks.
In a few years, no one will talk about their fantasy team for the fall football season. The death of season-length fantasy sports is already underway, and its gentrifying loyalists will eventually leave plenty of room for younger players who compete in tournaments lasting hours, not months.
I am writing this report partly to explain how to profit from this transition, and partly to create a reference document for researchers looking back on an antiquated era when 2/3rds of fantasy sports tournaments lasted an entire season. I want to cite as many current statistics as possible about the state of the industry, so I apologize in advance for the fact-focused tone with constant citations. I hope the facts do not detract from the inherent excitement of an investment opportunity rich in near-term alpha.
A Sector With One Stock
I have explained why MGT Capital Investments (NYSEMKT:MGT) is the Only Stock For Investing In Daily Fantasy Sports in an article sharing the same title. Although sports and media conglomerates like Comcast (NASDAQ:CMCSA) and Time Warner (NYSE:TWX) own a few daily fantasy sports properties, shareholder exposure as percentage of their global operations is nominal at best. Likewise, very few investors are wealthy enough to participate in private placements through funds like Lightbank, Piton Capital, Pentech Ventures or Bullpen Capital.
No other public stock offers meaningful exposure to this sector besides MGT Capital Investments. Fortunately, this stock is clean, easily understandable, debt-free, preferred-free, 1/4 cash, 1/6 insider owned and trading near the lower portion of its 52-week price range. I encourage critical readers to examine its filings and see for themselves the orderly capital structure and low risk profile of this company. Below is my graph of the stock's constituents as of June 10, 2013.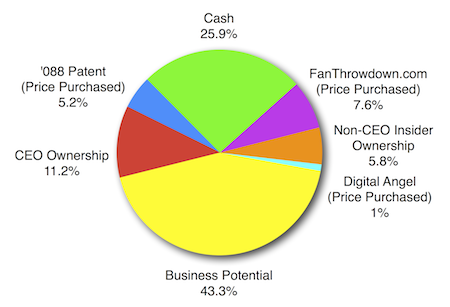 Its market capitalization (based on 7.5 million shares outstanding) is $30 million. Its fully-diluted market capitalization is $40 million. After adjusting for cash, assets and insider-owned shares, 15% of MGT Capital Investments is its daily fantasy sports division (7.6%/50.9%) at its purchase date valuation, and the remaining 85% is the business potential of this division plus the potential of an unrelated lawsuit.
I am a long-term investor. I have already taken partial profits during brief spikes above $5 per share, and I have repurchased a full position at $4 per share. On February 12, under $3 per share, I predicted that MGT Capital Investments would provide "triple-digit returns this year," so I expect shares to hit $6 per share by Christmas. Although I appreciate the potential of the company's lawsuit, I believe $6 per share will occur solely due to growth in its daily fantasy sports division. Of the public options for investing in daily fantasy sports, MGT Capital Investments is now the most concentrated and attractive option by far.
In 2005, Radar Ventures invested $10 million in Citizen Sports. Five years later, Yahoo acquired Citizen sports for $50 million. So far, the growth rate of the top five daily fantasy sports websites has far outpaced the early growth rate in seasonal fantasy sports - most have gone parabolic during 2013, as illustrated in the earlier list of investment activity. Almost all private investors in daily fantasy sports have unrealized gains right now, and the growth rate does not show any signs of slowing. Since its purchase price of $4 million, MGT Capital Investments' daily fantasy sports website has done nothing but grow in value.
I cannot overemphasize that daily fantasy sports is the new sports game, offering same-day cash payouts unencumbered by season-long restrictions. Dale Schmidt, lead fantasy sports analyst at IBISWorld, says daily fantasy sports is a "fast-growing industry that's attracting a lot of companies with good reason." The former global head of Yahoo! Sports (NASDAQ:YHOO) agrees, "One of things we saw at Yahoo is that in the season-long games, 50% to 60% of the audience is no longer in contention by midseason... Traffic starts to dip, and interest starts to wane."
I will explain the growth of this industry in excruciating detail, including how fantasy sports division of MGT Capital Investments compares to its competitors. The option to enter a new tournament every few hours -- rather than once per season -- maintains attention and produces gaming action. "This didn't even exist five years ago, and now accounts for roughly a third of all consumer spending in fantasy sports," said Paul Charchian, the president of the Fantasy Sports Trade Association. The co-founder of the second ranked daily fantasy sports website agreed, "Most people don't want to spend 162 days managing a team, which is what's required for Major League Baseball. Drafting for one night seems more appealing for most people."
Daily Growth Goes Parabolic
At the moment, typical fantasy sports players spend $467 per year on tournaments lasting a full season. The overall fantasy sports industry has grown 241% over the past decade. (IBISWorld market research shows 12% annual growth from 2007 to 2012, and the firm forecasts 8.8% annual growth through 2017.) The whole fantasy sports industry currently generates $1.4 billion in actual fees and wagers, or $3 billion when including products and services.
About five years ago, daily fantasy sports websites started to offer intraday bets. Nowadays, revenues from these "daily" games account for 35% of the $1.4 billion in fees and wagers across all fantasy sports in 2012. Of the 36 million U.S. fantasy sports players today (up from 9 million in 2005), about 1/4th play daily games.
The Fantasy Sports Trade Association projects that revenue from daily games ($493 million of annualized contestant fees as of June 2013 statistics) could double in the next twelve months. Billion-dollar capital fund Atlas Venture projects that those fees will double again by 2020.
To illustrate how fast daily fantasy sports are growing, consider that the top daily fantasy sports website paid out $10 million in winnings in 2011. That figure rose to $50 million by 2012.
Fantasy sports' websites operate by charging memberships and taking a rake of winnings (usually 10%) and charging fees or subscriptions. At least 2 million new players every year will join the industry for the foreseeable future.
A few weeks ago, I explained why daily fantasy sports is an ideal business model in every way.
Owning a daily fantasy sports website grants a casino-like house advantage plus every conceivable benefit of the internet. Daily fantasy sports is based on rakes, fees, and other recurring subscriptions at no risk to the owner, while the customers assume all of the risk. Plus, the internet reduces the cost of doing business to almost $0 aside from programming fees and nominal website costs. The internet allows businesses to reach billions of potential customers, acquire them for pennies per click, customize advertising to the most specific niches imaginable, operate continuous hours, and reduce costs per additional user to $0.

Any online marketing firm can take it from here. Sports offer unlimited keywords with almost no Google Adwords competition (think of the billions of keyword permutations among every athlete, team, date, arena, coach, and statistic), so good firms will lower Cost Per Click to a few pennies. Ads can be customized to every possible search (e.g. "LeBron James August 7") to direct ultra-targeted traffic to the sign-up page (e.g. "Do you think LeBron James will win on August 7? Bet now!").
It comes as no surprise, therefore, that casino lobbyists have been working hard to open doors into this lucrative niche. As of April 22, New Jersey's Division of Gaming Enforcement granted permission to Atlantic City casinos to offer fantasy sports tournaments for real money. In contrast to sports book revenue, in-casino sports fantasy tournaments will not be subject to state taxation. As one of 45 cooperating states, New Jersey would not consider these tournaments as "gambling."
The New York Times reported that Atlantic City casinos could also offer fantasy contests over the Internet, "reaching people who live outside New Jersey." The Director of the Interactive Media Entertainment and Gaming Association confirmed this. Of note, MGT Capital Investments has announced that it will launch "a platform for wagering on skill-based games" by the end of the year, and I personally guess that this could be a turnkey platform for casinos to offer online fantasy sports.
No casinos currently offer fantasy sports tournaments, but the fall football season would provide natural timing for an inaugural offering this year.
Legality
On a federal level, fantasy sports are exempted from gambling restrictions due to the Unlawful Internet Gambling Enforcement Act of 2006. The U.S. bill specifically exempts fantasy sports games, educational games and online contests with "an outcome that reflects the relative knowledge of the participants, or their skill at physical reaction or physical manipulation (but not chance), and, in the case of a fantasy or simulation sports game, has an outcome that is determined predominantly by accumulated statistical results of sporting events, including any non-participant's individual performances in such sporting events."
Fantasy sports are also legal in at least 45 states. (Arizona, Iowa, Louisiana, Montana and Vermont have onerous or unclear regulations regarding their stance.) Although a pending lawsuit Langone v. Kaiser & Fan Duel is challenging the legal standing of daily fantasy sports, federal courts have previously upheld their legality. According to a ruling by the U.S. District Court for the District of New Jersey in Humphrey v. Viacom, fantasy sports games involve predominantly skill because of the complex nature of the games' strategies and the negotiations that occur among team owners.
A New Profession
Like poker in its early days, some players are beginning real careers in fantasy sports. At least 100 people earned more than $40,000 last year from fantasy sports wagering. Millions of dollars are up for grabs every week across various fantasy sports websites, with many tournaments paying six figure sums.
The Wall Street Journal recently profiled a 31-year-old investment analyst quitting his job to become a full-time fantasy sports player. His story mirrors many others who find themselves earning more from nightly gaming than their daytime career. (I was not surprised to discover that the co-founder of the second most popular daily fantasy sports website was, himself, a former professional poker player, earning a million dollars playing poker. Daily fantasy sports is a close cousin to skill-based games containing elements of luck like poker.)
Top 5 Daily Fantasy Sports Websites
According to Daily Fantasy Radio, the following five websites lead the daily fantasy sports industry.
#1: FanDuel.com
With over 4 million users, 250,000 line-up entries per week, and 2012 payouts totaling $50 million, FanDuel is the top daily fantasy sports website. Valued over $60 million (possibly over $100 million by now), FanDuel has raised $16.2 million in series A-C financing since its founding in November 2007. In February 2013, Andrew Cleland of Comcast Ventures said, "We estimate that it is three times larger than its nearest rival." Forbes reported that FanDuel controlled 60% of the daily fantasy sports market in January 2013.
#2: DraftKings.com
DraftKings has over 1 million users just one year after founding and has raised $8.4 million in two financings to date. It allegedly paid out $50 million in winnings in 2012. Although few metrics are available to estimate its valuation, $20 million would be 1/3rd as valuable as FanDuel and therefore match Cleland's earlier estimate.
#3: DraftStreet.com
DraftStreet raised $1.6 million in Series A financing in 2010, $2.6 million in Angel funding in February 2012, and an undisclosed sum from IAC/InteractiveCorp in May 2013. It had at least 25,000 paying users in 2012.
#4: DraftDay.com
Founded in September 2011, DraftDay has at least 20 employees. Lightbank (of Groupon fame) invested $875,000 in DraftDay in April 2012.
#5: FanThrowdown.com
Including managed properties BuzzDraft, DailyJoust and FantasySportsLive, FanThrowdown.com is worth over $4 million and is 63.12%-owned by MGT Capital Investments.
Here is a brief timeline of institutional activity in daily fantasy sports.
Nov 12, 2007: FanDuel.com is born
Jan 2009: FanDuel.com raises $1.2M series A financing
Mar 2010: StarStreet.com raises $250K seed capital
Feb 2011: StarStreet.com raises $600K seed capital
Sep 7, 2011: FanDuel.com raises $4M series B financing
Jan 2012: Gannett acquires Fantasy Sports Ventures for $30M
Apr 2012: DraftKings.com is born
Apr 4, 2012: Groupon co-founders invest $875K in DraftDay.com
Jul 19, 2012: DraftKings.com raises $1.4 seed capital
Jan 30, 2012: FanDuel.com raises $11M series C financing
Sep 2012: Cantor Fitzgerald VC invests $25M in TopLine Game Labs
Mar 2013: FanThrowdown.com acquires BuzzDraft
May 6, 2013: DraftKings.com raises $7M Series A financing
May 20, 2013: MGT acquires 63.12% of FanThrowdown.com for $2.48M
Jun 2013: IAC invests in DraftStreet.com
Jul 23, 2013: MGT invests in FantasySportsLive and DailyJoust
Conclusion
To summarize, the most important points are mathematical. Citations for all claims appear above.
Annual contestant fees for daily fantasy sports as of June 2013 were $493 million, representing 35% of the seasonal+daily industry.
The seasonal+daily industry is growing 8.8% annually.
The top daily website controls 60% of the daily industry, yet has only 5 million users. This is just 14% of the 36 million seasonal+daily players. The remaining 31 million players only play seasonal games. Most of them will start playing daily games within a few years.
Because the seasonal market is growing 8.8% annually and because seasonal players are rapidly converting into daily (or seasonal+daily) players and because daily gaming will attract new customers due to its fast-paced allure, experts predict that daily industry revenues will quadruple within seven years (some optimistically forecast 2,000% growth).
The top five daily fantasy sports websites range in value from $4 to $100 million, representing an unusually small fraction of annual contestant fees for daily fantasy sports ($493 million).
That final bullet point explains the stunning undervaluation in the daily fantasy sports industry. I suppose that undervaluation is understandable when all of these companies are private, young and mostly impossible to access except through private placements.
I was unable to find any analyst reports dedicated to daily fantasy sports - the segment growing by hundreds of percent annually. I found hundreds of reports about seasonal fantasy sports - the segment growing 8.8% annually. No surprise there.
I hope this report was helpful to researchers and anyone interested in the daily fantasy sports sector. It is time to get involved now before priced-to-perfection IPOs of these websites start swindling investors in a few years.
Disclosure: I am long MGT. I wrote this article myself, and it expresses my own opinions. I am not receiving compensation for it. I have no business relationship with any company whose stock is mentioned in this article.