German taxpayers have now footed the bailouts of Greece, Ireland, Portugal and Spain's banks through loans and guarantees. As the German federal election edges closer, Chancellor Angela Merkel and Finance Minster Wolfgang Schäuble will have to share in the public discourse about the massive Southern European debt that public creditors hold.
There are a lot of questions facing Merkel and Schäuble and let's explore some of them here.
Where will Germany draw the line?
German public debate has been dominated by this question. We may not get a proper answer any time before the German federal election on September 22. Even as Merkel and Schäuble keep mum about the mounting costs of the bailouts for Germany, the entire mess is unraveling. There will be a trigger country and it could be Spain, Greece, Italy, Portugal or even Germany. The latter is not much of a possibility as it is not likely that German voters will give a huge vote for the anti-euro Alternative für Deutscheland party (AfD).
What does Greece really need?
Schäuble visited Athens on July 18 and offered a helping hand for Greece's small and mid-sized businesses with €100M in state-backed loans. But this is not got going to be as effective as another restructuring of its foreign debt. And this foreign debt restructuring is not going to be something Mr. Schäuble can get German taxpayers to stand behind and its best for him not to talk about it given the political timeline he is facing now.
Any restructuring from now on will only negatively affect official creditors and Germany owns over 90% of Greek debt. It must be stated here that the Greek bailout in May 2010 by the IMF and the EU was imperative in protecting German banks which had carelessly lent money to southern Euro zone members. So this is as much about shielding Germany as it is about protecting the Euro zone.
Germany is faced with more debt write-offs and loans to Spain, Italy, Portugal and Cyprus in addition to Greece.
How bad can the financial situation in Spain get?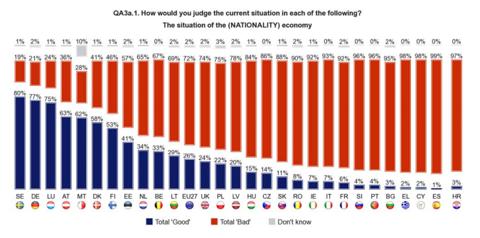 Click to enlarge
(Click to enlarge)
Source: European Commission
According to the latest Eurobarometer survey, 99% of respondents believed that the financial situation in Spain is bad. Spanish unemployment is a key issue with the figure at an astronomic 26.3% for the second quarter after printing a 27.2% value for the first. As for the economic outlook, 46% of those surveyed felt the Spanish economic situation will be more or less the same over the next year. Only 15% think it will get better and an astounding 37% expect things to get worse.
But the vast majority (62%) think that there is more financial trouble to come and there will be an even bigger impact on the already long-suffering labor market.
The problem in Spain is that there really has been little to no austerity. Hard data from El Economista (you'll have to get Google to translate the source) points to almost no labor or pension reform. On the contrary, there has been substantial tax hikes and this has made the quandary in the Spanish financial sector worse.
Is bankruptcy the only way out for Italy?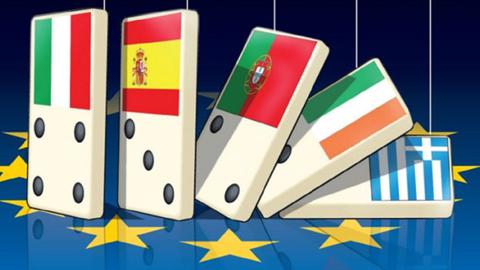 Click to enlarge
(Click to enlarge)
Source: Financial Economy Blog
It seems like the popular anti-German phrase that has been prevalent across Southern Europe - "Don't pay the debt" - may apply to Italy as much as any of the other debt-ridden southern EU member countries.
Italy, like Spain, is a large nation that is very inefficient. Italy has been crisis-prone for six years now and all the solutions have only led to increased spending with more intervention and new laws to boot. The welfare spirit is easy to see in the demonstrations calling for more state intervention when this is precisely the root of the problem.
The Italians and the Spanish believe that raising taxes on the rich will solve their economic troubles. But inefficient governments have only used this tool to be counterproductive. For instance, ex Italian Premier Mario Monti instituted a real estate tax even though 85% of Italians are landowners. Essentially, the middle class is bearing the brunt of this tax hike. So if the Italian middle class is faced with an increased tax burden, the nation cannot boost its economy.
Deregulation will be the key in getting Italy back on track and it is an avenue that the country has a lot to catch up on. Labor laws together with the increased regulation and taxation on Italy's largest companies have made it hard for them to compete globally. The same can be said for Spain.
As for Portugal and Cyprus, the extent and intensity of the two countries' social and economic disintegration are inestimable.
Conclusion: Can Germany put a kibosh to Europe's woes?
The fact of the matter is that Germany holds a lot of Italian and Spanish bonds and therefore it will always support higher taxation in Southern Europe to get these countries to repay their respective loans. This is precisely why the EU member nations to the south are untrustworthy of Germany. Germany, the EU bureaucrats and the IMF are seen more as predators looking out for their own.
What Germany will really have to do is to change this image of itself among its debtors. It needs to take an active interest in the problems that ail its Southern neighbors. There are two things that Germany will have to address. The major one being the need for a fully functioning credit market. Funding is a major issue across Europe with new ideas not being able to be executed because of a lack of capital or access to it.
This low level of funding stems from the credit market being used to basically finance the public debt. It has been the case for Italy for the past three decades. Italy has already paid €90B in interest and default by the State seems to be the only viable option. Italy's public debt comes second to Greece in the EU. So Germany will really have to spur business growth especially small business growth which makes up a large portion of the private sector in Europe. The EU's largest economy will have to do this instead of continuing to propel the bad debtor in the form of Italian or Spanish politicians with more loans and calls for austerity.
All this can only be made possible by addressing the second thing that Germany should do: encourage deregulation. Entrepreneurs need to be provided with an incentive to grow by the state. Tax evasion must not be made such a big deal of. After all, it is taxes that have financed the expansion of the state at the expense of businesses which remain small.
If Germany can play an active role in the success of these economically troubled countries, it will be rewarded with increased support and also stand to get some of its money back. Chancellor Merkel and Mr. Schäuble, over to you!
Disclosure: I have no positions in any stocks mentioned, and no plans to initiate any positions within the next 72 hours.
Business relationship disclosure: This article was written by a research analyst at Investor Aide. Investor Aide is not receiving compensation for it (other than from Seeking Alpha). Investor Aide has no business relationship with any company whose stock is mentioned in this article.