The first article of the series has introduced the Carbonate Triangle of the renowned Canadian oil sands. The region is the world's third largest oil reserve with its rich carbonate-hosted bitumen deposit located in the northern Alberta's deep underground. Precisely, the Carbonate Triangle is situated between three major bitumen areas, Athabasca, Cold Lake and Peace River.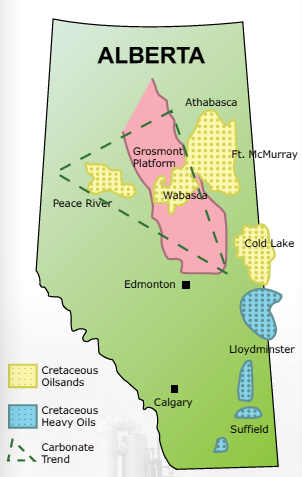 Source: Government of Alberta
In today's investment guide on the Carbonate Triangle, I will review briefly the main characteristics of the Athabasca area with the objective to provide the most complete information available to potential investors before deciding to seize the opportunity that the 54,132 square miles of the Carbonate Triangle has to offer.
So far, I looked into several producers involved in Peace River and Cold Lake regions of the Carbonate Triangle:
Peace River's most notable producers:
Cold Lake's most notable producers:
Athabasca's most notable producers:
Suncor Energy (Part 2), see article here.
Athabasca Oil (OTCPK:ATHOF), see article here.
Furthermore, the producer that I am about to discuss was part of the most notable producers in the Cold Lake Investment Guide. A review of this article is available here. Let's start by looking back briefly at Athabasca, a famous and most prolific region in the Canadian oil sands as well as one of the largest reserve in the world.
Athabasca Region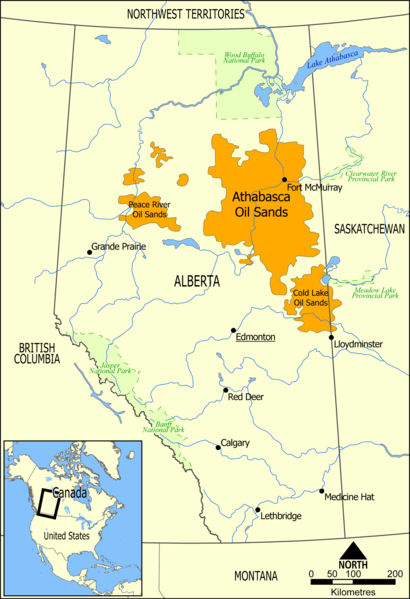 The Athabasca oil sands are named after the Athabasca River, which cuts through the heart of the deposit, and traces of the heavy oil are readily observed on the riverbanks. Commercial production of oil from the Athabasca oil sands began in 1967, when Great Canadian Oil Sands Limited, now incorporated into an independent company known as Suncor Energy, opened its first mine, producing 30,000Bls/d of synthetic crude oil.
The Athabasca region can be defined with two major oil sands deposits: the Grosmont Formation and the Wabiskaw-McMurray Formation. The Grosmont Formation is a late-Devonian shallow marine to peritidal platform carbonate consisting of four recognizable units within the deposit. All of the hydrocarbons are located in an updip position, structurally trapped along the erosional edge and contained by the overlying Clearwater Formation.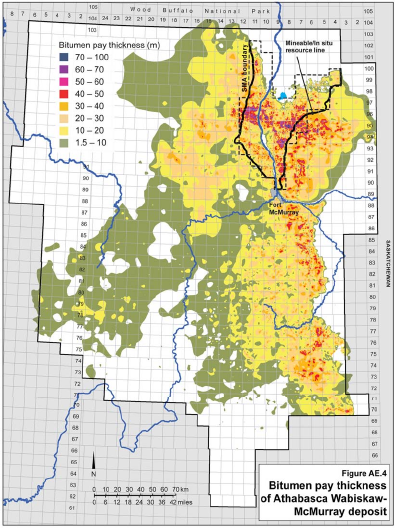 Source: ERCB
The McMurray Formation was deposited on an exposed karstic landscape of ridges and valleys and varies in thickness from being absent over Devonian highs to over 426 feet thick in the Bitumont Basin. Bitumen-rich reservoirs formed within estuarine valleys stacked above the Lower McMurray channel sands and are assigned to the Upper McMurray Formation.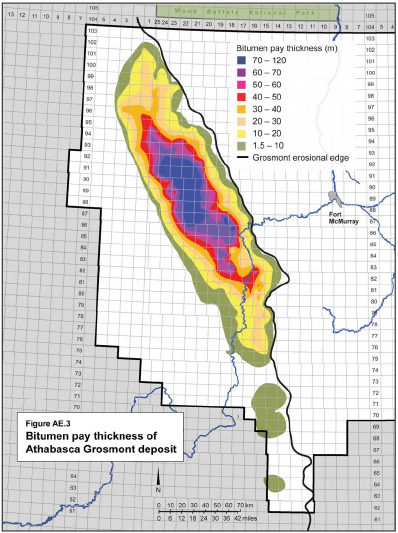 Source: ERCB
The Athabasca region is estimated to hold total reserves of 1.34 trillion barrels of oil. Approximately 8-10% would be recoverable with current technology, which would represent a total reserve of 134 billion barrels. Compared to the estimated 7 billion barrels contained in Peace River and approximately 16 billion barrels in Cold Lake, the Athabasca region is the most prolific and the most promising of the three, located in the Carbonate Triangle.
Canadian Natural Resources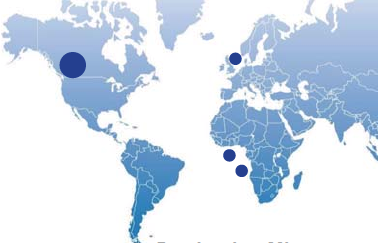 Source: Canadian Natural's June 2013 Corporate Presentation
Canadian Natural is one of the largest independent crude oil and natural gas producers in the world. The company has a diversified combination of assets in North America, the North Sea and Offshore Africa, which enables it to generate significant value even in challenging economic environments.
Its balanced mix of natural gas, light oil, heavy oil, in-situ oil sands production, oil sands mining and associated upgrading facilities, represents one of the strongest and most diverse asset portfolios of any energy producer in the world.
Canadian Natural's primary heavy crude oil operations are centered on the Alberta-Saskatchewan border, near the city of Lloydminster. The company's extensive and dominant land base allows it to conduct large scale drilling and development programs, while minimizing its capital cost requirements. Costs are further managed through owning and operating centralized treating and sand handling facilities, maximizing the utilization and using its size to achieve economies of scale.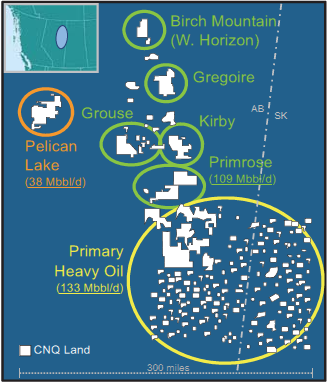 Source: Canadian Natural's June 2013 Corporate Presentation
The Canadian Natural Advantage Way
The company's infrastructure includes five crude oil processing facilities and four salt caverns for solids disposal. The ownership of the ECHO sales pipeline allows it to be the only producer capable of delivering undiluted heavy crude oil into its blending facilities at Hardisty, Alberta. According to Canadian Natural, its infrastructure and size gives the company significant competitive advantage in this area and its large inventory of drilling prospects leads to greater flexibility, enabling it to react very quickly to changes in commodity prices or changes in capital allocation.
Canadian Natural's strategic plan is to achieve production growth from crude oil through a defined growth strategy incorporating low-risk development projects. It targets secondary and tertiary recovery of light crude oil, primary, secondary and tertiary recovery of heavy crude oil and thermal in-situ recovery of bitumen. Its crude oil development strategy is based on low-risk exploitation anchored by its expertise in improved recovery techniques. This allows the company to maximize crude oil recovery and value from both mature and new crude oil pools.
Operations In Athabasca Region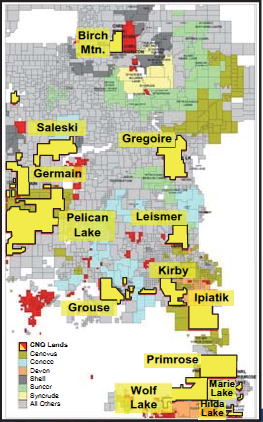 Source: Canadian Natural's June 2013 Corporate Presentation
The primary oil advantage for the producer is based on shallow formations, low risk and multi-zones where slant or horizontal wells from multi-pads will be used at 1150-2133 feet depth, with 1-3 zones per well. Canadian Natural has a consistent rig fleet over multiple years and over 8,500 locations in inventory of drilling locations. It focuses to keep its operating costs at low levels by trucking its produced oil, water and sand to its owned and operated central batteries.
Kirby South Thermal Project
The next thermal project that Canadian Natural has under development is the Kirby South in-situ project. It is the first project that the company is undertaking in the Athabasca McMurray reservoir and will be using SAGD technology. Regulatory applications were filed in 2007, sanctioned in 2010 and earthwork construction began in late 2010. Canadian Natural reported that construction of Phase 1 continues to progress ahead of plan and is currently at 74% of completion, with 89% of capital expenditures committed. Phase 1 would have a capacity of 40,000Bls/d. Regulatory application for Phase 2 was submitted in Q4 of 2011 to add 20,000Bls/d by 2020.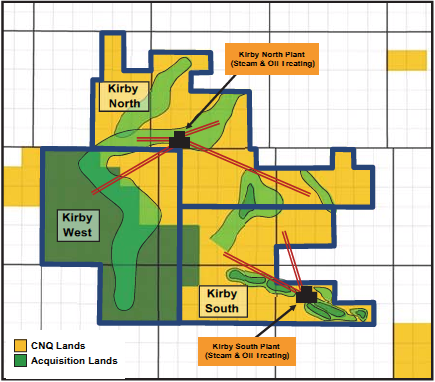 Source: Canadian Natural's June 2013 Corporate Presentation
Kirby North Thermal Project
Canadian Natural has budgeted approximately $205 million for Kirby North in 2013 to progress detailed engineering, order modules and construct camp facilities. Regulatory application for Phase 1 and 2 was submitted in Q4 of 2011. To accommodate the acquisition of lands adjacent to the Kirby area that Canadian Natural may include in the project, first steam at Phase 1 is anticipated in 2016 with a 40,000Bls/d capacity. Phase 2, expected for 2019, would add 60,000Bls/d to Kirby North.
The Kirby thermal oil project has a strong reserve base with significant upside. According to its Corporate Presentation of June 2013, the area would have a proved and probable reserve of approximately 533 million barrels of oil. Furthermore, with the land acquisitions contiguous to its existing land base, the company created value through capital and operating synergies, as well as adding 343 million of barrels of contingent resource.
Grouse Thermal Project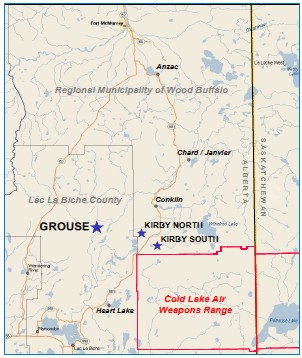 Source: Grouse In-Situ Oil Sands Projects, Canadian Natural
Canadian Natural's timing of Grouse has been adjusted as well to accommodate the potential inclusion of recently acquired lands adjacent to the company's Kirby area and provide a more balanced capital expenditures profile going forward. Regulatory application was submitted in Q1 of 2012. First steam at Grouse is expected between 2017 and 2019 with an initial capacity of 50,000Bls/d.
Gregoire Lake Thermal Project
Geological scoping is underway at Gregoire Lake but the project is scheduled for the long term, the company is still exploring the feasibility of this asset. However, two 60,000Bls/d phases are planned and forecast appearing for 2024.
The company has the potential to add significant incremental thermal in-situ production from its oil sands leases. By executing its defined plan to develop these leases and assuming adequate returns are achievable, it targets to grow its thermal in-situ production capacity from 120,000Bls/d to 480,000Bls/d by 2026. Its thermal operations represent a tremendous value growth opportunity and are an integral part of its defined plan according to the company.
Horizon Oil Sands Mining Project
Source: Canadian Natural Resources
Horizon is a world-class asset opportunity for oil sands mining with 14.4 billion barrels of bitumen discovered initially in place. The best estimate contingent resources other than reserves are estimated at 3.3 billion barrels, as of December 2012. The company stated that this asset would support between 232,000-250,000 barrels per day of light, sweet, crude oil production for over 40 years, with no production declines, thus providing significant free cash flow generation for decades.
Source: Canadian Natural Resources
Phase 1 is in operation since 2008, with an initial capacity of 135,000Bls/d. In 2012, it produced an average of 86,000Bls/d with sustaining capital spent of $223 million. For this year, production is expected to average between 100-108Mbls/d with sustaining capital of $180 million. The total capex spent for Horizon in 2012 totaled $1.3 billion. Canadian Natural expects this year's capex to reach about $2.06 billion.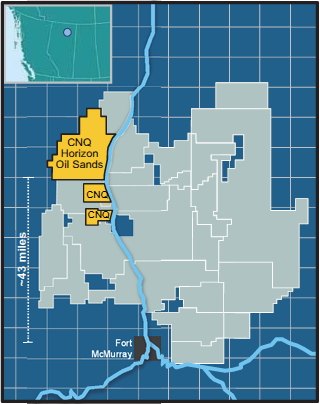 Source: Canadian Natural's June 2013 Corporate Presentation
Notably, the facility is currently expanding. The Reliability Phase is complete at 88%, running below budget and would add 5,000Bls/d once complete. Phase 2A is in construction, completed at 52% and is expected for late 2014. It would add 10,000Bls/d to overall production. Phase 2B, also in construction, is complete at 11% but no date has been determined yet for its overall completion. However, it would add 45,000Bls/d of capacity, in three years at the latest.
Source: Canadian Natural's June 2013 Corporate Presentation
Phase 3, completed at 11% with engineering on track, is expected to add 80,000Bls/d, bringing the overall daily production capacity at 275,000 barrels. Start-up of Phase 3 has not been determined yet. Furthermore, the company targets future expansions that would almost double the overall capacity to 500Mbls/d. Regarding its operating costs, Canadian Natural has targeted a per barrel cost between $32-$34 for Phase 1 and projects a per barrel cost of $22-$24 once Phase 1 to 3 are operating.
Outlook For Its Oil Sands Projects
According to its 2012 annual report, the company produced an annual average of 451Mbls/d of oil before royalties during the year. For 2013, it expects to rise its daily production between 482-513Mbls/d. With Kirby South Phase 1 commissioning later during the year, the company will add a capacity of 40,000Bls/d to its overall production. The Reliability Phase at Horizon is nearly complete and will add 5,000Bls/d more later this year or in the beginning of 2014. With these late additions, the producer will see its oil production, rising by almost 10%.
Canadian Natural projects to add 40,000-60,000Bls/d in oil production every 2-3 years with its current timeline for commissioning its projects. The following chart gives a good idea of what is coming for the next 15 years in its pipeline, the company targeting its future expansions to almost double its overall capacity to 500Mbls/d.
Source: Canadian Natural's June 2013 Corporate Presentation
For this year, the company is projecting to generate about $7.4 to $7.8 billion in cash flow since crude oil & NGLs production is expected to grow by about 10% with its growing operating cash flow from several assets.
Source: Canadian Natural's June 2013 Corporate Presentation
Regarding its oil sands mining operating costs per barrel, including 4-5% of royalty rate, the costs amounted to an average range of $38-$41. Aside from its mining operations, operating costs per barrel in North America achieved a great average range of $12-$14. As seen before, the producer projects a per barrel cost for its thermal assets of $22-$24 once Horizon Phase 1 to 3 are up and running.
Source: Canadian Natural's June 2013 Corporate Presentation
Outstanding Reserves For Canadian Natural Resources
Canadian Natural's gross reserves of crude oil and natural gas, as of December 2012, were estimated at 4,329Mmbls (million barrels) of proved crude oil and NGLs, 4,136Bcf (billion cubic feet) of proved natural gas, 7,886Mmboe (million barrels of oil equivalent) of proved and probable barrels of oil on an estimated total bitumen-in-place of 97 billion barrels.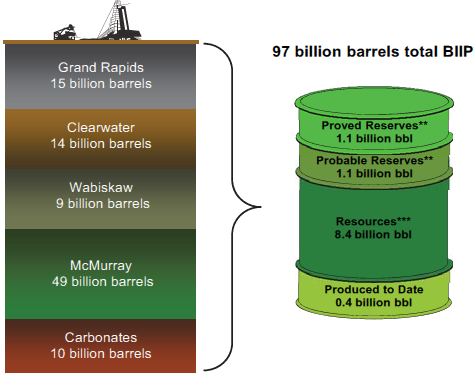 Source: Canadian Natural's June 2013 Corporate Presentation
Bottom Line
Canadian Natural, in my point of view, has an efficient strategy for growth combined with low risk potential. As a matter of fact, the balance between natural gas, heavy crude oil and light crude oil provides some diversification from commodity price risk while also facilitating more options with which to allocate capital to the highest return projects. Balance between short, medium and long-term projects also provides more visibility to future growth initiatives.
The company uses disciplined hedging programs which strive to provide cash flow certainty in the short-term without overexposing itself to fluctuations in commodity prices. Its current balance sheet is relatively in good health, its long-term debt to equity ratio of 37.20 compares favorably to 68.20 of its industry, suggesting that Canadian Natural manages its financing adequately.
I believe that Canadian Natural Resources is one of the most well positioned oil producer in the Canadian oil sands, thanks to the quality of its several projects underway. The Horizon asset has tremendous potential to rise bitumen production to an all new level for the company, in a few years from now. As seen before, significant free cash flow is already generating from its core assets and it should grow accordingly with the close commissioning of the Kirby asset.
When all will be said and done, some investors will ask themselves the killer question: "Why have I not seen that opportunity right in front of my eyes?"
Disclosure: I have no positions in any stocks mentioned, and no plans to initiate any positions within the next 72 hours. I wrote this article myself, and it expresses my own opinions. I am not receiving compensation for it (other than from Seeking Alpha). I have no business relationship with any company whose stock is mentioned in this article.