Despite a couple of intra-week tumbles, the bulls managed to stage enough of a recovery late Friday to pull the market back to what was basically a break-even for the week…. a microcosm of the bigger indecision that's surrounding stocks right now. The bigger-picture momentum is still bullish, even if the market is overbought. On the flipside, the market can only stay overbought for so long until the piper must be paid. That's what keeps stirring the pot of doubt.
Logic says we should count on a correction from the market soon. Funny thing about that kind of low-grade doubt - the market has a way of climbing walls of worry. Translation: Stocks actually do have a shot at moving higher from here.
We'll look at the "why" and the 'how" in a moment, right after a run-down of last week's and this week's economic numbers.
Economic Calendar
It wasn't too busy of a week last week. The only big news we got was the rest of the real estate report card, and June's durable orders.
On the real estate front, the pace of existing home sales fell a bit, from 5.14 million to 5.08 million. It's still a pretty solid figure though. Home prices also went up, extending a multi-month trend. And, sales of new homes hit a multi-year high pace of 497,000. All in all, this continues to be a bright(ish) spot for the economy.
Durable orders were up a whopping 4.2% last month, though taking planes and cars out of the equation, orders were flat from June to July.
All the other numbers are on the following table.
Economic Calendar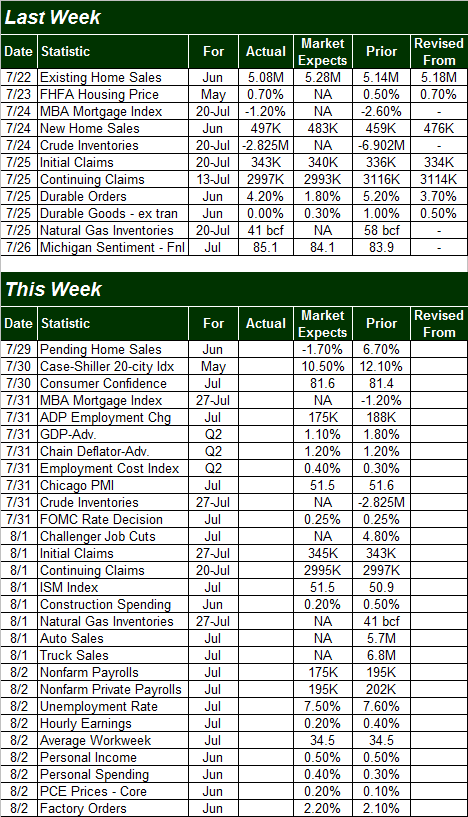 As you can see, this week is going to be a very, very busy one in terms of economic numbers…a large dose of data that's going to be made even more intense by the fact that we're now waist deep into earnings season. But, the only economic news anybody really cares about this week is the latest round of employment news.
The jobs picture starts getting painted on Wednesday with last month's ADP employment change. The pros are expecting 175,000, down from 188,000 in June. The figure jives with the forecasted Department of Labor figure, which economists expect to roll in at 175,000 as well, down from 195,000 in June (195,000 nonfarm jobs compared to 202,000 new nonfarm jobs in June). Forecasters think that'll be enough pull the unemployment rate down from 7.6% to 7.5%.
Stock Market
Just to establish the framework, let's start this week's chart analysis with a look at the weekly chart. As you'll see, we're still moving upward, fueled by the tall reversal bar from five weeks ago. Yes, that momentum has slowed the last couple of weeks when the S&P 500 (SPX) (NYSEARCA:SPY) re-encountered its upper 26-week and 52-week Bollinger bands (as could have been expected), but the trend is still bullish now that it's back inside the very long-term bullish channel framed by dashed lines.
It's on the same weekly chart, however, that we can see just how low the CBOE Volatility Index (VIX) (NYSEARCA:VXX) is. We're talking multi-year lows. So far it hasn't been a problem; the S&P 500 has rallied while the VIX has just been content to simply move sideways, testing the floor around 11.0 and 12.4 several times since February. But, with the VIX hovering at multi-year lows for this long now, there's a running risk of an upside move from the VIX and a subsequent pullback from the market. If it happens, then it becomes a matter of degrees; how far must the S&P 500 fall if and when the VIX starts its return trip to its long-term norm around
Nothing really changes when you zoom into the daily chart - the undertow still looks technically bullish, but things could be healthier.
The good news (for the bulls) is, that last bullish push on Friday meant a close above the key line in the sand at 1687.18. That was the peak from May 22nd, and though the SPX actually already topped that level a couple of weeks ago, Friday's bounce revived the uptrend despite the fact that the bears had every chance in world to drive the final nail in the coffin late last week. That small pullback and subsequent rebound - especially in front of a weekend - speaks volumes about how much traders want to be bulls here… even if that's an irrational idea.
What's interesting here is that the slowing of the rally two weeks ago and last week's sideways movement bought the market some time for a couple of key support levels to catch up. Now the 50-day line moving average line (purple) is at 1644, and the 20-day moving average line (BLUE) is at 1663; either could play a support role should we get a strong bearish pushback. And, even if neither of those moving averages ends up stopping and reversing a dip, there's now a convergence of potential support lines around 1600. With three (and arguably four) known floors near there now, a slide back to the 1600 area has become our worst-case scenario.
It may not even matter in the very near term. The S&P 500 has a little room to scoot higher from Friday's close of 1691.65 before either of its upper Bollinger bands are hit, and the VIX - as low as it is already - won't find a firm floor until it reaches the 11.5 area. When and if those band lines are brushed though, be ready to move…. one way or another.
The point is, there is no "high odds" outcome here. The best move may be to let the market (NYSEARCA:DIA) (NASDAQ:QQQ) (NYSEARCA:IWM) tip its hand this week before placing a bet. There's a lot of pent-up movement that will be unleashed soon enough, but the market's doing a pretty good job of staying on the fence right now.
For what it's worth, we find the convergence of moving averages at 14.3 for the VIX to be a very, very interesting clue. A cross above that entanglement in May was what kicked off the sizable drop for the broad market. That may well be the signal to look for this time around as well, rather than relying solely on the S&P 500′s chart to start a break down.
Disclosure: I have no positions in any stocks mentioned, and no plans to initiate any positions within the next 72 hours. I wrote this article myself, and it expresses my own opinions. I am not receiving compensation for it. I have no business relationship with any company whose stock is mentioned in this article.