Semtech Corporation's (NASDAQ:SMTC) second-quarter earnings beat the consensus by 3 cents.

Revenue of $66.3 million exceeded consensus estimates by 17.3% and was higher than management's expectations of $62-65 million, or up 4-8% sequentially.

Total revenue increased 10.4% sequentially and decreased 14.9% from the year-ago quarter. The consumer, industrial, communications and computing segments generated 40%, 25%, 20% and 15% of revenue, respectively.

The consumer business grew the strongest, as channel inventories were filled and consumption also increased. Revenue increased 22.7% sequentially and declined 12.8% year over year.

The computing business grew 18.3% sequentially and declined 24.9% year over year. The sequential increase was the result of positive seasonality. The year-over-year decline in both segments was recession-related.

The communications business also grew strongly, up 16.2% sequentially and 0.1% year over year. The strength in this market was driven by increased infrastructure investment in 3G, 4G, WiMAX and other emerging platforms, partially offset by relative softness in China, as stimulus-driven spending dropped off.

The industrial business was very weak, as the longer lead times in this segment typically delay the effects of both the onset and end of recessionary conditions. Segment revenue was down 11.0% sequentially and 21.2% year over year.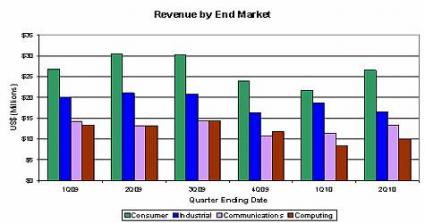 Quarterly revenue contribution by geographic location was North America 25% (up 2.2% sequentially), Europe 15% (down 24.7%) and Asia/Pacific 60% (up 29.9%).

We estimate that the book to bill ratio (BTB) was 1.07. The backlog increased 11.4%, as new orders continued to grow, albeit at a slower pace. Turns business was down single-digits, both sequentially and year over year.

Lead times continue to vary by segment, with consumer, computing and handhelds significantly lower than the other segments. Management stated that it would need 38% turns business in the second quarter to reach the $72 million guidance point, which is at the high-end of the historical range.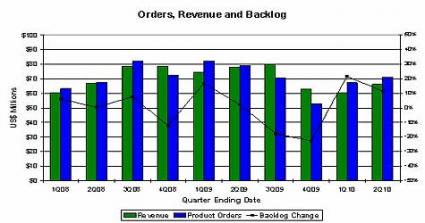 The pro forma gross margin for the quarter was 55.0%, up 3 basis points (bps) from the previous quarter's 55.0%. The sales mix was again the most significant reason for the gross margin performance in the last quarter, as the strength in lower-margin consumer and computing was offset by the strength in higher-margin communications.

Operating expenses of $22.2 million were lower than the previous quarter's $22.6 million. The operating margin was 21.5% up 396 bps sequentially from 17.6%, driven by lower R&D expenses and partially offset by higher SG&A expenses (as a percentage of sales).

Pro forma net income was $11.8 million, or a 17.8% net income margin compared to $9.2 million, or 15.3% in the previous quarter and $15.4 million, or a 19.8% net income margin in the prior-year quarter. Fully diluted pro forma earnings per share was 19 cents compared to 15 cents in the previous quarter and 25 cents in the July quarter of last year.

The pro forma calculation in the last quarter excludes restructuring charges, stock based compensation expenses, the amortization of acquisition-related intangibles and option and restatement-related legal expenses. On a fully diluted GAAP basis, the company recorded a net profit of $7.4 million (12 cents per share) compared to $4.9 million (8 cents per share) in the previous quarter and a net profit of $11.7 million (19 cents per share) in the prior-year quarter.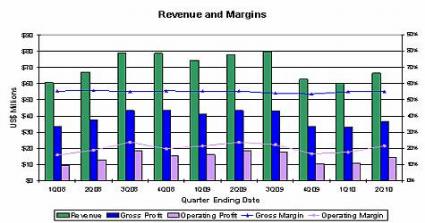 The balance sheet remains strong. Inventories were up 1.9% to around $27 million, yielding annualized inventory turns of 4.5x. Days sales outstanding (DSOs) went down from 37 to 35 days. The company ended with a cash and investments balance of $267.5 million, or $4.38 per share. Semtech has no long-term debt, and long-term liabilities at quarter-end were around $11.1 million.

Management anticipates third quarter 2010 revenue of $70-73 million (up 6-10% sequentially). The consensus estimate for the quarter is $71.37 million, within the guided range. The company did not provide non-GAAP guidance in the last quarter. Therefore, expenses, margins and EPS expectations presented below are on a GAAP basis.

The second quarter gross margin is expected to be flat sequentially, R&D is expected to come in at around $11 million, SG&A around $18.3 million, equity compensation around $4.6 million and interest and other income around $300K. The tax rate for the rest of the year is expected to be 17%.

The weighted average diluted share count is expected to be around 62.2 million shares, yielding an EPS of 12-14 cents. The consensus EPS estimate for the third quarter is 19 cents, better than the guided range. Third quarter capital expenditure is expected to be $5 million, depreciation $1.6 million and amortization of intangibles $300K.