Sporting a 11x P/E ratio and 19% EPS growth projections for the next 4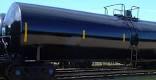 quarters, Trinity Industries, Inc. (NYSE:TRN) owns a variety of businesses which provide products and services to the industrial, energy, transportation, and construction sectors in the US. Most significantly, the company builds and leases freight cars, tank cars and inland barges which are essential to the oil and gas energy renaissance infrastructure build-out, which is currently running at full throttle. With pipelines slower to respond to demand due to construction time and capital intensive requirements, TRN not only fills the gap in supply for oil and gas, but also for fracsand, chemicals, and other by products of oil and gas development.
US oil production is rising, and Natural Gas is arguably replacing some coal use at power plants. In addition, the countless LNG export projects underway will only boost the need for gas production, transport, and storage. This is where TRN stands to profit, especially since the rail car production and leasing segments are the most lucrative. The Q1 2013 10-Q shows the rail division's $164.5 M profit totaling 103% of the company's net profits, as the other segments lacked the same luster:

The two rail segments combined for a 24.9% revenue increase since last year, and a whopping 54% increase in profit as well. They together accounted for 81% of company revenue, an increase from 68% last year. These numbers indicate the rail business is booming, especially relative to the rest of the company. Also, since profits grew faster than revenues, we can assume margins expanded for the rail segment as well.
In 2012, the dividend was increased 22%, and the company purchased $1.8 M shares for $45 M, or roughly $25/share- 45% cheaper than today's prices. TRN's order backlog for rail projects increased to a record high of $3.7 B in 2012, an astounding 42% increase from 2011's $2.6 B order book, and a huge increase from 2010's $456 M. If we estimate 20% margins for the 3.7 B in orders going forward, we can derive $740 M in profits. Combined with $573M in existing cash, we get of approximately 44% of the market cap, which in my view is reasonably compelling. The company does have $2.97 B in debt, but the immense growth combined with reasonable valuations while shares are simmering 17% from 52 week highs seems opportunistic. Also, the stock's relatively low yield is a positive going into any tapering activity that should hit higher yielding stocks the hardest.
The TRN story does seem attractive, as the rail segment is seeing rapid acceleration in backlog, revenues, as well as profits. The company is set to report earnings after the bell on 7/31/2013, so keep this in mind when timing your buy orders.
Disclosure: I have no positions in any stocks mentioned, but may initiate a long position in TRN over the next 72 hours. I wrote this article myself, and it expresses my own opinions. I am not receiving compensation for it (other than from Seeking Alpha). I have no business relationship with any company whose stock is mentioned in this article.