Obsession with Beating BlackBerry Misplaced
Look at any blog on Nokia (NYSE:NOK) and a comparison to BlackBerry (NASDAQ:BBRY) is sure to be near, followed by endless analysis as to why one or the other will soon establish itself as the third ecosystem and how there is no room for four.
In this article, I suggest that by constantly comparing Nokia with BlackBerry, investors are taking their eyes of a much more potent threat to Nokia in the coming year - Sony (NYSE:SNE).
Sony Already Ahead of Nokia on Handset Comeback Trail
While Sony's brand has gone into hibernation here in the US over the past two decades, especially in the mobile handset market, readers may be surprised by the following chart which shows the unit shipment trajectory of their Android-based Xperia line of smartphones.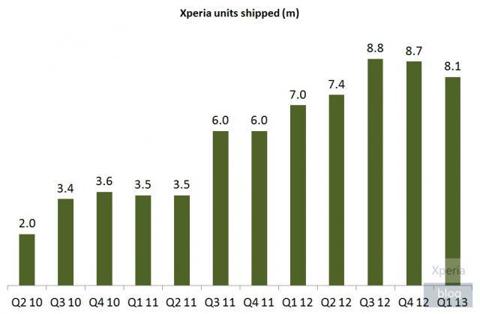 Click to enlarge
Source: XperiaBlog vis-a-vis Sony
Notice that they are already ahead in units shipped versus that of Nokia's Lumia line.
Sony remains a wounded animal - much of their comeback (and their corporate pride) is tied to a resurrection of their status as a major worldwide player in the mobile handset market.
Dredging Up Useless History: What if Nokia Had Gone Android
Most blogs that discuss Nokia have frequent lively discussions about whether Nokia would be better off or worse off today had they chosen to go the Android route versus trying to establish a third ecosystem via Windows Phone. The naysayers, led by Nokia's CEO Stephen Elop, claim that Android is a natural monopoly and point to Samsung's overwhelming 42% market share in the Android handset market as strong evidence to support that theory.
At this stage of the handset evolution cycle, Samsung's near vertical monopoly does give them a significant advantage. They not only own the overall design of their product but also manufacture the semiconductors, front panels, and just about everything else sans the operating system software. While making software has always been a weakness for this giant, access to Google's Android has allowed them to overcome this deficiency while pressing all their other advantages.
So the theory goes that if Nokia had gone Android, they would be in the same weak position today as the other also-rans in the handset space: LG Semiconductor, HTC, Motorola (now part of Google (NASDAQ:GOOG)), etc.
But the problem I have always had with this theory is that Nokia has historically been a better hardware manufacturer than these second tier vendors. Looking at the Sony Xperia chart, above, might suggest to some that there is an opportunity for a second (or third) Android vendor to do well - in addition to Samsung.
To be fair, Sony's home market in Japan provides a much larger and more loyal audience than does Nokia's much smaller home in Finland. In addition, Sony fans (yes, there are some) continue to gripe about Sony being six months late with all their features. (Not that we Windows Phone investors are doing any better on that front). Therefore, the chart above provides no guarantee that Nokia would have done similarly well had it gone the Android route. In addition, Sony's momentum with Xperia may have stalled given the sequentially lower units it reported for 1Q13 versus 4Q12.
So what is the answer? Would Nokia have done better going with Android. I do not know but my point for mentioning it in this article is that it is the wrong question - it is now too late for Nokia to switch to Android. Even if tomorrow morning Microsoft (NASDAQ:MSFT) were to release them from their Window's Phone bondage (which, obviously, is not going to happen), the time and effort it would take for Nokia to get going on Android would likely result in significant additional cash burn. This balance sheet flexibility Nokia does not currently posses. At a minimum, Nokia would be forced to raise capital at the currently depressed level, which would severely dilute existing shareholders.
So, like it or not, we long-term Nokia shareholders are married to Windows Phone. Thus, that is where our investment focus needs to be.
Why Sony Is A Bigger Threat Than BlackBerry
Sony continues to innovate with their Xperia line of Android handsets. Other than Samsung, there are few Android vendors who can make such a claim. Most local manufacturers like Karbonn in India and Huawei and ZTE in China are more focused on delivering value at the low end.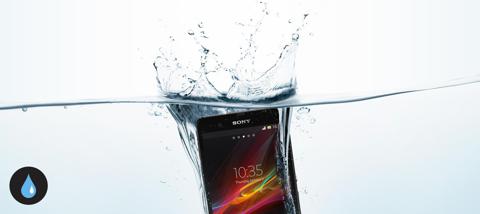 Click to enlarge
Source: Sony
Sony Devices High Quality & Feature Rich
But Sony is not as interested in the price game. They are making high-end handsets with many innovations. To get a feel for their high quality (one of the main reasons they represent a threat to Nokia), just go to the GSMarena homepage and look under the chart of device ratings on the bottom right of the page. Notice how these devices dominate the chart with their superior quality. Thus, Sony and Nokia are trying to reach the same target market.
Sony Marketing Better Camera Also
Like Nokia, Sony is highlighting its advanced camera technology in its latest generation (soon-to-be-released) phone, the Honami: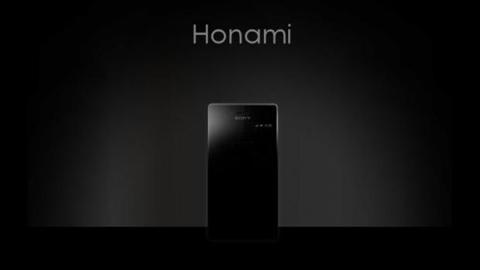 Click to enlarge
Source: Sony
Although Sony's camera on the Honami will reportedly use a 20 Megapixel camera compared to the 41 Megapixel on the Lumia 1020, if Sony can convince the photography enthusiasts that 20 Megapixels is enough, the Honami will provide significant competition to the Lumia 1020 because the Honami will have a stronger base of apps due to its Android OS. You can read more about the upcoming Sony Honami and how it compares to the Nokia Lumia 1020 here.
Sony Also Pursuing Similar US Distribution Strategy as Nokia
Sony faces the same brick wall in the US in terms of trying to penetrate past the iOS-Android duopoly. Like Nokia, they are targeting transitional customers from feature phones as well as the pre-paid market. This similarity in marketing strategies will put them head-to-head with Nokia in the coming months.
Conclusion
In this note, I have suggested that Nokia investors need to follow Sony for the next several quarters because, like Nokia:
Sony competes in the handset market based on quality and features (not price like the local vendors).
Sony is featuring an improved camera in their upcoming phones. Although the specs may not be quite as good as Nokia's, Sony boasts a better app repertoire thanks to its Android OS.
Sony's US strategy consists of targeting the prepaid market via T-Mobile.
If Sony is successful in resurrecting its long dormant brand in the US (and worldwide) by attracting customers to its high quality smartphones, the road ahead will be that much tougher for Nokia.
Disclosure: I am long NOK. I wrote this article myself, and it expresses my own opinions. I am not receiving compensation for it (other than from Seeking Alpha). I have no business relationship with any company whose stock is mentioned in this article.