Restaurant chain Chipotle (NYSE:CMG) posted solid second quarter results. Revenue jumped 18% year-over-year to $817 million, easily exceeding consensus estimates. Earnings per share were also above the Street's consensus, growing 10% year-over-year to $2.82. Thus far in 2013, the firm has generated $187 million in free cash flow, equal to 15% of total revenue.
Outperformance in Chipotle's second quarter results was largely driven by a 5.5% same-store sales growth rate. Co-CEO Steve Ells explained that all the company needed to bolster comparable store sales relative to consensus was a little marketing. On the conference call, he elaborated on this point, saying:
"In addition to our Cultivate Festivals, we are now well into our skillfully made advertising campaign and our ongoing tracking of that campaign is encouraging, with 93% of consumers saying they find the ads relevant, compared with an average of 55% for advertising campaigns in general. 91% say they are a little or a lot more interested in trying Chipotle compared with a norm of 61% for other ad campaigns. And 89% saying that they felt a lot of information in this ad was new to them."
Essentially, marketing is working for Chipotle exceptionally well, and it appears increased advertising spending may help boost sales materially. Chipotle also received a nice contribution from the catering business, which now accounts for 1% of sales, but the lion's share of growth came from increased traffic at its restaurants.
On the expense side, we witnessed a 160 basis point year-over-year decline in restaurant operating margins to 27.6%. The measure peaked in the second quarter of 2012 (+29%), and we doubt operating margins will approach that level again. For one, the second quarter of 2012 had fantastic same-store sales growth of 8%, but more importantly, we think new restaurants are materially less profitable than existing restaurants. We think it is more appropriate to look at incremental restaurant operating margins, which we estimate to be in the low-20% range.
Chipotle is also dealing with much higher food costs, which increased 100 basis points year-over-year to 33.1%. Management initially forecasted food costs to be approximately 33%-34% of sales, so we would not be surprised to see this number tick up in the back half of 2013. Much of the higher food costs can be alleviated with higher burrito prices, and we think management feels confident in its ability to raise prices without losing volume. However, we'll be watching this dynamic closely.
Year-to-date, the company has opened 92 new restaurants and anticipates opening 165-180 by year end. Though the company doesn't give very transparent guidance, it does expect same-store sales growth of low- to -mid single-digit expansion for the full year.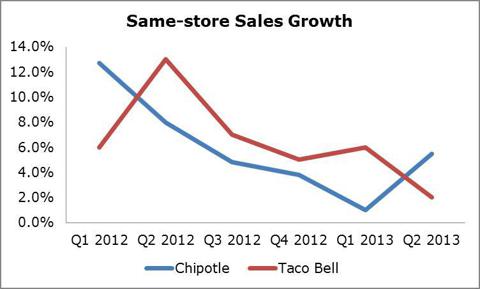 Source: Company Filings, Valuentum
It is very interesting to note the diverging performance between Chipotle and Yum! Brands' (NYSE:YUM) Taco Bell. While same-store sales growth slowed at both during the back-half of 2012, we can see the two are clearly battling for market share, as when growth at one accelerates, growth at the other seems to slow. We'll be keeping an eye on this story going forward, but it appears Chipotle has recaptured some momentum from Taco Bell (at least in the last quarter).
Valuentum's Take
Although Chipotle's outperformance wasn't enormous relative to expectations, we were a bit surprised at the firm's same-store sales growth figure (which showed marked improvement) and highlights from management that the firm may be able to raise prices (even more) to drive food costs lower as a percentage of sales.
We think recent performance suggests Chipotle has won back some of the business it may have lost to Taco Bell in 2012. We plan to make some modest revisions to our valuation model, but at this time we have no interest in Chipotle for a position in the portfolio of our Best Ideas Newsletter.
Disclosure: I have no positions in any stocks mentioned, and no plans to initiate any positions within the next 72 hours. I wrote this article myself, and it expresses my own opinions. I am not receiving compensation for it (other than from Seeking Alpha). I have no business relationship with any company whose stock is mentioned in this article.