Thanks to sluggish global growth levels, a number of names engaged in commodity production have struggled this year. While most have focused in on mining companies as a representation of this trend, firms in the machinery segment -- which often sell products to these commodity producers -- have also been impacted.
In particular, investors have seen weakness in arguably the most famous firm in this space, Caterpillar (NYSE:CAT). The Illinois-based giant and DJIA component has stumbled in this environment. It may have some trouble in picking up the pieces, especially given how bearish many are on the company now.
Caterpillar in Focus
Caterpillar has given analysts plenty of reasons to be bearish as well, as evidenced by the recent quarterly report. In the release, the firm fell well short of the Zacks Consensus Estimate of $1.70/share, posting earnings of just $1.45/share. Revenues also missed estimates, while sales were down across all regions, including a 25% decrease in the Asia-Pacific segment (year over year). Even more troubling than this broad miss, though, was the firm's reduced outlook for the rest of 2013. CAT slashed its sales outlook range and now expects to earn just $6.50 a share this year, compared to an earlier projection of $7.00/share in profits.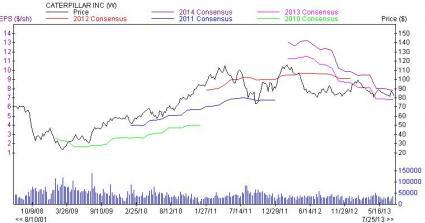 Impact
As you might expect given this bearish report, shares of CAT have been under pressure following the release. Analysts have also been slashing their estimates based on this information, pushing down the consensus for a variety of upcoming time periods. Investors have actually only seen one estimate go higher in the past 60 days -- across any time period-- while seven have gone down for the next quarter, and then four and six down, respectively, for the current year and next-year periods. This suggests that analysts are in nearly complete agreement regarding the company's bearish outlook for both the near term and the longer term.
If that wasn't enough, investors should also note that the company has had a poor track record during earnings season, missing estimates in three of the last four reports. The only beat came in the year-ago report, and that was by just 2.7%. That kept the average surprise for the past four quarters at nearly -7%.
Thanks to these factors, CAT is now a Zacks Rank No. 5 (Strong Sell) stock. This means that, based on the extreme bearishness of analysts and the sluggish outlook, we are looking for Caterpillar to underperform in the months ahead. We also expect it to continue to lag the market.
Other Picks
Unfortunately, there are few options in CAT's industry that would be better choices thanks to the broad trends that are impacting the space. The industry is actually ranked in the bottom 10 -- out of over 250 industries -- so there are far better industries than in this beaten-down segment. However, for those looking for a top stock in this segment, there is one that has earned itself a Zacks Rank No. 2. This company is Komatsu (OTCPK:KMTUY), a $22 billion Japanese equipment maker that is projected to see strong earnings growth for the current year, and thus may be a better pick than the struggling CAT at this time.
Caterpillar: Free Stock Analysis Report (email registration required)
Komatsu: Get Free Report (email registration required)