Formally Dismissed, Now Respected?
In late 2012 and early 2013, I pounded the table again and again, proclaiming the market was lacking respect for one of General Electric's (NYSE:GE) fastest growing industrial segments: GE Oil & Gas. I explained how the performance of this underrated segment was comparable to the leaders in the oil & well services industry by revenue and profit metrics, yet was still just an unrecognizable drop in the GE bucket to most investors. I concluded the segment was not only dwarfed, but growing relationships with big players in oil and gas were also ignored as well.
Later in the Spring of 2013, I highlighted GE's acquisition of Lufkin Industries, which will enhance exposure to the lift pump market, as well as gain access to order data and history from key customers. Perhaps because of this attention grabbing buyout in addition to continued growth, the most recent earnings call allowed for this impressive segment to finally shine and perhaps even possible gain some respect. On page 4 of the transcript, GE management stated:
Results in the second quarter were very strong. Orders of $5 billion were up 24%. Equipment orders of $2.8 billion were up 42%. We saw double-digit growth across all the segments with turbo machinery up 74% driven by U.S. midstream LNG orders . Subsea was up 30%, driven by large projects in Indonesia and Angola. Service orders at $2.3 billion were up 8%. We saw a nice growth in global services up 14% and we are making significant progress in growing our sub-sea service business which was up 44%...
This short mention of success caught my eye. Perhaps the average investor will finally realize what's hidden within GE. Then, later in the call management responded to a question regarding weakness in Europe, and management responded with a highlight of the oil and gas segment:
We talk about power being tough, but the positives for oil and gas was very strong. Oil and gas orders were up 37% in the quarter. A lot of those were up in the Nordic. We have a great position in oil and gas in the North Sea.
But is this segment really beginning to steamroll or is management simply blowing hot air? Let's take a look at the performance of GE Oil & Gas over time so we can decide.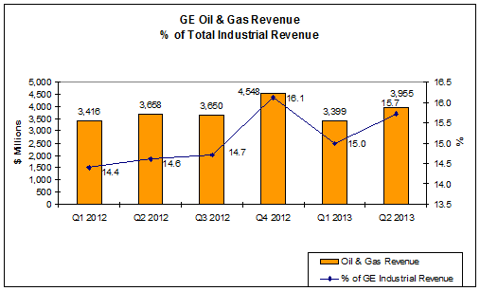 Click to enlarge
It appears GE Oil & Gas (O&G) has been growing revenues impressively. Since Q1 2012, quarterly revenues have increased nearly 3% per quarter on average, and nearly 8% from Q2 2012 to Q2 2013. Also, revenues are growing at a faster rate than all of GE Industrial. We can determine this conclusion since GE O&G has become a larger percentage of total revenues since the start of 2012. Therefore, GE O&G truly was worthy of a conference call highlight; shame on me for not trusting management! (wink).
How Does GE O&G's Revenue Growth and Size Compare?
It may be worth comparing the revenues of this segment to an industry bellwether to better compare recent performance. I chose Schlumberger (NYSE:SLB), which currently accounts for ~20% of the popular Market Vectors Oil Services ETF (NYSEARCA:OIH). (click to enlarge)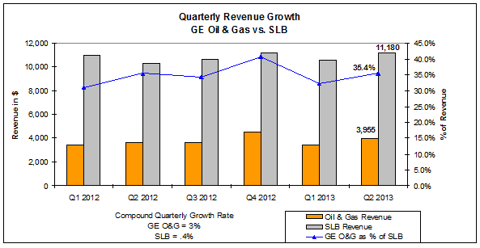 Click to enlarge
It appears GE O&G grew 3% per quarter, while SLB grew just .4%. SLB generated $11.18 B for 2Q 2013, while GE O&G generated $3.95 B, or roughly 35% to that of SLB. From this short term study, we can conclude GE is not stealing significant market share from SLB, but is still growing at a more appealing rate. It's conceivable GE O&G is stealing business from other competitors, but this is difficult to determine at this point considering their worldwide market presence. Regardless, GE O&G held up remarkably well against the industry titan, SLB.
GE management highlighted GE's Oil & Gas division on multiple occasions during the Q2 2013 conference call, including in response to a "weakness in Europe" challenge by an analyst. This repeated mention of the segment's success was music to my ears, as I have been baffled by management's choice to under report the growth this segment has experienced over the past. The market for oil well equipment and services is booming, and GE is capitalizing worldwide. I would say GE's Oil & Gas business is a growing, flourishing gem, and is officially gaining the respect deserved.
Disclosure: I am long GE. I wrote this article myself, and it expresses my own opinions. I am not receiving compensation for it (other than from Seeking Alpha). I have no business relationship with any company whose stock is mentioned in this article.