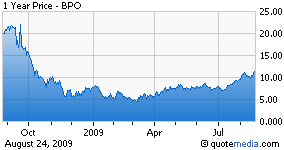 For those not familiar with it here is the original investment thesis for Brookfield Properties (NYSE:BPO):

The report said (emphasis mine):
(Dow Jones) TD raises Brookfield Properties to hold from reduce, citing a "dramatic turnaround in freely usable liquidity." Firm says the Canadian office giant recently raised $1B in an equity offering that improved its outlook dramatically. "With our liquidity concerns essentially gone, we no longer see reason for a material discounted relative valuation," TD says. BPO up 1% at $1.38.
Relative valuation is the key here. The REIT industry is currently trading at a PE ratio of about 14 times earnings. Brookfield, at 6 times. What the report is saying is that Brookfield should not have a "material discount" it now does to the industry. Simply put, the stock can rally 100% and still trade at a discount to its peers (barring any large earnings surprises).
We bought shares at $9.54 and will hold them as this is a class management team whose company is trading a a large discount to its true value...
Disclosure: Long BPO