Live Nation Entertainment (NYSE:LYV) has been on a tear over the past 12 months. The small cap company has a market cap of $3.2 billion, but could be reaching much higher over the next 12 months. Live Nation has more than doubled its 52 week low of just $8.16 and currently trades at $16.71. The Live Nation story is a compelling example in finding a way to find revenue and profit in virtually every aspect of its business. When you find that you do something well, reach out and replicate that success in other areas. The company is a clinic on squeezing out profits. Live Nation has four distinct interrelating business arms and also a small secret, that is highly positive, which I will reveal at the end of this article. Simply stated, if you have not entertained a position in Live Nation, you may well want to.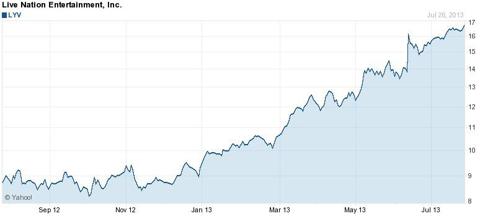 Click to enlarge
The four business arms of Live Nation include Live Nation Entertainment, Live Nation Network, TicketMaster, and Artist Nation. These all generate revenue in concert with each other, and as a whole make Live Nation a profitable and compelling story. Remember, I promised another very positive aspect of Live Nation at the end of this article.
Live Nation Entertainment
Live Nation Entertainment is the core business of the company. It revolves around concerts. The concerts segment principally involves the global promotion of live music events in venues owned and/or operated by Live Nation and in rented third party venues, This includes concert halls, stadium events, as well as music festivals. During 2012 the Live Nation concerts business generated approximately $3.9 billion in revenue. This revenue accounted for about 66.5%, of the company's total revenue. Live Nation Entertainment promoted 22,000 live music events in 2012. This business operates year round, but the biggest quarters are generally the second and third quarters. The company is getting ready to announce its third quarter financial report. Think about that.
Live Nation Network
If you already excel at putting on concerts and music festivals, why not take it a step further and garner more revenue by starting a sponsorship and advertising arm of your business?
Live Nation Network does exactly that. The sponsorship & advertising segment of Live Nation employs a sales force that creates and maintains relationships with sponsors, through a combination of strategic, international, national and local opportunities for businesses to reach their customers through the Live Nation concert, venue, artist relationship and ticketing assets. Want a cherry on top? Live Nation networks also promotes advertising and placement on its highly popular websites. Live Nation Network engages corporate clients to help create marketing programs that promote their brand and/or product. During 2012, the sponsorship & advertising business generated approximately $248 million in revenue. This represented 4.3%, of total revenue. While it may not seem big, how many times has a company missed their numbers by 4% or 5% and been punished for it?
TicketMaster
If you can schedule the concert, promote the concert, and obtain the venue where the concert will be held, why not sell the tickets? If you are good at selling tickets, why not expand that into other events that offer tickets?
TicketMaster is the ticketing arm of the Live Nation business. If you have ever listened to a radio or been to a concert you have probably heard of TicketMaster. In fact, whether you realize it or not you are very likely to have done business with Live Nation.
TicketMaster, the ticketing segment of Live Nation, is primarily an agency business that sells tickets for events on behalf of TicketMaster clients. The agency retains a convenience charge and order processing fee for services rendered. TicketMaster sells tickets for its own events as well as for third-party clients. The third party business is quite substantial in its own right. Third party clients include arenas, stadiums, amphitheaters, music clubs, concert promoters, professional sports franchises and leagues, college sports teams, performing arts venues, museums and theaters. Tickets are sold through a combination of websites (78%), telephone services (6%), mobile devices (4%) and ticketing outlets (12%).
Note that the biggest segment of ticket sales comes through websites. Do you see how TicketMaster and Live Nation Network have synergies? Now take that a step further noting the synergies with Live Nation Entertainment.
During 2012, the ticketing business generated approximately $1.4 billion in revenue. This accounted for an impressive 23.6% of total revenue (face value of tickets excluded). TicketMaster sold over 148 million tickets in 2012 and sold an additional 108 million tickets through the box offices of venue clients.
Artist Nation
Artist Nation in the Live Nation arm that provides management services to music artists. This arm of the business makes perfect sense. Live Nation is the clear leader in getting concerts set up, getting sponsors and advertisers, as well as ticketing. Wouldn't it make sense that the company would know something about managing the entire process?
The business model here is simple. Artist Nation provides management services in exchange for a commission from the earnings of the artist. Included in this segment is the lucrative business of merchandise sales at the events, merchandise sales to retailers, and direct to consumer sales over the internet.
During 2012 this arm of the Live Nation business generated $400 million in revenue that accounted for nearly 7% of the overall revenue picture. As with the concert business, there is a seasonality. The second and third quarters are the drivers in the Artist Nation business.
Live Nations Q1 of 2013
In Q1 of this year Live Nation saw its business improve nicely over the experience in the year prior. The company improved from a loss of 37 cents to a loss of 33 cents. The big quarters for Live Nation are Q2 and Q3. The company will be reporting its Q2 results on August 6th, 2013 at 5:00 PM.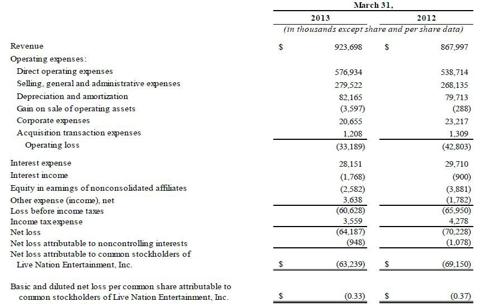 Click to enlarge
Expectations for Q2 2013
Analysts are expecting big things from Live Nation in Q2 of this year. The consensus is that Live Nation will post a Q2 profit of 11 cents per share vs. a 4 cent profit in the same quarter in 2012. As you can see, the Live nation story is getting impressive.
Analysts are expecting the revenue story to be just as impressive. The average expectation is $1.62 billion. Better still, in Q3 the revenue estimate is over $2 billion.
While the sector as a whole is showing growth in Q2 at a clip of about 80%, Live Nation is showing earnings growth at 175%. This is more than double its peers and would make Live Nation among the leaders in the sector. This realization has been seen by the street to a certain extent, but the not everyone has caught up to the Live Nation story. The equity has gone up 100%, but the earnings growth is well above that level.
Analysts have price targets on Live Nation that are up to $20. Updates have not been frequent with the most recent upgrade or downgrade coming a year ago from Stifle Nicholas, which lowered the equity from a buy rating to a hold. In the time since, the equity has doubled. Essentially, this equity has seen vast EPS improvement without getting the attention of Wall Street. That could be very compelling.
The Final Secret of Live Nation
The last aspect of Live Nation's business that I find compelling has nothing to do with the business itself. Rather, it has to do with who is invested into Live Nation. Liberty Media (NASDAQ:LMCA) owns 27% of Live Nation. Liberty Media is huge. It has a controlling interest in Sirius XM (NASDAQ:SIRI) and a large stake in Charter Communications (NASDAQ:CHTR). Liberty is even making a play for Time Warner Cable (TWC). Liberty Media is a titan that makes bold and profitable moves. While saying that everything that Liberty touches turns to gold may seem an exaggeration, it has been pretty much the path that Liberty Media has demonstrated. When Liberty Media takes an interest in a company, it tends to do very well.
Summary
Somehow, over the past year Live Nation has managed to double in price without getting huge attention from Wall Street. This type of equity appreciation is something that retail investors may want to note. It is sometimes thought that when a company begins to get the attention of the street that the upside is mostly already realized. Live Nation is still flying under the radar in some ways. You may want to take a good hard look at Live Nation. The next two quarters should be particularly impressive, and it is anticipated that this company will have some nice profits in 2014. Add the Liberty Media dynamic and you have a compelling story in the making. Stay Tuned.
Disclosure: I am long SIRI, LMCA. I wrote this article myself, and it expresses my own opinions. I am not receiving compensation for it (other than from Seeking Alpha). I have no business relationship with any company whose stock is mentioned in this article.
Additional disclosure: I have no position in Live Nation or Charter Communications.