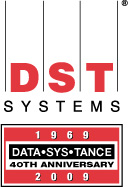 52-week range: $25.70 (Mar. 9, 2009) - $64.43 (Sep. 2, 2008)
DST Systems (DST) is the market leader in outsourcing of mutual fund record keeping and accounting services with over a 50% national market share. They also run DST Health Solutions to provide information processing and on-line access. This healthcare division may get a big boost from President Obama's push for more electronic record keeping. The company is celebrating its 40th anniversary this year.
2009 may mark the first down earnings year in more than a decade.
Here are DST's per share numbers from continuing operations as reported by Value Line:

The company has been actively retiring shares over the past 10 years. Outstanding shares totaled 126.25 million in 1999 and were down to just 50 million (fully diluted) as of June 30th this year.
Zacks is looking for 2009 – 2010 earnings per share of $3.75 and $4.06 respectively. That puts the current multiple at < 12.4x this year's and about 11.4x next year's estimates. Compare those to all the historical norms from prior years in the table above.
If DST merely regains a 15 multiple we'd achieve a target price of $56.25 by year-end and $60.90 by the end of 2010. Are those crazy goals? Nope. Check the chart and you'll see that DST actually traded at levels of $62.30 and higher during each calendar year 2005-2006-2007-and 2008. The dead lows for 2006 and 2007 were $54.80 and $62.50 when EPS came in at $3.02 and $3.50 – well lower than they are today.
Value Line gives DST an 'A' for financial strength and an 'above average' safety rating. They also note DST's 90th percentile ranking for 'stock price stability' and its 100th percentile rank for 'earnings predictability' (with 100th being best).
A little noticed bonus feature for DST holders is their large equity holdings in other companies. From year-end 2007, when markets were still high, to December 31, 2008, their portfolio value declined from around $1.5 billion to about $750 million. As markets have recovered so has DST's portfolio. One large holding for them is an approximately $420 million holding in State Street Corp. – a stock I favor and have written up here. DST is a backdoor play on the overall market as well as a good fundamental business.
The shares look like a good bet to reach the $60's again within 12 – 18 months.
Here's a nice buy/write combination for option savvy traders that want a relatively low risk play that still leaves good total return potential.

If DST rises to at least $50 (+ 7.8%) by the Feb. 19, 2010 expiration date:
The $50 calls will be exercised.
You will sell your shares for $50,000.
The $50 puts will expire worthless.
You will have no further option obligations.
You will end up with no shares and $50,000 in cash.
That's a best-case scenario profit of $12,260/$37,740 = 32.4%
achieved in just 6 months on shares that only needed to rise by 7.8%.
What's the risk?
If DST stays below $50 through Feb. 19, 2010:
The $50 calls will expire worthless.
The $50 puts will be exercised.
You will be forced to buy another 1000 DST shares.
You will need to lay out an additional $50,000 in cash.
You will have no further option obligations.
You will end up with 2000 DST shares.
What's the break-even point on the whole trade?
On the original 1000 shares it's their $46.39 purchase price less the $2.15 /share call premium = $44.24 /share.
On the 'put' shares it's the $50 strike price less the $6.50 /share put premium = $43.50 /share.
Your overall break-even is thus $43.87 /share.
DST shares could fall by as much as (-5.3%) without causing a loss on this trade.
Disclosure: Author is long DST shares and short DST options.