Introduction
In this article I'll have a look at Total's (NYSE:TOT) financial results for the first half of this year and discuss in the conclusion whether or not I still want it in my dividend portfolio.
Even though Total is a French company reporting in euros, I'll use the dollar numbers the company has provided. Whenever I needed to recalculate euros into U.S. dollar, I used an EUR/USD exchange rate of 1.33.
The H1 financial results
Total's revenue dropped by 4% to 124.9B USD compared to 130B USD in the same period last year. The reported adjusted net income was in line with the revenue drop and also went approximately 4% lower to 7.3B USD or $3.22/share. This adjusted net income excludes a 1.27B USD loss on asset sales. This was mainly caused by a divestment in Q1 (when the company took a hit on the sale of the Canadian Voyageur project), as the company booked a profit on asset sales in Q2 2013 totaling $382M.
(click to enlarge)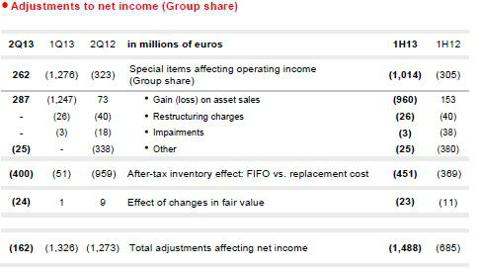 Click to enlarge
These lower adjusted results might be a bit disappointing at first sight, but don't forget the price of Brent crude oil averaged just $102.4/bbl in Q2, which was considerably lower than the $108.2/barrel in the same period last year. Brent crude is back up to in excess of $108/barrel so this should have a positive impact on the Q3 financial results.
(click to enlarge)

Click to enlarge
Total also announced the company was net cash flow negative in the second quarter (at approximately -0.9B USD), which was caused by changes of the Upstream working capital during this period.
The company's ADRs (warning: the ex-div dates for ADRs and the Paris-trading shares are different!) will go ex-dividend on September 19th and December 11th as the company will distribute a dividend of .59 EUR (0.785USD) per share. Keep in mind this is the gross dividend and depending on the country you live in, France will withhold a dividend tax on those dividends. For U.S.-based investors this withholding tax will be 15%.
Conclusion
As there were no real negative surprises in the company's Q2 and H1 numbers and as Total re-confirmed the next two dividend payments, I have no reason to kick it out of my dividend portfolio.
Total plans to bring the large Kazach Kashagan project into production in the second half of this year and this should - together with a higher price for Brent crude (currently 6% higher than the average Q2 Brent price) - have a positive impact on the financial results for the second half of this year.
I'm long Total and have written several put options at different expiry dates and strike prices on the Paris stock exchange.
Disclosure: I am long TOT. I wrote this article myself, and it expresses my own opinions. I am not receiving compensation for it (other than from Seeking Alpha). I have no business relationship with any company whose stock is mentioned in this article.