By Sumit Roy
Much has been made about the imminent end of the Fed's ultra-loose monetary policies and the impact on gold. Opinions vary as to when the central bank will begin to taper its quantitative easing programs, but most agree it will take place sometime this year. Some believe the current $85 billion per month pace of purchases will be reduced in September, while others see the first reduction happening in December.
Gold and the Federal Funds Rate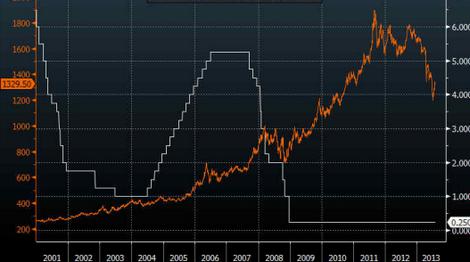 Long-term interest rates have already adjusted higher in anticipation of the Fed's tapering. However, short-term rates remain at depressed levels amid the Fed's pledge that it will keep its benchmark overnight interest rate near zero at least until the unemployment rate falls to 6.5%. That isn't likely to happen until late 2014 or 2015, according to most economists.
The Fed's target for the Federal Funds Rate has been steady at 0% to 0.25% since December 2008, when the economy was in the midst of the worst economic downturn since the Great Depression. Some opine that the combination of zero-interest rates, along with QE, were the catalysts for gold's run to record levels above $1,900. But while there's no mistaking that such policies likely contributed to buying by some investors, Fed policies were not the only underpinning of gold's bull run.
In fact, the evidence suggests that the link between Fed policy and gold prices is tenuous at best. Gold began its 12-year bull run in 2001, at a time when the Fed was actively cutting interest rates to spur growth in the economy following the bursting of the Internet and stock market bubbles in 2000.
The Fed funds rate bottomed out at 1% in 2003, and gold prices rallied close to $400 -- up from multidecade lows below $300. Then, as the economy recovered, the Fed embarked on a program of steady rate hikes, which took the Fed funds rate to 5.25% by 2006. Yet gold rallied from close to $400 to more than $700 in the period. That price action flies completely in the face of the argument that gold must necessarily decline as the Fed tightens monetary policy.
Other factors -- such as growth in emerging markets, increased accessibility to gold amid the advent of exchange-traded funds, concerns about sovereign debt in various countries, and central bank buying of the yellow metal -- all contributed to gold's bull run. It wasn't solely a monetary policy phenomenon as the above chart clearly demonstrates.