Industrial conglomerates General Electric (NYSE:GE) and Honeywell (NYSE:HON) reported strong respective second-quarter results (GE's press release; Honeywell's press release). Though we liked that Honeywell raised the low end of its 2013 earnings per share guidance range, the most important takeaway from their respective second-quarter performances, in our view, was the significant growth in GE's backlog of equipment and services, which advanced to $223 billion at the end of the quarter. We think such expansion bodes well for many firms across the industrial/energy space, from oil/gas to commercial aviation.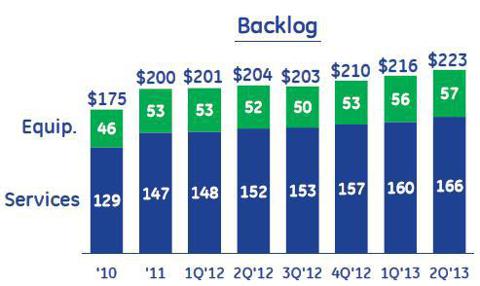 Image Source: GE
GE's second-quarter revenue missed consensus expectations, but the firm's bottom line came in slightly better than what the Street had been expecting. Still, second-quarter operating earnings of $3.7 billion, or $0.36 per share, fell 8% and 5%, respectively, from the same period a year ago. However, profit advanced in six of the firm's seven industrial segments ('Power & Water' was weak during the period, though this was a result of timing), while second-quarter orders increased 4% (+20% in the US). GE's backlog of equipment and services at the end of the period hit $223 billion, the highest ever. 'Oil & Gas' and 'Energy Management' saw equipment orders increase 42% and 23%, respectively, during the period, while overall pricing on new orders was strongest in 'Aviation' (up 2.5%). The firm's margin performance was encouraging, as GE drove industrial segment margins 50 basis points higher from the same period a year ago (the firm remains on track for its planned 70 basis-point margin increase in 2013). GE continues to reduce GE Capital's portfolio and, by extension, the conglomerate's risk profile, while total cash from operating activities came in at a solid $5.1 billion (excluding NBCU deal-related taxes) during the period.
Honeywell's second-quarter revenue was in-line with expectations, while its bottom-line performance beat the consensus forecast. Sales growth of 3% leveraged into a 12% jump in earnings per share, a 29% increase in cash flow from operations, and a 10% jump in free cash flow, the latter accounting for 11% of revenue. The firm's 'Automation and Control Solutions' (ACS) and 'Transportation' segments led the profit charge, with both segments' earnings expanding 11%. 'Aerospace' segment profit jumped 4%, while 'Performance Materials and Technologies' was the laggard, experiencing a segment profit decline of 9% in the quarter (as a result of lower licensing sales at UOP). Commercial aerospace original equipment demand continues to be robust (sales advanced 8% in the quarter), while improved housing conditions helped the firm's ACS unit. Higher turbo gas penetration and productivity initiatives helped bolster the firm's 'Transportation' segment. The strong performance in the period was enough for management to raise the low end of its sales, segment margin, and earnings-per share forecasts for 2013.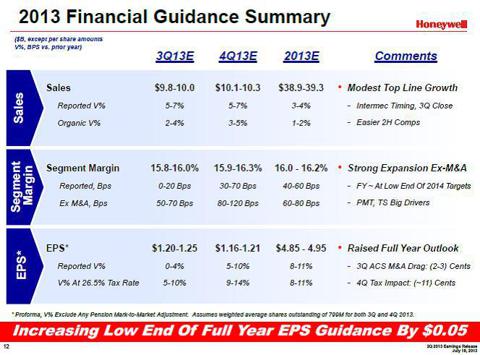 Image Source: Honeywell
Valuentum's Take
The industrial complex certainly looks healthy on the basis of General Electric's and Honeywell's second-quarter performance (and their respective outlooks for the remainder of 2013). Specifically, their results reinforce ongoing strength in energy equipment and commercial aerospace, the latter we seek to capitalize on via the aerospace supply chain in our position in Precision Castparts (NYSE:PCP). We're warming up to General Electric's dividend growth profile as it continues to reduce its dependence on GE Capital, though the shares look fairly valued at the time of this writing. Honeywell's dividend growth potential is equally attractive, though its yield isn't as juicy. We also think shares of Honeywell are fairly valued at the time of this writing.
Disclosure: I have no positions in any stocks mentioned, and no plans to initiate any positions within the next 72 hours. I wrote this article myself, and it expresses my own opinions. I am not receiving compensation for it (other than from Seeking Alpha). I have no business relationship with any company whose stock is mentioned in this article.
Additional disclosure: PCP is included in our Best Ideas portfolio.