Yesterday, Valeant Pharmaceuticals International (NYSE:VRX) announced the failure of its drug candidate, retigabine, in a mid-stage study. The trial evaluated retigabine for pain associated with postherpetic neuralgia (PHN), which is common in shingles. The company's shares closed down 8.5% at $ 24.85.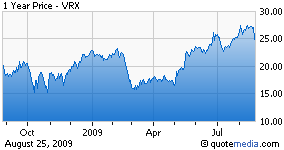 Retigabine was tested in 187 PHN patients versus placebo for a period of up to ten weeks in approximately 50 locations. The drug was administered once daily in doses of 300 mg to 900 mg. In the final week, patients rated their pain on a scale of zero to ten. While retigabine was generally well tolerated, the study failed to meet its pre-specified primary efficacy endpoint. Valeant is analyzing the data further.
Shingles is an acute infection caused by herpes zoster, the same virus that causes chickenpox. It is characterized by great pain and involves inflammation of sensory nerves. It causes numbness and itching followed by the appearance of clusters of blisters in a strip pattern on one side of the body. The pain is known as post-herpetic neuralgia if it persists beyond one month after the rash heals.
Retigabine is also being developed for epilepsy. Valeant intends to file a New Drug Application (NDA) with the US Food and Drug Administration for the epilepsy indication later this year. The company is developing the drug in partnership with GlaxoSmithKline (NYSE:GSK).
Epilepsy represents a large and growing market opportunity. According to the World Health Organization, 50 million people worldwide suffer from epilepsy. Epileptic seizures remain insufficiently controlled in a lot of patients.