A good friend and fellow Seeking Alpha writer, Chuck Carnevale, told me recently about an old Ben Graham folktale. He told me that he couldn't document the authenticity of the story but the anecdotal "traces of wisdom" provided relevant color to my career in journalism (and this article). Carnevale's narrative went as follows (also he wrote in a previous article):
It was alleged that a young zealous reporter was dogging Ben Graham for an interview. Not one to seek the limelight, Mr. Graham continuously rebuffed him. However, persistence finally paid off and Ben finally agreed and asked the determined young man what he wanted to know.

With great enthusiasm the young man replied, Mr. Graham what I want is for you to share your infinite wisdom about the stock market with my readers. Mr. Graham then gruffly replied:

Young Man, you could have saved us both a lot of trouble by asking the question at the beginning. I can tell you and your readers all I know about the stock market, and frankly, all they need to know about it in two words; IT FLUCTUATES.
Now we all know that Ben Graham knew how to value a business and by using the analogy of "Mr. Market," Graham pretended that every investor had a business partner that provides "real time" price quotes to either buy or sell shares in a business. As Graham described, Mr. Market reacts on emotions from excitement (quoting a high price) to depression (quoting a low price). The parable of "Mr. Market" has helped transform many investors' perceptions of the stock market from a strictly computational paradigm to one on which psychology plays a prominent role. As Graham wrote in 1949:
Imagine that in some private business you own a small share that cost you $1,000. One of your partners, named Mr. Market, is very obliging indeed. Every day he tells you what he thinks your interest is worth and furthermore offers either to buy you out or to sell you an additional interest on that basis. Sometimes his idea of value appears plausible and justified by business developments and prospects as you know them. Often, on the other hand, Mr. Market lets his enthusiasm or his fears run away with him, and the value he proposes seems to you little short of silly.
Like Mr. Market, the stock market has these same emotions and the point that Carnevale was making is that you shouldn't let Mr. Market's views dictate your own emotions. In the words of Ben Graham, the market "will fluctuate" (sometimes wildly) but rather than running from volatility, take advantage of it and use it to your advantage. When asked what keeps most individual investors from succeeding, Graham had a concise answer:
The primary cause of failure is that they pay too much attention to what the stock market is doing currently.
Digital Realty is a Blue Chip REIT on Sale
As Graham wrote in The Intelligent Investor, the value investor's goal is to capitalize upon "a favorable difference between price on the one hand and indicated or appraised value on the other." Another way to say the same thing was when Joel Greenblatt (prominent value investor and Columbia finance Professor) summed up "the margin of safety" concept in a 2011 Barron's interview
It's about figuring out what something is worth, and then paying a lot less for it.
On Friday, Digital Realty (NYSE:DLR) went on sale, again. For those who haven't been following Digital over the last several months, I will direct you to a few articles that I wrote: (1) In February 2013, I wrote an article and I recommended the shares at $65.40. (2) In May 2013, I wrote another article arguing the "foolish" short by Highfields Capital Management LP. I concluded that Digital was a buy at $65.51. (3) In June 2013, I wrote another article explaining that I was "not backing off my recommendation made back in February. Digital's share price of $62.39 is a BARGAIN." (4) Then in late June, I wrote an article (in Q&A format) where I interviewed leading data sector expert and Green Street Advisor's Senior REIT Analyst, John Stewart. I did not recommend a price in that article; however, Stewart summed up my previous buy recommendations as follows:
Digital maintains a conservative balance sheet, and management has created significant value for shareholders over the company's tenure in the public markets. Buy-and-hold investors certainly have a much more attractive entry point here, than they did before Highfields started rattling cages back in early May, when the stock was trading at over $70/share.
For more perspective, here is a snapshot (below) that illustrates my BUY recommendations (in yellow) and the closing price (in green):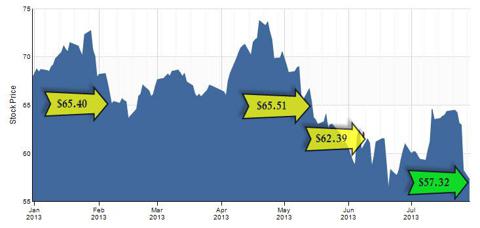 On Friday (July 26th), Digital announced second quarter earnings and although I wasn't expecting any surprises, I made the following comment prior to the earnings call (comment in my previous article):
DLR's stock price still seems to have a lot of angst in its price and the earnings power of the company is still very strong, so those two factors should result in a good earnings report and good response. The wild card is what does management say on the call....

DLR management often seems to say something that upsets the market and provokes an overreaction. In this case there has been a lot of questions and recent anecdotes and comments within the industry on rent spreads so I'd watch for that topic as the one most likely to upset the market.
Well clearly, there was a "wild card" on Friday and Mr. Market responded: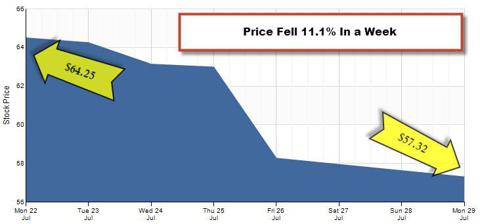 First off, I believe that Mr. Market has panicked and in fact, I believe that he has responded in a manner much like Highfields did in May (2013). In other words, the fluctuating price is what I consider a "folly" and as the old Wall Street adage says, one must "buy on bad news and sell on good news." There's just one way to describe the latest events and that is simply that people are selling the shares based on the emotions of Mr. Market. But, I owe you an explanation…
So What the Heck Happened on the Earnings Call?
When I heard that Digital's stock price was falling on Friday, I read over the earnings call notes. At first, I was a little confused because I didn't see any noticeable reason that management "blew the earnings." As I have often argued, Digital has repeatedly derived high-quality cash flow for its shareholders and the value of the business seemed to be undervalued. As I scanned over the earnings notes, I couldn't find any evidence that Digital was restating earnings and I thought management was transparent with the prepared remarks made regarding accounting changes (that were recommended by Digital's accounting firm). As William "Bill" Stein, CFO and CIO explained at the outset of the earnings call:
In terms of our accounting policies, to be more in line with GAAP accounting practices, in the second quarter, we began capitalizing all eligible portfolio-related costs totaling $10,000 or less, including those incurred in the first quarter. Previously, these costs were being expensed. In addition, we conformed our policy covering construction period offering cost with our interest capitalization policy, such that completion dates are now consistent. Our effective completion date is tied to receipt of certificate of occupancy. As a result, in the second quarter, we capitalized $3.4 million of additional operating repairs and maintenance and real estate tax expenses, of which, $1.5 million relates to the first quarter.
So what sparked price fluctuation? Was it simply that Digital should have included the accounting changes in a press release (prior to the call)? Or maybe Digital should have waited until the market closed before announcing the "necessary" changes? After all, management did mention the accounting changes at the outset of the prepared remarks. Regardless, it's clear that Mr. Market has hyperventilated on "minor" issues that have little to do with the value of the business.
It seems that John Stewart, with Green Street Advisors, is tuned into Mr. Market's latest reaction (or overreaction) as he explained in a recent research report:
Management alluded to a change in the capitalization of repairs & maintenance costs during their prepared remarks, but it wasn't until Q&A that it became crystal-clear the upward guidance revision was due to a change in accounting policy. The credibility hit was almost instantaneously reflected by the market: shares of DLR were up ~1% before the call, down ~1% by the end of the call, and finished the day down 7.5%.
As I alluded to earlier, Digital has often "provoked overreaction" and Stewart concurred:
Management's commentary on the call was relatively candid, and it seems reasonable to assume they weren't being deliberately disingenuous, but the delivery was in artful at best. The sub-text to the decision to capitalize all repairs & maintenance costs under $10,000 (previously expensed) is that it was an offshoot of the short thesis presentation outlined against Digital at a hedge fund conference in May.
One of the key allegations was that Digital was underreporting maintenance cap-ex. Digital subsequently countered that it was actually running approximately $100 million of annual repairs & maintenance through the P&L, which was the more conservative accounting treatment. Digital apparently re-visited its accounting treatment, and evidently concluded that capitalizing expenditures under $10,000 would enable the company to report a more realistic maintenance cap-ex figure, and would have the added benefit of boosting reported earnings in the process.
Digital's fundamentals remain sound and Stewart pointed out that
The accounting policy and earnings guidance fireworks almost completely obscured the fundamentals. Digital's 2Q13 leasing volume was light, although leases signed in July essentially put the company on track to meet its leasing targets, which has been another cause of investor heartburn in recent quarters. In the abstract, Digital's 2Q13 operating results might not have garnered much attention, but the accounting kerfuffle casts a shadow over the company's blue-chip status, and warrants a thoughtful review of its Franchise Value.
Let's Take Another Look at the Franchise Value
As I alluded at the beginning of this article, Chuck Carnevale is not only a friend but he is also a gifted investor and writer. Perhaps, we bonded early because we are both from the "old school" of value investing. In other words, there's a difference between a short-term investor and a long-term investor and Carnevale and I are both from the long-term school and that makes us disciples of Graham.
In many of my articles I use FAST Graphs, a powerful invention developed by Chuck Carnevale. It's not the only resource I use to research REIT securities but it is an amazing tool that helps me define the margin of safety that exists in a stock price. So, by utilizing FAST Graphs, let's take another look at Digital Realty.
First, let's examine the historical assets and debt. Secured debt is down from 16.6% in Q1-13 to 15.7% in Q2-13. Total Debt to Total Cap is 35%. S&P and Fitch both rate Digital BBB.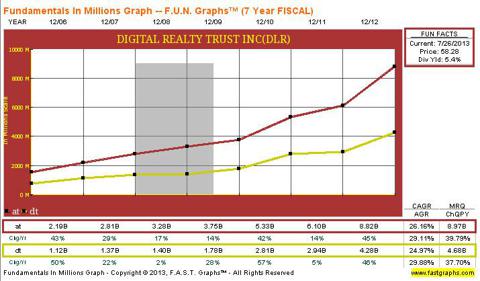 Now, let's take a look at Digital's market capitalization, currently at $7.36 billion (and total cap at $12.9 billion):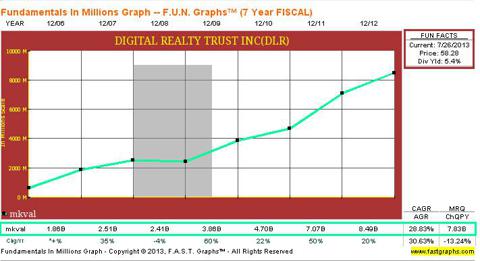 Digital reported FFO of $1.22 per share for Q2-13, up 11.9% from $1.09 per share for Q2-12. In addition, the company raised 2013 FFO guidance range to $4.73 to $4.82 per share and narrowed 2013 core FFO guidance to $4.74 to $4.83 per share. Here is a snapshot of historical FFO: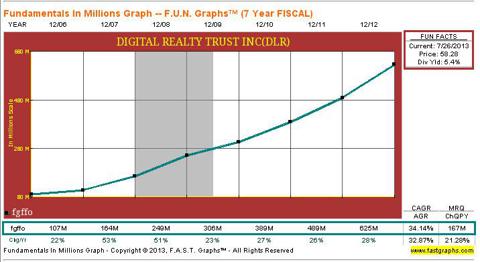 Here is a snapshot of historical FFO/share: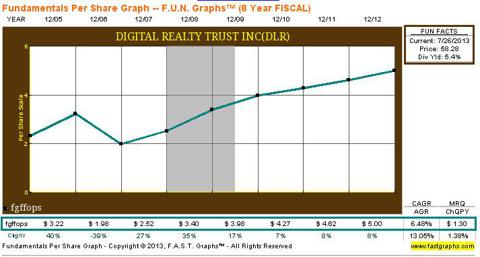 Digital's current dividend yield is 5.44% and as illustrated below, the company has increased its annual dividend paid in over eight consecutive years. The shaded aqua blue area represents dividends paid and the dark green (shaded area) represents FFO growth.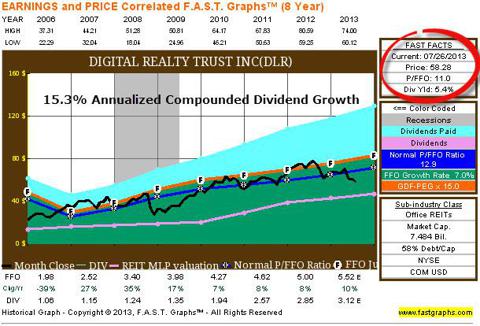 The last chart sums up my recommendation. Although Mr. Market has responded as evidenced by the fluctuating price of Digital, I must stand behind by conviction that the data center leader is a STRONG BUY. As a long-term investor, I believe that the attractive pricing ($57.32) has created a window where I can buy on bad news. Digital's fundamentals remain solid and the shares are now trading at cheap valuation levels (P/FFO is 11x and below the normalized multiple of 14x).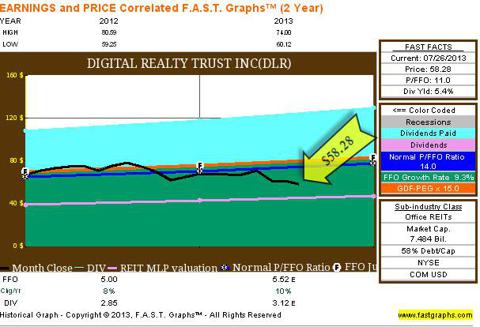 Maybe one way to sum up Digital's latest earnings call is that "nice guys always finish last." It's obvious that the intentions were good but the perception wasn't. In hindsight, it's clear that Digital's management team could've avoided some of the embarrassment that has plagued the highly successful data center REIT; however, John Stewart with Green Street summed up the value proposition:
Shares of both Digital and CoreSite (NYSE:COR) look moderately cheap following the recent sell-off, but the market reaction is at least partially justified by the hit to management credibility.

Digital's Franchise Value score has been lowered a notch to reflect the series of recent missteps…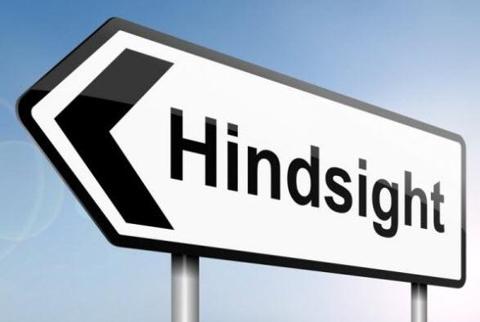 Source: SNL Financial, Green Street, FAST Graphs
Note: This article is intended to provide information to interested parties. As I have no knowledge of individual investor circumstances, goals, and/or portfolio concentration or diversification, readers are expected to complete their own due diligence before purchasing any stocks mentioned or recommended.
Disclosure: I have no positions in any stocks mentioned, and no plans to initiate any positions within the next 72 hours. I wrote this article myself, and it expresses my own opinions. I am not receiving compensation for it (other than from Seeking Alpha). I have no business relationship with any company whose stock is mentioned in this article.