By G.C. Mays
Two weeks ago Mosaic (NYSE:MOS) reported that during its most recent fiscal year, earnings fell 10 percent compared to a year ago, and the stock slumped like rootworms had attacked it. At a recent closing price of $52.96 per share, the stock certainly looks more attractive than just two months ago when it made a new 52 week high above $64 per share. However, a little detachment could bring an even greater harvest for patient investors.
The last fiscal year saw annual revenues slump to $9.97 billion and fully diluted earnings per share of $4.42 is flat with year ago levels. However, looks are deceiving as a hefty stock buyback program has seen shares outstanding reduced by more than 20 million over the last three years. Actual net earnings have declined over that time as the company and industry continue to ferret out the bottom of this cyclical industry's business cycle.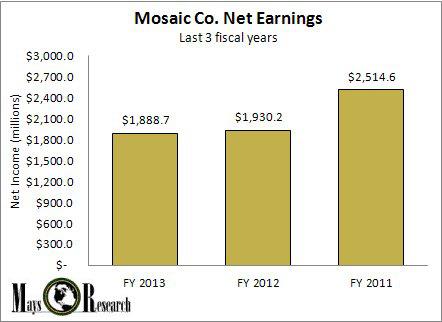 Slack sales to a key international customer played a significant role in this year's earnings shortfall. In fiscal 2011 and 2012, sales to India represented an average of roughly 23 percent of the company's international sales and nearly 15 percent of its total revenues. However, in fiscal 2013, sales to the land of dreams plunged by nearly 70 percent as high inflation weakened the purchasing power of the rupee and uncertainty around subsidy levels caused more concern about the cost of fertilizer to dealers and farmers.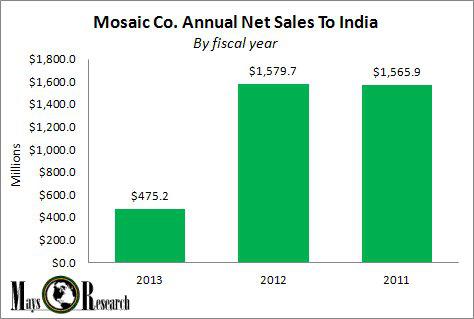 In the U.S., dealers remain reluctant to accept inventory risk. Additionally, crop prices continue to fall after reaching historic highs in August 2012. We may finally see the beginning of the bottoming of the business cycle I have expected since early last summer before severe drought sent crop prices soaring and prolonged the inevitable trough.
Phosphate
Phosphate sales totaled $1.67 billion for the quarter, which was 7% lower than a year ago. Sales volumes year over year were nearly identical, thus lower prices was the main driver of slumping sales in the quarter. The average selling price for phosphate has declined for three straight quarters, from $544 per ton in the company's fiscal Q2, to $483 per ton in Q4.
For the full year, sales of $6.5 billion is more than 17 percent off last year's pace. Tons sold and gross margins have both moved lower for three straight years and the average selling price is also lower compared to a year ago. Ammonia prices have remained strong while sulfur prices have moved more in line with phosphate prices. The relatively strong ammonia prices have contributed to the lower margins for the last three fiscal years. International sales are the clear weakness in this operating segment as tons sold are 24 percent lower over the last three fiscal years while domestic phosphate sales are more than 10 percent higher over the same period.
Potash
In contrast to the erratic phosphate sales over the last couple of years, potash sales have remained steady if not spectacular. The company reported net sales of $1 billion in Q4, which was flat with year ago levels. Tons sold were much higher at 2.6M tons versus just over 2.0M tons a year ago. Of course, the year on year comparisons were easy due to domestic issues with dealers and the international stalemate that plagued 2012. Offsetting the strong gains in tons sold was a lower average selling price per ton of $368 versus $455 per ton in the company's fourth quarter.
For the year net sales of $3.5B were just under 7 percent higher than a year ago. This marks the third straight year of higher net sales of potash. Gross margins of 45.7 percent are 3.4 percentage points lower than the previous year. Mosaic is forecasting gross margins in the mid to high thirties for its calendar Q3. Gross margins have not been below 40 percent since Q1 of the company's 2010 fiscal year when the average selling price was $354 per ton. The company's estimate of Q3 average realized prices is $330 to $360 per ton.
At 75% of capacity, Mosaic's estimated Q3 potash operating rate will be below the fiscal Q1/Q2 rate of roughly 80%. The company may also curtail production more than already planned to match demand. This will also weigh on gross margins.
Where do we go from here?
After being tight for some time, north American phosphate inventories are beginning to rise above both year ago levels and their five-year average. Settlement of potash contracts through the first half of 2013 with China and India helped lower those inventories below year ago levels. However, inventories are still above their five-year average. These conditions affect Mosaic, and Potash Corp (NYSE:POT) directly as they are the number one and two phosphate producers in the US. Agrium (NYSE:AGU) is Canada's sole phosphate producer.
Mosaic expects both phosphate and potash tons sold at the low-end of their estimated ranges during the calendar year third quarter. The company is now in a seven-month stub period as they change their operating year from a fiscal year that ended in May to a calendar year beginning January 2014. This will make comparisons between the three giants much easier.
With corn, wheat, and soybean markets already reeling from a two-day free fall that saw prices fall convincingly. OAO Uralkali has decided to end its agreement with competitor Belaruskali and switch its Potash exports to its own trader, Uralkali trading, according to this Bloomberg article. The announcement has sent fertilizer stocks reeling in today's pre-market.
Prior to the above announcement my opinion was that the best strategy is to wait and see where crop prices bottom out and what the resulting farm economics look like because this would ultimately dictate the agreed upon price level for producers, dealers and farmers. However, if this pre-market sell-off holds through the open it may offer an opportunity to look at the industry and broader market to see if it's time to plant seeds in this stock again.
Disclosure: I have no positions in any stocks mentioned, and no plans to initiate any positions within the next 72 hours. I wrote this article myself, and it expresses my own opinions. I am not receiving compensation for it (other than from Seeking Alpha). I have no business relationship with any company whose stock is mentioned in this article.