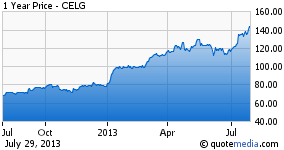 I thought I was on solid ground continuing to recommend Celgene (NASDAQ:CELG) when I wrote Celgene 2017 Guidance: 2 Times 2013 Revenue back on January 27, 2013. Commenting on long-term guidance, I wrote "I find Celgene's 2017 revenue and earnings guidance quite credible. Given that, the price per share in 2017 should be in the $200 to $230 dollar range, given a typical stock market with typical price-to-earnings ratios. Also assuming that in 2017 it looks like there is more growth ahead."
On January 25, 2013, Celgene closed at $99.76. On Friday, July 26, 2013 CELG closed at $143.94, up about 44% in six months. Year-earlier it closed at $67.49, so it moved up 113% over the year. If you had asked me would it go that high that fast, I would have said: not likely. I was thinking more like $120 by the end of 2013, $140 by the end of 2014 … $200 or more by the end of 2017.
So what changed other investor's minds? I would say the main factors in the price climb this year is increased visibility (or certainty) from clinical trials and some specific components of Q2 results, plus increased guidance for 2013.
Abraxane, first approved for treating breast cancer, had been questioned as to its value by some analysts from the time Celgene bought Abraxis BioScience in 2010. In Q2 sales were $155 million, which was up 26% from Q1 and up 44% from Q2 2012. Abraxane is currently approved for breast cancer and non-small cell lung cancer. An FDA decision on Celgene's application to use it to treat metastatic pancreatic cancer is expected in late Q3. It is also in clinical trials for melanoma and bladder cancers, as well as for extending its breast cancer and pancreatic cancer labels. In other words, Abraxane appears to be headed to blockbuster status.
Pomalyst for relapsed and refractory Multiple Myeloma (MM) was another needle-mover. As the latest agent in Celgene's MM franchise, it is where a lot of growth is expected over the next few years. This was only the second quarter of sales in the U.S. A European regulatory decision is expected in this quarter. After that, there is still the world to expand into. Pomalyst's main advantage in MM is oral availability. It is a pill, not an injectable, which will be appealing for many patients. Its label allows for its use only after patients have received two prior therapies. Revenue in the quarter was $66 million, up from $29 million in Q1.
Revlimid for MM and MDS has been the key growth and profit driver since approved by the FDA in 2005 for MDS (myelodysplastic syndromes). Revenues in the quarter were $1.05 billion, up 5% sequentially from $1.0 billion and up 13% y/y. Despite the long pedigree, sales continue to expand internationally, including with a recent Chinese approval. Revlimid is currently approved as a second-line treatment, but data from a Phase III study that should allow it to become a first-line treatment will be presented at ASH in December. It has also been approved in the U.S. for relapsed or refractory mantle cell lymphoma, with European review still ahead. It is in various Phase I, II, and III trials for a variety of other cancers. In other words, revenue is not near its potential peak.
Looking out to 2014, we are highly likely to see the commercial ramp of Apremilast for psoriatic arthritis and psoriasis. At the Q2 earnings call [See Q2 earnings call transcript] management said Apremilast data should support using it before biologics, based on its efficacy and relative lack of side-effects. It has not yet been approved by the FDA, and pricing is uncertain at this point, but this looks to me like another international blockbuster.
All this has been about Q2 revenue and therapies that are likely to ramp in the next few years. In addition, Celgene has a deep pipeline and research capabilities. Management has shown good judgment in making strategic acquisitions and partnerships and in selecting candidates for clinical trials. Clinical trials are a major cost component for biotechs. Companies with weak pipelines can spend a lot of investor money on R&D and end up with low approval ratios. So far Celgene has done extremely well with its approval ratio.
Finally, at the earnings call 2013 guidance was raised. Revenue was revised upward by $200 million to $6.2 billion. Non-GAAP EPS range was revised upward by $0.25 per share to $5.80 to $5.90.
The outlook for 2017 has not been revised, but it figures that it must at least be more certain given Q2 results.
Does that mean Celgene remains a buy at over $140 per share? If you just look at the trailing P/E of 39.7 (at this moment's price of $141.98) CELG looks expensive.
If you look at projections for 2017, you could argue for bidding the stock up to around $200 now, then letting it sit there, more or less, for three years. That is not likely to happen. There are risks involved even investing in mighty Celgene. There could be unexpected competitive drug breakthroughs that reduce revenues. There could be unanticipated adverse reactions that scare away patients. There could be a black swan type of event.
It is strange that we can reasonably guess that Celgene will hit $200 in 2017, if not earlier, which would be up 43% over that period or very roughly 10% per year. In a rational investor world people would dump U.S. Treasuries or cash for the higher rate of return.
Do I have a criticism of Celgene? Yes! They are still using their cash flow ($737 million in Q2) to buy back stock. You can say that indicates confidence in a heavy profit ramp in the future, but it is not like Celgene stock is cheap, even in the dips. I think most investors would be better served with minimal buybacks and the cash paid out as a dividend. Then the more timid investors would have something they can easily compare to their bond yields. I generally favor dividends because of their predictability. I don't want to sell any of my CELG, but I would not at all mind having a regular stream of cash for diversification.
Disclosure: I am long CELG. I wrote this article myself, and it expresses my own opinions. I am not receiving compensation for it (other than from Seeking Alpha). I have no business relationship with any company whose stock is mentioned in this article. I won't buy or sell CELG for 3 days after this article is published.