Last week, Google (NASDAQ:GOOG) announced a strategic investment in Himax (NASDAQ:HIMX), which we have regularly featured on Seeking Alpha. The news officially validated our long-term thesis that mobile operating systems are expanding beyond smartphones and tablets to penetrate devices like televisions and eyewear. Continuing our recent coverage on this subject, we explored the emerging market for mobile gaming consoles. With several vendors racing to compete on the hardware side, we believe that software vendors are poised to benefit. Glu Mobile (NASDAQ:GLUU) appears particularly well-positioned. This article will discuss recent events in the console space and how they impact the long-term investment outlook for GLUU.
The Android Console Battle Begins
The Android gaming hype-train got rolling last August when privately held Ouya raised an attention-grabbing $8.5 million on Kickstarter (9x the amount it was seeking). Recognizing the public interest, Mad Catz (NYSEMKT:MCZ) stole Ouya's thunder by introducing the MOJO Android gaming console at June's E3 conference. Mad Catz is a $120 million gaming peripherals vendor, which is leveraging its resources (cash and engineers) to attack the Android console market.
Analysts at PoisedToTriple Research collected an assortment of reviews, which confirmed MOJO's appeal and the positive implications for Glu Mobile. For starters, MOJO will feature Nvidia's (NASDAQ:NVDA) Tegra 4 processor. Tegra 4 gives the MOJO more horsepower and smother game play than the Ouya. This plays into GLUU's action-gaming strengths. Furthermore, the inclusion of Mad Catz' signature game controllers will augment the experience for GLUU's faster-paced games. MOJO will also provides easy access to GLUU's entire library via Amazon, Nvidia Tegra Zone, and Google Play. This open-platform strategy was clearly designed to boost MCZ's peripherals business by removing download barriers for game developers like GLUU.
This will force competing console vendors to follow suit, which could be the big break Glu Mobile has been waiting for. Since bursting on to the scene during mobile gaming's early-adopter phase, GLUU and its larger competitor Zynga (NASDAQ:ZNGA) have suffered from two factors: 1) their early success attracted a multitude of competitors (ultimately, it got to the point where almost nobody in the space could turn a profit); and 2) as the initial excitement of mobile gaming wore off with users, the market took a breather.
This is known by some as a "trough of disillusionment." The phrase fits. Consumers and investors have both been disillusioned with mobile gaming vendors of late. This was evident in ZNGA's latest earnings report, which sent the shares tumbling 14% on Friday. However, this is to be expected during this stage. Akin to the Wait Time phase of a stock's evolution, the trough of disillusionment is an almost-inevitable pre-cursor to Geoffrey Moore's proverbial crossing of the chasm (and a stock's Gold Mine phase).
Click to enlarge images.

Indeed, we believe the mobile gaming market is now gearing up to cross the chasm. Two dynamics should lead the way:
1) The multitude of vendors that rushed into the mobile gaming space are now being shaken out. Traditional vendors like THQ and Atari have already gone bankrupt this year. As tertiary mobile vendors follow suit, we believe the leading vendors will garner larger pieces of a growing pie, build greater barriers to entry, and attain sustainable profitability as the market achieves a healthy state.
2) Mobile devices are proliferating in terms of growth and device types. By this time next year, we expect mobile operating systems to be running on phones, televisions, glasses, watches, cars, and gaming consoles, among other things. In almost every case, the mobile gaming vendors will have a part to play.
Simultaneously the smartphone market is experiencing rapid commoditization, with cheaper smartphones targeting international and lower-end consumers. At present, there are about 1.3 billion smartphones in use worldwide. There are over 5 billion mobile phones in use overall. Thus, we can expect the smartphone market to quadruple (in terms of units) in the coming years. Simultaneously, we believe that billions of other Android and iOS devices will also penetrate the market.
When all is said and done, we believe developers like ZNGA and GLUU will be selling games into the largest installed base of devices in human history. Against this backdrop, GLUU's valuation metrics are appealing. Despite its recent growing pains, GLUU has topped EPS estimates for the past four quarters. Furthermore, it has implemented a stronger monetization strategy by cutting out middle men and forming direct relationships with the top 25 advertisers.
Meanwhile, GLUU's market cap has fallen to $180 million. With over $20 million of net cash, its enterprise value is just $160 million. This compares favorably to 2014 estimates, which call for profitability on $108 million in revenue and 26.7% top-line growth. If the company comes back into favor, a PEG ratio of 1 would be justified, giving it a 2x-3x multiple on the $108 million forecast.
This growth scenario is not hard to envision. For the past five years, GLUU's growth has been hampered by a dying feature phone business. Excluding this business, GLUU nearly doubled its revenue last year. More importantly, the feature phone business is now contributing well under $15 million in revenue. In other words, that business now has minimal ability to restrain GLUU's progress going forward.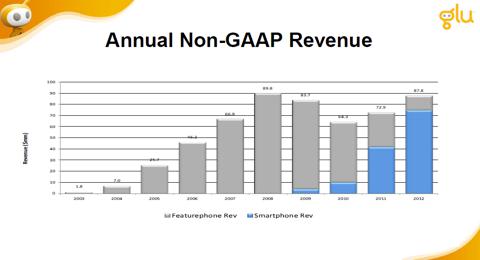 With the mobile gaming market expected to grow at 30% annually through 2015, any market share gains will result in significant outperformance for GLUU vs. analysts' expectations. For now, our projections assume that it just meets the Street's 2014 expectations and holds on to its current market share. Under that scenario, GLUU could support a market cap of $440 million in 12 months ($6.44 per share).
Here's how it breaks down: With top-line growth tracking the industry standard of 30%, GLUU's forward 12-month revenue estimates should be in the ballpark of $140 million. Based on those figures, a PEG ratio of 1.0 yields a 12-month enterprise value target of $420 million. Add back the $20 million in net cash and we get to our 12-month $440 million valuation target.
Of course, execution will be critical. Not only must GLUU continue along its growth path, it must also rely on consumers to adopt gaming consoles from Mad Catz (or MOJO competitors). However, the stock appears to plan for the worst. At $3 apiece, the shares reflect a 50%-plus discount to our target valuations. Furthermore, 25% of GLUU's float was short as of June 30, demonstrating negative investor sentiment. Given a successful crossing of the chasm, short-covering could accelerate the time frame for our target price.
Disclosure: I am long GLUU, HIMX, MCZ. I wrote this article myself, and it expresses my own opinions. I am not receiving compensation for it. I have no business relationship with any company whose stock is mentioned in this article.