As someone who covers a lot of short ideas on this site, one of the most important items I follow is short interest data. One must always be aware of the short interest in a stock. A large short base could spark a short squeeze on good news, while low short interest could spark a huge drop on bad news. Every couple of weeks, we get an update from Nasdaq on short interest data, and I report on what I am seeing. Today, I'm here to discuss the middle of July numbers. I'll discuss five names that short sellers are going after, whether just recently or over the longer term.
Facebook (NASDAQ:FB):
Facebook saw a 10% increase in short interest during the first few weeks of July. While the nearly 40 million shares short doesn't seem like much when you look at the chart below, it was at its highest point in 8 months, meaning a 2013 high as well. Facebook short interest at the latest update was up 93.5% from its low reached at the end of January. It is still well below its all-time highs, but for short interest to double, something has to be going on.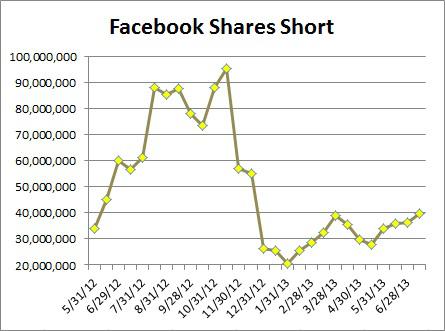 In my opinion, Facebook short interest rose as many questioned the company's sky high expenses, worrying about the profitability of this business. Well, Facebook took a swing and hit a home run with its Q2 results. Revenues and earnings both beat handily, and shares have rallied more than 33% in three days. Shares are at a 52-week high, but you must realize that the company is still off its post-IPO highs. The stock has been trading for more than 14 months now. Shorts took a beating on this one, and I will be very curious to see what happens at the next update. Will we see a lot of shorts gone, or will a number of new shorts at much higher prices push short interest to a 2013 high?
Intel (NASDAQ:INTC):
I brought up Intel not for its one update change, but for the longer term trend. Intel's short interest marched to a new yearly high at over 242 million shares. Since the recent low in January, short interest is up 23.31%. That doesn't seem too much, when you consider that less than 5% of the outstanding share count is short. However, short interest is up 86.65% over the past year and 174.08% over the past 17 months, as you can see below.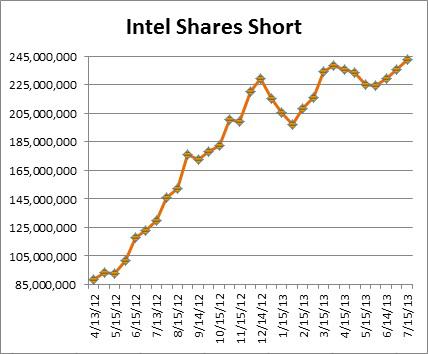 Why is short interest rising? Well, Intel's big second half may not materialize. As I expected, the company cut its yearly revenue forecast, as well as a few other guidance items. We all know the PC industry is weak, but investors were expecting a good rebound this year for Intel. It may not come. Recently, some investors have been concerned over the dividend. When Intel declared it last week, there was no dividend raise. Many were looking for some sort of increase, and now investors are scratching their heads.
Microsoft (NASDAQ:MSFT):
I selected Microsoft for this list because short interest reversed a downward trend that pushed short interest nearly to a 6-month low. Conversely, Microsoft shares had rallied to a 52-week high. Microsoft short interest popped by 8.6% in the last update, but is still below the yearly average. A recent history of Microsoft's short interest is below.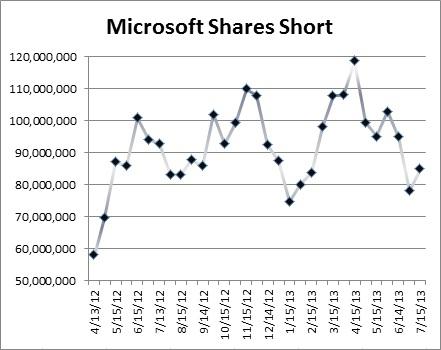 All of that could change, however, after the company's terrible fourth quarter earnings report. The company widely missed on both revenues and earnings, which has sent shares down 11% since. Many are questioning the leadership of this company, and during a weak PC market, you would expect Microsoft to be hit. However, some are arguing that the company is becoming irrelevant. Over the next couple of days, I'm planning to write an in-depth article discussing some options Microsoft has in an effort to wake up this stock.
SodaStream (NASDAQ:SODA):
One of the most debated names in recent years saw a recent pop in short interest, and earnings are due out on Wednesday morning. In the first two weeks of July, more than a million additional shares were shorted, a rise of 15.85%. Over the past month, short interest has risen by almost 21%, putting short interest at its highest point since the middle of March.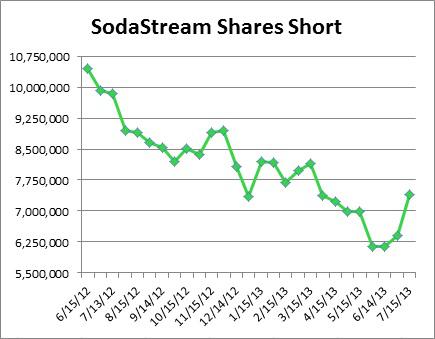 It appears there are some willing to bet against this company's report this week. SodaStream analysts are looking for $129.72 million in revenues (25.9% growth) and for earnings per share to jump from $0.45 to $0.57. Analysts will be looking for the company to raise guidance, as the current estimate for 28% yearly growth is above the company's latest guidance for 27%. SodaStream shares are well off their buyout bubble highs, but are still up 30% year to date. The Q2 earnings report and guidance will determine where this name goes next, so for a more in-depth report, click here.
Zillow (NASDAQ:Z):
Short interest in the real estate website jumped for the third straight update. Another 9.6% increase here makes it a three update rise of 22.6% since the end of May. Zillow short interest is at its highest point in three and a half months. The chart below shows Zillow's short interest over the past year.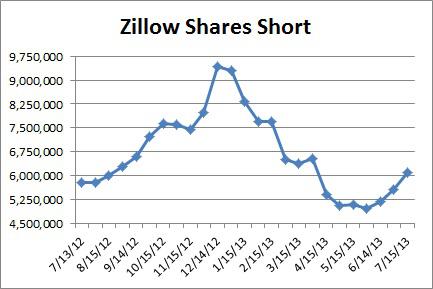 In the case of Zillow, I simply believe it is a case of a rising stock leading to an increase in short sellers. Zillow's stock bottomed at $23 in November 2012, and recently hit a high of $79.19. In the past two months, the stock is up roughly 50%. Zillow will report earnings next Tuesday (August 6th), and given the large recent rally, expectations will be high. If this name continues higher into earnings, this could easily be a case of "buy the rumor, sell the news". A pullback may be coming, and short interest is certainly rising.
Final Thoughts:
The five names on this list have all seen a rise in short interest, whether it be just one update or over the longer-term. Facebook short interest has nearly doubled, but a recent great earnings report may change that. Intel's short interest has hit another new high, and the reduced forecast and unchanged dividend may spark more doubters. Microsoft's short interest might continue to jump after a terrible earnings report. SodaStream short interest has risen as the company nears an earnings report where it must deliver. Zillow also fits that bill, as rising short interest makes you wonder if a post-earnings pullback is coming. I'll be back in a couple of weeks with the next round of data, and we will see if any of these names make the list then.
Disclosure: I have no positions in any stocks mentioned, but may initiate a long position in SODA over the next 72 hours. I wrote this article myself, and it expresses my own opinions. I am not receiving compensation for it (other than from Seeking Alpha). I have no business relationship with any company whose stock is mentioned in this article. Investors are always reminded that before making any investment, you should do your own proper due diligence on any name directly or indirectly mentioned in this article. Investors should also consider seeking advice from a broker or financial adviser before making any investment decisions. Any material in this article should be considered general information, and not relied on as a formal investment recommendation.