We are running a bit behind schedule this morning as we had big news come out regarding the potash industry and had to do a rewrite. The news is that important and we will have tomorrow's article address some of the issues we had previously planned to discuss this morning.
We are seeing some interesting moves by governments with resources and the one underlying constant is that they are trying to have more say over their destiny via their commodity production. It is the case in many of the former USSR countries, many of the Asian tigers, basically all of Africa and a good portion of South America and public companies are beginning to get beat up over these moves (see Turquoise Hill later in the article).
Chart of the Day:
This is a rather old chart we had in our files, but shows excess production and displays somewhat neatly the top producers of potash worldwide. The breakup of the BPC cartel now frees the #1 and #3 producers to sell their production freely (not from this chart). The other cartel (the cartel composed of Canadian and U.S. interests) in the world still has the #2, #4 and #8 producers but it shall be interesting to see how they hold up to this new competitive environment. Do they hold back production to keep prices high, or continue to sell at current production levels and allow prices to fall? That is the big question this morning, especially as one considers what Potash Corp itself could do if it simply opened the spigot.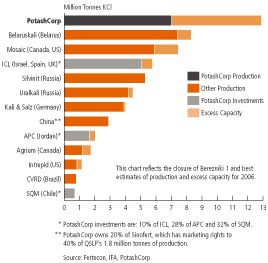 Source: Potash Corp
Commodity prices this morning are as follows:
Gold: $1321.10/ounce, down by $7.30/ounce
Silver: $19.745/ounce, down by $0.119/ounce
Oil: $103.51/barrel, down by $1.04/barrel
RBOB Gas: $3.0239/gallon, up by $0.0114/gallon
Natural Gas: $3.463/MMbtu, down by $0.009/MMbtu
Copper: $3.046/pound, down by $0.0615/pound
Platinum: $1434.20/ounce, down by $8.50/ounce
Copper/Gold
Turquoise Hill Resources (NYSE:TRQ) saw shares get pummeled yesterday as it was revealed that the Mongolian government was once again butting into private affairs (see press release located here). We can understand the logic of a country trying to take more control over their resources demanding to approve financing agreements, but in this situation and with our knowledge of other transactions that have taken place in the country this simply feels like an unnecessary roadblock. One analyst did not like the news and shareholders were a bit spooked too as shares fell $1.05 (19.74%) to close at $4.27/share on volume of 10.4 million shares. BMO Capital Markets was the firm which cut their price target on the shares by issuing a new target of C$5.50/share which is roughly half of the previous C$10/share target. That is troublesome indeed for shareholders and just another black mark on Mongolia's record of treating foreign investment capital poorly.
A fresh 52-week low on the news that financing will be under review for the Mongolian government. Most certainly not good news, but one must ask where Mongolia would get the money to develop this project if they tried to take it over themselves. Maybe China, but it is highly doubtful anyone else would risk capital here with the country's actions over the past decade or so.
Source: Yahoo Finance
Potash/Fertilizers
We do not know what the size of Third Point's, the hedge fund run by Dan Loeb, stake is in CF Industries (NYSE:CF) but we do know from his letter that he is pushing for some change. An increased dividend is what Loeb appears to be pressing for as his firm's research shows that the current spread in input costs that are in CF's favor shall continue. Third Point is referring of course to natural gas, which in North America is anywhere from half to one third of the price overseas producers of nitrogen must pay. Investors liked the news and the letter and pushed CF shares higher by $21.30 (11.70%) to close at $202.30/share on volume of 5.7 million shares. The company reports earnings on August 6th, so we would expect to hear something during the conference call regarding this letter (and any further letters which may come out) and how management plans to address it. This is the second fertilizer company to see activists move in, but we must point out that the first one, Agrium (NYSE:AGU) was able to stop the hedge fund at the gate.
All fertilizer companies saw a move higher on this news, including Potash Corporation of Saskatchewan (NYSE:POT) which rose a bit over 2% on above normal volume of 8.1 million shares. Today there is bad news for the entire western cartel though as the rival cartel for Russian and Belarusian potash appears to have fallen apart. This is huge news as the cartels have ensured steady prices for the industry in bad times and kept customers in check by effectively keeping a duopoly in place even as prices exploded higher this past decade.
For readers who are not familiar with the industry, as it pertains to the western potash producers Potash Corp is the largest producer followed by Mosaic (NYSE:MOS) and Agrium. All are indicated lower this morning as Uralkali (the Russian potash company) is predicting that potash prices will fall through the $300/ton level as there is now no organization in sales from Eastern Europe and Russia. This could last a year or so and the Belarus government decides to once again sell through BPC (the cartel which has fallen apart) when prices fall or this could be a new era in the potash industry's history. Very difficult to say right now, but this is obviously not good news.
Disclosure: I have no positions in any stocks mentioned, and no plans to initiate any positions within the next 72 hours. I wrote this article myself, and it expresses my own opinions. I am not receiving compensation for it (other than from Seeking Alpha). I have no business relationship with any company whose stock is mentioned in this article.