Now that Detroit has filled the biggest Chapter 9 filing in U.S. history, it might be time to look at bond insures once again, either for opportunities or for Detroit default fallout.
To begin with, things are probably not as bad as most people think for bond insurers. For example, S&P said it does not expect a possible default by Detroit on bonds supported by insurers that S&P rates to result in any rating actions.
Then many bond insurers have re-insured many of these liabilities. Berkshire Hathaway (NYSE:BRK.A) (NYSE:BRK.B) for example is facing $901 million in exposure. But that risk relates to policies in which its coverage was wrapped over another insurer, so the primary insurer would have to fail before Berkshire Hathaway would be required to pay, S&P also noted.
UBS lowered Assured Guaranty's (NYSE:AGO) Q2 EPS estimate to 25c from 67c and 2013 to $2.97 from $3.40 due to Detroit losses. But despite that, UBS rates Assured Guaranty shares a buy with a $28 price target.
According to a press release from Ambac Financial Group (NASDAQ:AMBC), the company has confirmed that the liabilities associated with its insured exposure are general account obligations. Current insured exposure outstanding net par consists of $92.7 million Detroit Limited Tax GO and $77.6 million Detroit Unlimited Tax GO. Ambac said it "honors general account claims with full, timely payments in accordance with the terms of such policies". This is a very manageable amount for Ambac.
National Public Finance Guarantee Corporation, a subsidiary of MBIA (NYSE:MBI), has confirmed that it has approximately $100.7 million of insured exposure to the general obligation debt of the City of Detroit. National also has additional exposures to various City of Detroit issues totaling $2.4 billion.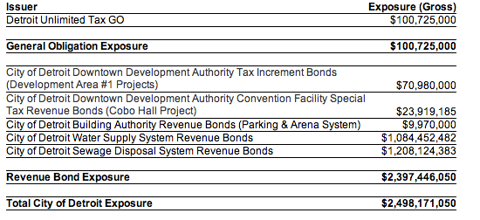 However, about $2.4 billion is secured by distinct revenue streams. It is very unlikely that Detroit will be able to default on these bonds. They are backed by the full faith and guaranty of the city of Detroit and its assets.
Second, this exposure is well known for some time now and the market probably figures any exposure is more than manageable. That's one explanation for the fact that MBIA'a stock is doing relatively good the past several weeks.
Another thing to note about the sector as a whole, is that this business has been dead since 2008. So if bond insurers come clean with bond holders on any Detroit exposure, that might be a reason for the business to revive once again. It might mean a lot of new business in the future for all companies. If municipalities can get insurance for the bonds they issue, they are better absorbed by the market.
So on the one hand, exposure seems to be under control for all bond insurers and on the other, the Detroit incident might be a blessing in disguise. Either way, it seems any Detroit fallout will not be enough to break any of the companies exposed.
So are bond insurers a buy? Based on the average target price of Analyst consensus, the answer is probably yes. Analysts have a target price of $17 on MBIA (from $13.5 today), $29.2 for Assured Guaranty (from $22 today) and a target price of $28 for AMBAC (from $24.5 today).
Disclosure: I have no positions in any stocks mentioned, and no plans to initiate any positions within the next 72 hours. I wrote this article myself, and it expresses my own opinions. I am not receiving compensation for it (other than from Seeking Alpha). I have no business relationship with any company whose stock is mentioned in this article.