As performance of the BRICS falters, investors should look beyond these markets to the next frontier. With an improving economy and strengthening government, investing in Thailand may prove to be a profitable choice. An ETF from iShares provides American investors access to the Southeast Asian nation.
iShares MSCI Thailand Capped Investable Fund (THD).
Total Assets: $806.3 million.
1 Year Performance: +19.38%
5 Year Performance: +108.43%
Key Fund Facts:
Fund has 113 holdings.
Low expense ratio of 0.62%.
Yield of 3.78% provides some steady income.
Large exposure to Financials (36.17%) and Energy (18.05%).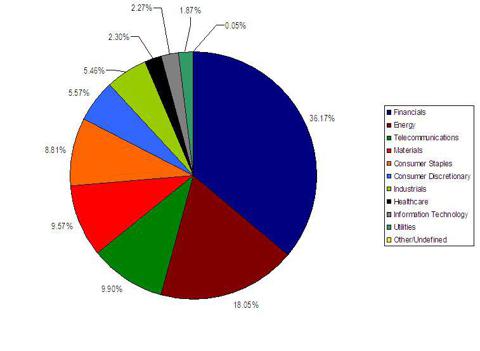 Click to enlarge
(Click to enlarge)
The Good News:
The Economist recently dubbed Thailand the "Detroit of the East". Japanese automakers have used the country as a manufacturing hub, resulting in Thailand ranking as the world's 7th largest car exporter. Last year, Ford joined its Far Eastern competitors by opening a $450 million facility.
Chinese government stimulus may trickle down to Thailand. China increasingly has become one of Thailand's largest trading partners. In 2003, the two countries signed an agricultural free trade agreement as a step towards a full fledged agreement.
In 2011, the World Bank upgraded Thailand from a lower-middle income economy to an upper-middle income economy. The nation's resilience to the global financial crisis proved to be a good economic indicator.
Numerous M&A transactions have helped build a stronger and more globally competitive industrial sector.
Politically, Thailand is still recovering from the 2008-2010 crisis which saw bloody riots. While political tensions are still high, the Pheu Thai Party successfully consolidated its power with the 2011 general election. Mrs. Yingluck Shinawatra is the country's first female Prime Minister.
Thailand's economy has recovered well since the 2011 flooding which caused $45.7 billion in damages.
The Bad News:
Thailand's costly rice subsidies have been recently heavily criticised. It appears the economic program lives on as a political carrot. Poor governance continues to drag the economy. King Bhumibol, a popular figure who has played a vital role moderating his country's volatile political scene, turned 85 in June. Heir apparent, Crown Prince Vajiralongkorn, has a reputation of being a playboy and having ties with ousted Prime Minister Thaksin. His ascension to the throne will likely be a tumultuous one.
An oil spill this weekend threatens tourism on the island of Ko Samet. According to the Diethelm Travel's Thailand Tourism Review, travel and tourism contributes to around 6.7% of the country's GDP. Poor regulation has left the country more prone to environmental disasters.
The threat of natural disasters, like the severe flooding in 2011, continue to threaten the Thai economy.
Thailand's Commerce Ministry has reduced expectations for export growth, blaming both the global economic slowdown a faltering Chinese economy. This being said, export rates are still growing.
Conclusion:
While Thailand continues to struggle with many problems that plague the ASEAN region, the country continues to grow its economy. As long as political factions stay off the streets, Thailand should continue to provide growth for the aggressive investor. The May-June technical selloff may offer an entry point.
Disclosure: I have no positions in any stocks mentioned, and no plans to initiate any positions within the next 72 hours. I wrote this article myself, and it expresses my own opinions. I am not receiving compensation for it. I have no business relationship with any company whose stock is mentioned in this article.