Search superpower Google (NASDAQ:GOOG) reported decent second-quarter results Thursday after the closing bell. Revenue increased 19% year-over-year during the quarter to $14.1 billion, falling slightly below consensus expectations. Non-GAAP earnings per share fell 6% year-over-year to $9.56, over $1 per share below consensus estimates. Google's earnings per share can move around considerably during different quarters, but free cash flow remained robust at $3.1 billion, approximately 22% of revenues. This figure is down slightly from the same period a year ago, but it is still a very healthy number, in our view.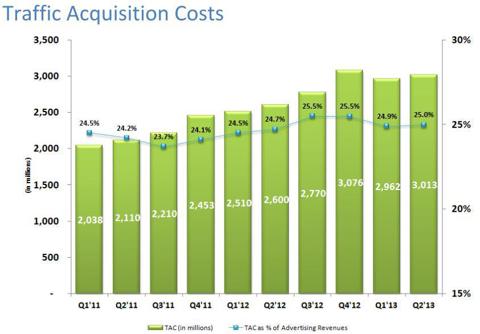 Image Source: GOOG Q2 FY2013 Earnings Presentation
Advertising remains the core of Google's business, but key metrics were decidedly mixed during the second quarter. Paid clicks jumped 23% year-over-year and 4% sequentially, suggesting that Google is gaining ground in mobile advertising as well as on the desktop. On the other hand, cost-per-click declined 6% year-over-year and 2% sequentially, so the amount of revenue Google is generating on each click declined. Still, traffic acquisition costs only increased 30 basis points year-over-year as a percentage of advertising revenues, to 25%.
Management warned not to put too much stake in the direction of just one metric, and we agree. Revenue growth remains robust even if ads aren't quite as effective as they were in the past. Chief Business Officer Nikesh Arora added some positive commentary on a recent campaign with Yum! Brands' (NYSE:YUM) Pizza Hut, saying:
For example Pizza Hut. Social mobile ROI increased by 20%. They found that mobile click through rate has increased by more than 60% while that cost per order on smartphones dropped by 17%. We believe enhanced campaigns sets up our clients and our business really well for the long-term, and the move towards a constantly connected world goes far beyond just direct response and transaction of marketing.
There simply may be a new paradigm in advertising that will equate to more impressions and more total clicks, but it may come at the expense of individual advertisement efficacy (conversion). We're watching industry developments closely.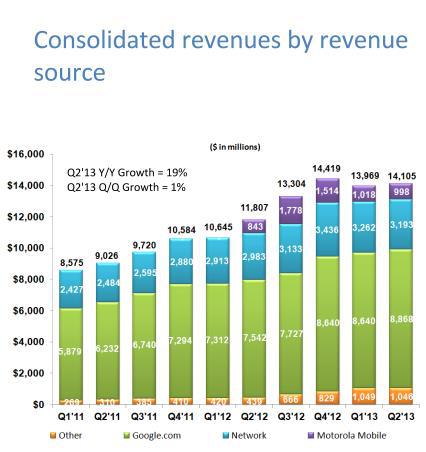 On a segment basis, we're still seeing fantastic growth at Google.com, where revenue jumped 17% year-over-year to $8.9 billion. Google Network growth lagged Google.com as revenue grew just 7% year-over-year to $3.2 billion. CFO Patrick Pichette explained why revenue growth slowed (was 12% in the previous quarter), saying on the conference call:
Clearly the network deceleration, I mean that's why we kind of made the comment last quarter about the DLA and policies and it's clearly having an impact as now we've had a number of partners that have through Q1, Q2 have all been notified and have made the changes to their behavior. So these policies are now coming into compliance and as a result of it, right that you see the impact. But we really believe that this is a really good thing for our users. And into the long-term it will really benefit both the users at Google…
Essentially, Pichette blamed the ad policy on the change, and we do not believe management seems worried about the slowdown. We are actually encouraged by what we're seeing at YouTube with the firm's new subscription model as well as continued video consumption growth. We aren't worried about the sequential retreat in Network revenue.
As for Motorola Mobile, the segment continues to be a cash drain for Google, though revenue increased 18% year-over-year, to $1 billion. The segment lost $342 million on a GAAP basis. Management contends that this was a "strategic" acquisition and suggested that the value of the deal may not show on the P&L. Pichette also seems to believe that the segment will turn the corner once its product pipeline comes to market.
This raises an interesting issue: will Google eventually try to ween itself off of OEM partners like Samsung? It seems highly unlikely that Google would want to abandon its globally successful Android strategy, even if it lags Apple's iPhone (NASDAQ:AAPL) market share in the U.S. Still, Google may see the healthy margins Apple has earned on its integrated product offering and at least attempt to replicate it.

Image Source: GOOG Q2 FY2013 Earnings Presentation
On the cost side, operating expense growth continues to outpace revenue growth. Management used the all too familiar "investing spending" to justify the expense expansion. For many companies we might view this as a disguise for unnecessary expense growth, but for Google, we are confident R&D efforts will eventually result in new products or services that will help drive future revenue growth.
Last year, we analyzed what we liked about Google's product pipeline, and we continue to be confident that Google will eventually come up with a new, fantastic product that creates a new source of revenue growth. New products brought to market could transform the profile of Google as we know it.
Our Take
We aren't getting too upset about Google's cost-per-click decline or the increase in operating expenses. Odds are high that Google will devise a great new product, whether it is self-driving cars or an excellent internet service (Google Fiber) that will drive future revenue growth.
Most importantly, revenue growth at Google's core business was robust, particularly for a "mature" business. The firm also sits on $54.4 billion in cash with endless investment opportunities. We feel shares of the search giant have additional upside from current levels, and we're holding onto our position in the portfolio of our Best Ideas Newsletter.
Disclosure: I have no positions in any stocks mentioned, and no plans to initiate any positions within the next 72 hours. I wrote this article myself, and it expresses my own opinions. I am not receiving compensation for it (other than from Seeking Alpha). I have no business relationship with any company whose stock is mentioned in this article.
Additional disclosure: GOOG and AAPL are included in our actively-managed portfolios.