Who owns bank stocks? Stocks in general are owned mainly by institutions, even those perceived to be darlings of retail investors. For example, Apple Inc.'s institutional ownership is 64%.
SNL Financial LC breaks down institutional investor ownership data by "holding style" (index vs. growth vs. value). The chart below shows this data at March 15, 2013 for the 15 largest US banks ranked in declining market cap order: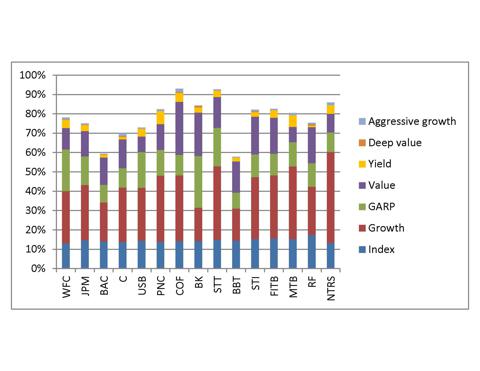 The height of each stacked bar shows total institutional ownership. While the average institutional ownership for these 15 banks is 78%, there's quite a bit of variance, and it isn't correlated with size. Wells Fargo (NYSE:WFC) is slightly above average at 79% and JPMorgan Chase (NYSE:JPM) is just slightly below average at 76%. The two banks with the highest institutional ownership, Capital One Financial (NYSE:COF) and State Street (NYSE:STT), both at 93%, are respectively only 17% and 13% as large as WFC from a market cap standpoint. Bank of America (NYSE:BAC), the third-largest bank by market cap, has the second lowest institutional ownership percentage, 60%.
What about the "holding style" split? A relatively small 15% or so of the shares of each bank are categorized as "Index". What's surprising is how large the "Growth" and "GARP" (growth at a reasonable price) categories are. If you lump these two together, the average is 44%, but the maximum and minimum are 58% and 25%, respectively. BAC and BB&T Corp (NYSE:BBT) are both underrepresented in this category. So institutions who are looking for growth in the bank sector don't think these two banks will deliver it, and that's why their institutional ownership is so far below average. (That also means that retail ownership of these two stocks is relatively high. Might this make them more volatile?) Institutions expect STT and Northern Trust (NASDAQ:NTRS) to deliver robust growth.
Lastly, note that the "Value" category is relatively small for most of these banks. It is highest for COF (27%), which is what makes its overall institutional ownership so high.
I think of bank stocks as value stocks rather than growth stocks. While their asset and earnings growth may be robust in the near term, it will be modest in the long run. What will make "Value" institutions rotate into bank stocks if/when "Growth" institutions rotate out?
Disclosure: I have no positions in any stocks mentioned, and no plans to initiate any positions within the next 72 hours. I wrote this article myself, and it expresses my own opinions. I am not receiving compensation for it (other than from Seeking Alpha). I have no business relationship with any company whose stock is mentioned in this article.