If you are looking to profit from corporate cost-cutting and regulatory burden, then Syntel (NASDAQ:SYNT), Zacks Rank No. 1 (Strong Buy), may be your play. This global information technology services and knowledge process outsourcing company with a focus on the healthcare and financial industries has been a hot performer in 2013. It is up about 32% year to date. Although Syntel has posted a strong return, it is reasonably priced given a rising trend in earnings estimates and track record of vibrant sales growth.
Valuation Looks Attractive
Syntel is trading at about 14.8 times 12-month forward expected earnings per share compared to a 10-year average of 17.7. The forward multiple is discount to average and near the S&P 500's 12-month forward P/E ratio of 14.5. Additionally, the PEG ratio is 0.88 compared to a 10-year average of 1.02. The market is cautious about pricing the company's growth rate suggesting the bar is low for Syntel to impress investors. The wall of worry for the stock seems to rest in concerns over falling margins and customer concentration. Syntel's top 10 clients account for about 80% of revenues.
Earnings Estimates Are Rising
In the past month, the Zacks Consensus EPS estimate for the September 2013 quarter has risen from $1.12 to $1.23, while the 2013 Zacks Consensus EPS estimate has increased $0.34 to $4.74. There was also a strong bump higher for 2014, with the estimate rising $0.26 to $4.99.
For the coming quarter, Syntel has seen its earnings estimates revised higher nine times in the past 30 days. Likewise, 2013 and 2014 estimates have both increased eight times in the last 30 days. There have been no downward revisions.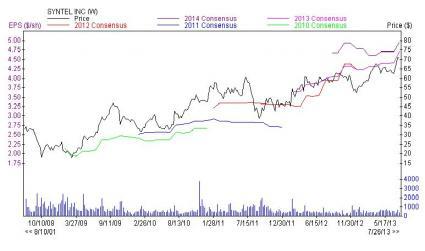 The price and consensus chart displays the upward slant toward profit estimates. The trend has helped to make Syntel a Zacks Rank No. 1 (Strong Buy).
Syntel Has Been Beating Earnings Estimates
Syntel has a track record of posting stronger-than-expected results. Its quarterly profits have exceeded the Zacks Consensus Earnings estimate the last eight quarters, and has disappointed only once over the last 20 quarters.
Sales Growth Is Strong
Sales per share have risen at a 17.5% compounded rate over the past three years and at a 14.5% compounded rate over the past five years. Sales growth fits into favorable statements from the company after its quarterly release on July 18. The company said:
The overall environment remains healthy and our prospects continue to improve ... The breadth of our pipeline continues to improve due to these investments and we look forward to helping our customers meet their future business and operational goals.
Conclusion
Syntel is a company with a strong track record of earnings growth and looks to be trading at a reasonable price despite its strong performance in 2013. Don't outsource this name from your portfolio.
Syntel: Free Stock Analysis Report (email registration required)