Sell AUD/USD: Further Rate Cuts on the Way
When we look at the major currencies, one of the most bearish stories of the year has been seen with the Australian Dollar. As the worst performer amongst the developed-market currencies year-to-date, the Aussie has already lost more than 10% against both the U.S. Dollar and Japanese Yen. For those holding the CurrencyShares Australian Dollar Trust (NYSEARCA:FXA), losses of more than 12.6% have already been seen for the period. Recent comments from Glenn Stevens, the Governor of the Reserve Bank of Australia (RBA), have helped generate these latest moves lower. At this stage, it is becoming clear that the RBA is more than open to the idea of creating a monetary policy that is more accommodative, and this will keep the Australian currency under pressure in the coming months.
But for those watching the data, this surge of dovishness should have been expected. When we look at the macro environment, risks can be seen both domestically and externally, and it can easily be argued that the RBA is "late to the party" is expressing a willingness to allow interest rates to fall. For the currency, however, this darkens the longer-term picture as new rate cuts beyond the historic levels now seen (2.75%) could easily bring real short-term rates under zero and essentially eliminate the incentive to invest in a currency that is typically characterized by high interest rates relative to its peers.
Those arguing the reverse might cite the fact that consumer inflation levels are already holding near the upper end of the RBA's target rate (at 2.4%). Lower interest rates will almost certainly send these pricing pressures through the RBA's comfort zone, and this suggests enhanced volatility once these changes become apparent in the official data. But the internal risks are not the only factors that have to be considered, and when we look at Australia's biggest trading partners other areas of weakness look to be coming down the pike.
Specifically, declining expectations for Chinese GDP growth have been seen in conjunction with liquidity injections from the People's Bank of China and proposals to eliminate obsolete production capacity in the country's factory systems. This means we will see not nearly the same construction productivity in China, and significantly reduced demand for copper and other raw materials. China, of course, is Australia's largest trading partner and raw materials exports make of an important segment of Australia's overall GDP output.
When we take these elements alongside the internal evidence that is already pointing to weakness in the Australian economy, there is little reason to be long the CurrencyShares Australian Dollar Trust near-term. June building approvals saw huge declines (of nearly 7%), versus expectations of a rise of 2%. What is most troubling here is the fact that the housing market had been one of the most stable aspects of the Australian economy. So when this is viewed in the context of declining household spending, industrial production, and business confidence, it is clear that the previous rate cuts in Australia have not been working. Longer term, these factors have to be taken in conjunction with the fact that interest rates will continue lower and any rallies from here are likely to be short-lived.
Chart Perspective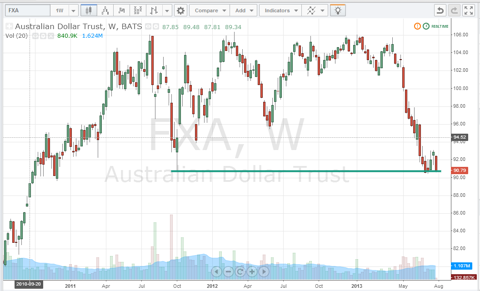 Click to enlarge
The FXA ETF is coming into some very important support levels, as prices are trading into historical demand at 90.75. Bounces out of here have been limited however, and a break and weekly close south of this region will likely accelerate losses. We would need to see prices break back above 93.05 in order to reverse this bias.
Disclosure: I have no positions in any stocks mentioned, and no plans to initiate any positions within the next 72 hours. I wrote this article myself, and it expresses my own opinions. I am not receiving compensation for it (other than from Seeking Alpha). I have no business relationship with any company whose stock is mentioned in this article.