Two companies held in my portfolio tracked by "Globes" will report results this week for their quarter ended July 31: IPTV chip company Sigma Designs (NASDAQ:SIGM) and Marvell Technology Group (Nasdaq: MRVL).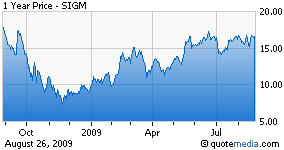 Sigma Designs was second on Fortune's list of fastest growing public companies over the past three years. However, short sellers, and most analysts, were not impressed.
The level of short interest in Sigma, as of the end of July, rose to 8 million shares, about a third of its shares outstanding, and about half the shares held by institutional investors. The level also means that 20 trading days are needed to cover that short position, based on average trading volume. In other words, if the company surprises with good news, the reaction northward can be especially sharp as short sellers get crushed.
In contrast to the end of 2007, when the share collapsed from $70, short sellers are currently suffering heavy losses. Since the bottom in November, when the share hit $7, short interest has risen, and despite that, the share price more than doubled, to $16.42 Tuesday.
One day, when Bezeq The Israeli Telecommunication Co. Ltd. [TASE: BEZQ] offers TV to us in Israel, including HD, through the telephone lines, as a way to compete with the YES and HOT companies, we will understand what exactly IPTV is. In the meantime it is far off, and not just here. In countries such as China, Japan, Korea, Germany, France, and the US, it is available, but only in early stages, with penetration of only a few percentage points, compared with the quantity of telephone customers that suppliers have.
The euphoria that surrounded IPTV three years ago, when it came out as the new buzz, is basically what brought Sigma to the Fortune list, but also brought it to the list of shares favored by short sellers. At the time, Sigma was the only company that developed chips for the sector, and the excitement was so great that the company quickly passed from one which in 2006 lost money due to heavy development costs, to a company whose sales and profit are growing hundreds of percentage points.
At the end of 2007, it turned out that in telecommunications companies which had begun to set out IPTV, led by AT&T (NYSE:T), large inventories of IPTV converters had built up. The equipment was built by Sigma customers such as Cisco (NASDAQ:CSCO) and Motorola (MOT). Like all new services based on technological innovation, the suppliers faced distribution difficulties.
Today the situation is completely different, and I have trouble understanding the short sellers, especially in light of the fact that Sigma has a cash level (with no debt) of nearly half its $400 million market capitalization.
Additionally, it is known that the worldwide inventory of converters returned to reasonable levels, in line with the rate of deployment in each country.
Among analysts who see it as a short opportunity is Lazard's Daniel Amir, with whom I met last week when he was here on vacation. His recommendation is a "Sell", with a $10 price target, well below the market price. Amir believes that Sigma will report $52 million revenue and earnings per share of $0.28, in line with market expectations, and will also issue guidance in line with expectations.
His pessimistic stance is based on, among other things, weakness in deployment by AT&T, which in his opinion is not growing in the sector as it was in the beginning. In fact, the number of customers who joined AT&T's U-verse service dropped 13%, according to AT&T.
In the previous quarter, Sigma surprised analysts with $13 million in sales to Western Digital (NYSE:WDC). Amir thinks that was a one-time bonanza, and that there will be a 50% drop in the sector.
Above all else, it appears that short sellers are basing their outlook on the expected competition from an impending announcement by gorilla Broadcom (BRCM), which it appears to me I've been hearing about for two years already. Broadcom management has hinted numerous times that its processor will in fact hit the market soon, after it gets the "OK" from Microsoft (NASDAQ:MSFT), which controls the market for operating systems for set-top boxes. According to rumors, Broadcom also won a big BT Group plc (NYSE:BT) project in England.
As far as I know about the stock market, all these rumors are apparently true, and reflected in the share price. When Broadcom does say something, Sigma shares may fall but will rise again very quickly as short sellers get out of their positions.
Disclosure: Author holds positions in SIGM and MRVL in his portfolio tracked by "Globes".
Published originally by Globes [online], Israel business news - www.globes-online.com
© Copyright of Globes Publisher Itonut (1983) Ltd. 2009. Republished on Seeking Alpha with full permission.