Global healthcare company Abbott Labs (NYSE:ABT) issued decent second quarter results that revealed the strength of the firm's international portfolio. Excluding changes in foreign exchange rates, worldwide sales advanced 4.2% thanks primarily to expansion in its international 'Nutrition' segment, which advanced over 18% on an operational basis (excluding currency) during the period. Growth in emerging markets, which now represent more than 40% of Abbott's total sales, was impressive, jumping more than 13% from the same period a year ago. Second-quarter adjusted gross margins of 55% and adjusted diluted earnings per share of $0.46 both came in ahead of internal projections. Year-over-year comparisons were difficult given the spin-off of AbbVie (NYSE:ABBV) at the beginning of the year. Abbott rolled out 24 new products in its 'Nutrition' segment during the period and launched the first HCV genotyping test as well as Tecnis. Overall, we thought the quarterly performance was decent, though the Abbott story very much remains an international (non-US) one.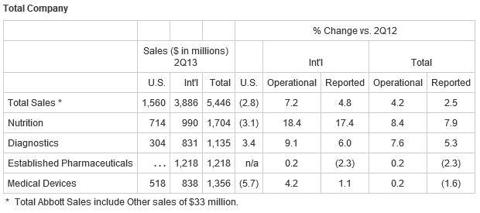 Click to enlarge
Image Source: Abbott
Performance in the company's 'Nutritional' segment was balanced, as pediatric and adult sales both advanced at a high-single-digit pace during the period, led by international expansion. The firm credited geographic expansion initiatives for pediatric nutrition growth and increased global Ensure demand for higher adult nutrition revenue. We have a high degree of confidence that international growth will continue to drive its 'Nutrition' segment and that Abbott will be able to achieve its target of a 20% segment operating margin by 2015.
The firm's 'Diagnostic' segment enjoyed nice expansion across the board, though it, too, was led by international performance. 'Core Laboratory' diagnostic sales advanced roughly 6% on an operational basis (excluding currency), while strength in its two smaller subsets-Molecular and Point of Care diagnostics-was also apparent. All in, revenue in the segment advanced 7.6% on an operational basis (excluding currency), and we note particular strength in 'Core Laboratory' diagnostic sales in China and Russia, which jumped 30%. The firm also received approval for the first FDA-approved hepatitis C virus (HCV) genotyping test in the US, which will help expand the firm's 'Molecular' diagnostics portfolio.
Performance in the company's 'Established Pharmaceuticals' segment was flat. Abbott continues to build its local product portfolios across a variety of expanding emerging markets, where operating revenue increased 4.4% in the period. However, a 3.4% operating decline in 'other markets' revenue driven by austerity measures in Western Europe largely offset the gain.
The firm's 'Medical Devices' segment also was relatively flat during the period, revealing only a modest 0.2% growth rate on an operational basis (excluding currency). Abbott's 'Medical Optics' (primarily cataract sales) and 'Endovascular' subsets were the only two within its 'Medical Devices' segment to experience operational (excluding currency) sales expansion. The firm expects worldwide sales to continue to improve through the course of the year thanks in part to the recent launch of Tecnis in Japan and Tecni Toric in the US. Still, we continue to watch the firm's 'Medical Devices' segment closely, given recent performance at Johnson & Johnson (NYSE:JNJ) and Intuitive Surgical (NASDAQ:ISRG).
Looking ahead, Abbott confirmed its ongoing earnings per share guidance for the full year 2013 of $1.98-$2.04 (representing double-digit expansion). The bottom line will also be aided by the board's $3 billion share buyback program.
Valuentum's Take
It's hard not to like Abbott Labs. The company's leadership position in 'Nutrition' with Similac, Ensure, and PediaSure is impressive, while its 'Diagnostic' segment remains well-positioned for profitable growth. Emerging markets will play an even more important role in the firm's 'Established Pharmaceuticals' segment in coming years, and its 'Medical Devices' division has top 'Vascular' positions and an advancing new product pipeline in 'Diabetes Care.' However, the firm is trading almost at our fair value estimate (at the time of this writing), revealing little upside from a valuation standpoint.
Disclosure: I have no positions in any stocks mentioned, and no plans to initiate any positions within the next 72 hours. I wrote this article myself, and it expresses my own opinions. I am not receiving compensation for it (other than from Seeking Alpha). I have no business relationship with any company whose stock is mentioned in this article.
Additional disclosure: ISRG and JNJ are included in our actively-managed portfolios.