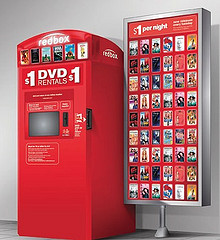 Video rental kiosks like Coinstar's (NASDAQ:CSTR) Redbox unit will take close to 30% of the U.S. DVD rental market in 2010, according to market research firm NPD Group. Through the first half of 2009, kiosks had 19% share, versus 36% for Netflix (NASDAQ:NFLX) and other subscription services and 45% for Blockbuster (BBI) and other retail stores.
NPD contends that in the coming months both subscription services and traditional retailers "will experience even more competition from kiosks, which are becoming ubiquitous in grocery stores, mass merchandisers and quick-serve restaurants."
Russ Crupnick, VP for industry analyst at NPD, said in a statement that "consumers are obviously responding positively to the perceived value of $1 per day rentals, and they appreciate the convenience offered by video rental kiosks."
Ye gads: That suggests Redbox rentals are rapidly approaching Netflix in scale. No wonder some of the film studios are freaking out: $1-a-day rentals go a long way toward erasing the appeal of DVD purchases.