Sink or swim, make or break - I could go on for hours: 2013 and particularly Q3 will begin to give us some clear answers on whether consumers have given Nokia (NYSE:NOK) a future as a high tech smartphone maker.
In my previous article, I presented a mixed bag of results and although that hot July day wasn't the Blue Sky scenario I'd hoped for, it did give me a lot to be positive about.
As of the results season, the top-end Lumia 925 had only three months of sales, the 928 has barely launched, the Asha 501 was about to begin shipping and three behemoths (AT&T (NYSE:T), Telefonica (TEF), Microsoft (MSFT)) had pledged advertising power to the beleaguered smartphone company. Furthermore, with the release of the 1020, Nokia finally had something to tell the world about - something that regardless of its success, should help cement the Nokia Brand as the camera phone for people who enjoy photos.
My Current price target is EUR3.90 // $5.20 (27.8% upside)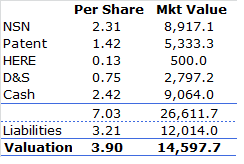 My estimate for liabilities includes a number of additional assumptions on the value of cash, which I cannot go into so I have just bundled them together.
For those new to valuation, the above is a sum of the parts, which takes a profitability ratio for each business unit and uses comparable companies to discern an enterprise value. Enterprise value equals the market value of equity + net debt + other liabilities.
In order to distill the equity value, we subtract the value of debt (liabilities) from our enterprise value to figure out the value of the equity portion.
Short valuation lesson out of the way, why does this stock have value.
D&S (10% of Enterprise)
Ironically, the most well-known part of the business accounts for only a small fraction of the value. The failure of this business would lead to the failure of Nokia in many people's eyes despite my model giving upside to Nokia regardless of existence or not (I have an estimation of cash burn which I count as a liability).
Even the biggest critics have to give Nokia some credit. Their OS maker continually botches deliveries of software. The terrible transition between OS7 and OS8, the awful reboot of the Windows franchise and the continual marketing mis-steps with the Xbox One has meant that the Mobile ecosystem favored by Nokia has failed the most basic test - functionality.
The continual domination of Android has meant that OEMs from China have sprung up at an alarming rate commoditizing the smartphone business and making it more difficult for a third ecosystem to achieve adoption.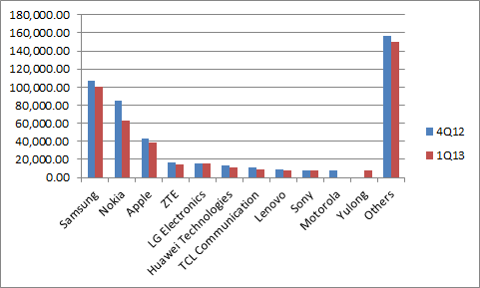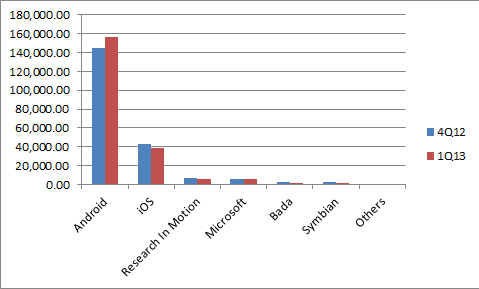 Source: Gartner
Not only are these white-box handsets aggressively taking market share in emerging markets, but companies such as Huawei have attempted to enter the competitive high-end space as well (Check out the Ascend).
Despite all of this, Nokia has shown innovation and most importantly, a growing sales record of its flagship brand, the Lumia.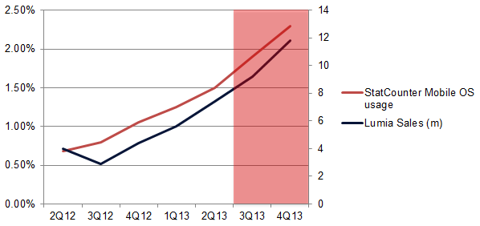 Management saw a Q2 volume growth of 32%, which exceeded their expectations of 27% QoQ. 7.2m Lumias in the quarter isn't enough to register as a heavy hitter, but the breakthrough is only one quarter away.
The red part of the graph indicates my volume estimates and a rough Statcounter market share that I would like to see in order to be comfortable in my assumptions.
Annoyingly (and perhaps worryingly) the management refused to give guidance for 3Q expectations. Instead, they stated that because Q3 is the quarter of the 1020, the 928 and the triple push of Telefonica, AT&T (let's hope they are better second time round) and Microsoft (here's hoping), the quarter is in effect a crap-shoot and despite expecting growth, they can't be sure how much.
Steven Elop
As it relates to visibility, that is part of what we were trying to signal is that given that the expectation for Q3 has a larger percentage than normal of new product launches, it's with less confidence that we can predict the volumes and so forth. And so, you saw us, if you just look historically, we didn't predict volumes in Q1, but we felt better about predicting volumes in Q2, because we had more of a track record with the newer first generation Windows Phone 8 products. The 925, the 1020, products like that we don't have any practical experience with at this point, or enough at least to say what Q3 will look like.
I value D&S based on 2014 EV/EBITDA and my current assumption is for 45m Lumias (ASP EUR 170) for 2014. For 2013, I would like to see 9.2m sold in Q3 and 11.8m in Q4 with a recover (from EUR 157 reported in Q2) in Average Selling Price simply due to a high end mix.
I am also expecting Smart Devices to breakeven at around the 11.1m mark, meaning that I expect a positive non-IFRS EBIT margin for Q4 2013.
Bulls and bears are in agreement with regards to Lumia volumes; they have to increase meaningfully. A product like a smartphone requires scale in order to become profitable and success therefore needs consumers interested in the product. One of the biggest arguments against Lumia and the Windows OS is lack of apps.
I had a quick jumble through the top rated apps on the iOS to see if the most used apps were available on the Windows OS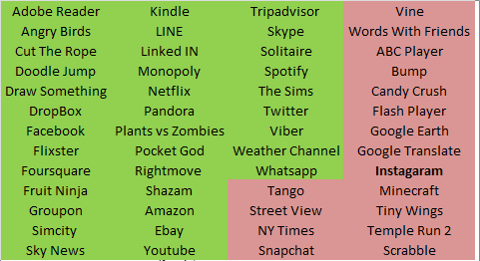 In case you needed a key, green means Windows has the app, red means it doesn't.
When you look at the apps that are used on a continual basis, the Windows OS doesn't fare that badly. Most key apps have been ported but the one glaring problem is Instagram.
How can you focus your strategy around photographs when you can't even offer the world's most popular photo-social network!
Nokia has attempted to address this problem with Oggl, a separate app that allows you to upload photos to Instagram, but then Frozen Yoghurt looks like ice cream and I know which one I prefer. On the plus side, the company realizes this and negotiations continue with eventually success quite certain (in my opinion).
The main problem with the software isn't the fact that it hasn't got the key apps but that the OS isn't on the cutting edge of the appsphere. This means that Nokia consumers will have to wait enviously when they see their Android and iOS buddies playing around with the latest sleeper hits. For the foreseeable future, I doubt that we will see any App find success on the Windows OS platform, then ported to another OS.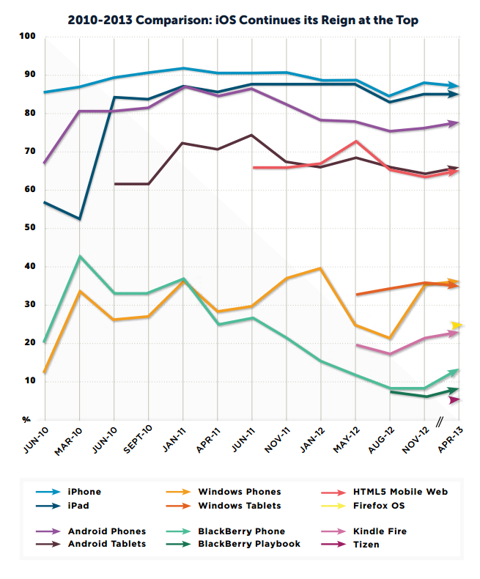 According to the Appcelerator survey, only 35% of developers are strongly interested in developing for Windows, while another survey states that the OS is the third port of call behind iOS and Android when it comes to priorities (surprise surprise).
At the end of the day, it's the consumers, not the developers who purchase the phones and the proof of the pudding is in the eating

As of July 27th, Lumia searches are the highest they have ever been

Much of this performance seemed to be delivered by continual interest in the 520 as well as the newly announced supercam 1020.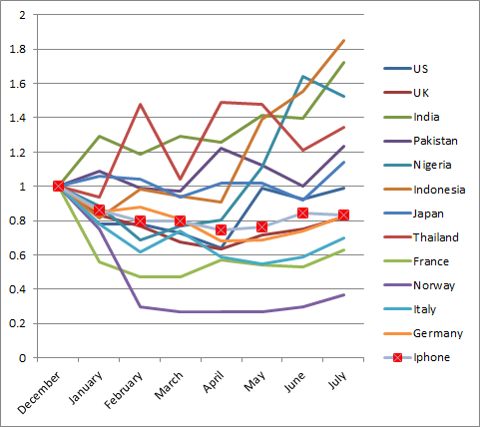 Looking at search volume for "Lumia" (re-based December 2012) you can see that almost all countries have seen an increasing upwards trend in search volumes however it seems the home country of Norway has lost interest. What is interesting is the LEDC data for the word Lumia, suggesting that consumers may actually be bypassing the Asha in order to purchase the lower end Lumias.
For D&S, I am expecting a Full Year non IFRS EBIT14 of EUR164m with the feature phone segment delivering only 14.6m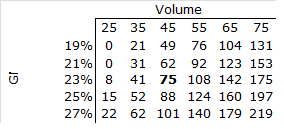 Above is a sensitivity analysis on the D&S valuation depending on volumes sold and the gross margin (assuming EUR170 ASP).
Before moving on to pastures new it is worth noting out that the recent movements in the Rupee are a cause for concern. Over the past quarter, the Rupee has devalued 11% against the Euro. The Asha 501 is priced around 5000 Rupees meaning that revenue from an Asha product in the reported EUR would have been 70 Euros in April but now only 60 Euros.
This equates to a 14% hit to gross margins!
I am currently modeling 2014 Gross margins at 23% but reducing this to 20% (roughly 14% hit) moves my price target to 55c from 75c
HERE (1.5% of enterprise)
When Nokia acquired Navteq in 2008, they paid 62x 2007 earnings (when taxed @ 30%). Since then (TomTom (OTCPK:TMOAY) acquiring TeleAtlas making up the other guy) Nokia has been on a phenomenal rampage of value destruction. In fact, Waze, the provider of maps with social traffic data was acquired by Google (NASDAQ:GOOG) for only $1bn! (compared with HERE's c.$8bn)
I valued this company using a price/sales metric coupled with the fact that they can't turn a profit on a business where R&D is largely complete. It has the product, it is only one of only a few companies that can supply the data, yet it loses money EVERY QUARTER - well apart from last year's non IFRS EBIT, which came to +EUR 8m (from -EUR5m last quarter).
If you take its 8.3m EBIT and use this as a quarterly run rate, we have an annual EBIT of 33m and an EV/EBIT of 15x (assuming EV 500m), pricing the segment in-line with other much more established and profitable companies such as SAP and more expensive than Oracle (NASDAQ:ORCL) and IBM. Using a EV/Sales metric comparison with Zynga (NASDAQ:ZNGA) (0.67x) I could theoretically cut my valuation in half removing 7c from the Price target - the point HERE is that the segment isn't easy to value so I look at the business.
The segment has now focused its attention on creating apps using its data. While success is currently uncertain, it is true that HERE is finally focusing on something.
The HERE suite includes a rather well received off-line navigation service (With online traffic data) and a transit app, helping get from A to B with little effort extolled.
They hope to charge non-Nokia owners 35EUR for the privilege of having off-line maps while giving Lumia owners, the apps for free (another point of contention is how much they will be 'charging' for internal sales going forward).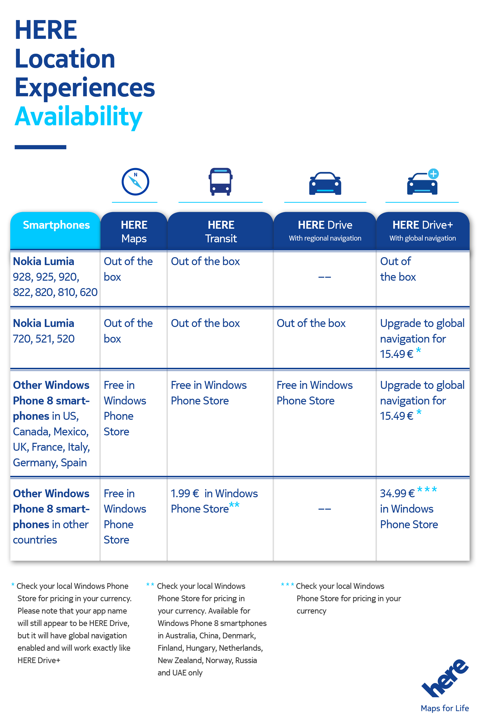 TomTom currently operates in the premium app space, offering its offline product for $35 (vs. Nokia's $44). Furthermore, the company achieved 500,000 downloads on iOS in FY12 but this only amounted to 1% of revenues for the company.
Despite all the bells and whistles, any revenue clearly resides in the segment's non app-operations and if TomTom can manage a 12% net profit margin (subtracting the absolute tonne of restructuring that it faces), why hasn't HERE been able to do the same?
I'm currently torn between seeing HERE as a separate asset or as a way to remove some of the development costs from the D&S segment, thus inflating profit metrics for the focal business unit.
Nokia Siemens Networks (32% of Enterprise)
Soon to be known as Lumia Networks?? Initially I thought they would remove the Siemens (SI) and re-brand as Nokia Networks but a sneaky young man from Shenzhen has poached nokiasiemens.com !
Gossip out the way, there are a lot less metrics in existence to help follow the company's progress and instead you have to rely on individual news pieces to discern value.
From a top down perspective it's easy to see why NSN can be an attractive proposition. With the world's lightning take up of mobile data, the company is clearly operating in a vogue area. As we increasingly rely on our mobile phones to consume data (not to mentions fridges talking to cars etc., etc.), the world's various telecom companies are rushing to expand their networks to offer the huge amount of capacity that human beings now demand.
Cisco (NASDAQ:CSCO) offers an annual compendium of statistics, which seem to concur with this thesis. They state that Global mobile traffic grew 70% in 2012! While 4G connections generated 19 times more traffic than a non 4g connection (only 33% consumed through the fixed line network). Looking at the mobile network through 2017, Cisco expects mobile data consumption to grow 1300%.
Finally, if you listened to the earnings calls of both Ericsson and Alcatel, you would have confirmation that the LTE roll-out is indeed providing a plethora of opportunities.
The company itself is nearing the end of what seems to be a perennial restructuring with long-term EBIT margins estimated at between 7-10%. Furthermore, restructuring related charges seem to be nearing completion with EUR1.7bn of a total EUR1.8bn being spent.
Having acquired half of NSN for what I consider a rock bottom price (read the full article here), the company has taken control of a potential cash cow required to fund their riskier enterprises that we spoke about above.
I value the company using an EV/EBITDA13 using a 30% discount to peer Ericsson.

As you can see this is cheaper than peer Alcatel Lucent (ALU), which has only just begun its restructuring. Comparing quarterly results, Alcatel Operating Income Pre-restructuring came to EUR24m (0.66% Margin) against NSN with 11.8%.
The company still estimates EUR600m of cash outflows related to the business whereas Alcatel's charges that led to their quarterly loss of EUR861m remain non cash kitchen sinking.
It is important to note that using a ratio metric for such a large part of the model means that small changes in assumption can lead to small changes in price.
If I use one leading broker valuation of EUR6bn, my SoTP drops to EUR3.12 and if I use the cost price of EUR3.4bn Nokia is only worse EUR2.43.
In my opinion, with the traction that the group has generated regarding key contracts such as China Mobile, there is definite value to be had and I am currently comfortable with this valuation
Conclusion
If you stayed with me this far, thanks for reading...
No doubt Nokia remains a speculative investment and one that I wouldn't recommend for a retirement portfolio but in my humble opinion, all the newsflow points in the right place and I believe that should the Q3 continue to show progress, we will see EUR3.90 ($5.20) by the end of the year.
Disclosure: I am long NOK. I wrote this article myself, and it expresses my own opinions. I am not receiving compensation for it (other than from Seeking Alpha). I have no business relationship with any company whose stock is mentioned in this article.