Company Overview
The West Fraser Timber Co. Ltd. (OTCPK:WFTBF) is based in Vancouver, Canada and operates in Western Canada and the Southern United States. It operates as a wood products company producing lumber, pulp, panels, wood chips, and newsprint for residential, commercial, and industrial applications. Within the lumber segment it offers spruce, pine, fir (SPF), and southern yellow pine (SYP) lumber products. The company produces panels, such as plywood, medium density fibreboard for laminating, painting and machining applications, and laminated veneer lumber. It offers northern bleached softwood kraft pulp that is used by paper manufacturers to produce various paper products, including tissues and printing and writing papers, and bleached chemithermomechanical pulp, which is used by paper manufacturers to produce paperboard products, printing and writing papers, tissue and towel products, and various other paper grades. The company also provides treated wood products comprising chromated copper arsenate, pressure-treated lumber and plywood for permanent wood foundations, fire retardant treated lumber and plywood, and construction tips and fasteners for decks, fences, playground structures, and other residential applications. It serves retail outlets, wholesale distributors, manufacturers, and treating businesses.
Business Environment and Segment Analysis
The company's largest source of revenue is its lumber business, followed by Pulp & Paper, and Panels as shown below: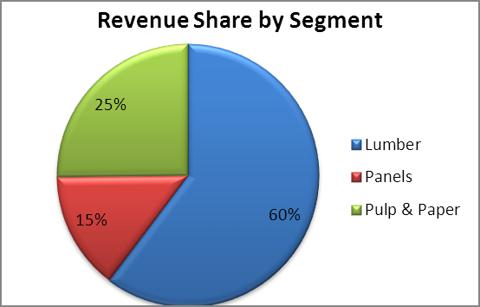 One of the strategic objectives of West Fraser is to expand through acquisition to extend business lines (primarily lumber) and geographic diversification. In October 2012, West Fraser acquired a sawmill and related timber rights from Sundance Forest Industries in Alberta. This was a very strategic acquisition for West Fraser, as Sundance has a strong timber position that will integrate well with existing operations. Prior to 2009, the company was the largest producer in North America, with more than 70% of its revenue coming from North America alone. Currently the USA and Canada combined account for around 74% of total revenue, however, China is increasingly contributing to the top line, reducing the company's overdependence on the US. This geographic expansion has considerably reduced their concentration risk and greatly improved access to new timber baskets.
A Revived housing market will lead to a rising demand for lumber
Major demand for lumber products is driven by the housing market, which in the US, after almost a five-year depression, appears to have rebounded as indicated by housing starts, which have increased by almost 37% since the beginning of 2012. With increased home sales, demand is likely to further increase due to home improvement and renovation projects. This phenomenon is evidenced in the National Association of Home Builders' (NAHB) release of monthly Housing Market Index (HMI). The HMI is a survey conducted amongst homebuilders that determines whether conditions for new housing construction are improving or declining. The most recent HMI reading was 57, with any reading above 50, indicating a reported increase in new home construction.
The chart below shows the historical correlation between single-family housing and the HMI. Data for the last three decades is captured, and is recorded at every other point in the past 30 years when the HMI has been at its current level of 57 or stronger. Historically, single-family housing activity has been at or above 1 million units, whereas at present, single-family construction is around 600,000 units. This clearly indicates that homebuilders are preparing for a significantly greater number of single-family housing projects, which in turn, will drive up lumber demands.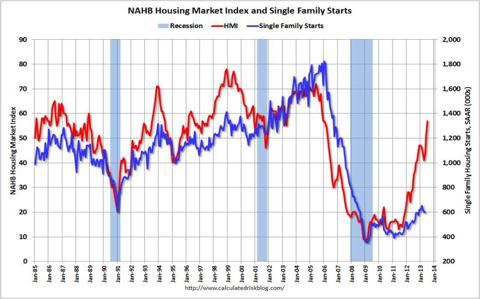 Higher lumber prices will translate to higher top line
Amid increasing demand, prices for lumber and plywood have also increased by 46% and 37% respectively, since the beginning of the year. Lumber prices had a very strong Q1, averaging $391 per mfbm, and then dropping down to $297 per mfbm in June 2013. However, the recovery process has started, and prices now sit at $320 per mfbm, as of July 18th, 2013. The lumber futures market is also showing a strong upward trend as evidenced in the chart below where futures are trending up.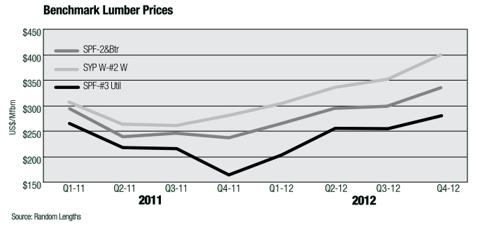 Lumber Futures ($USD / Mfbm)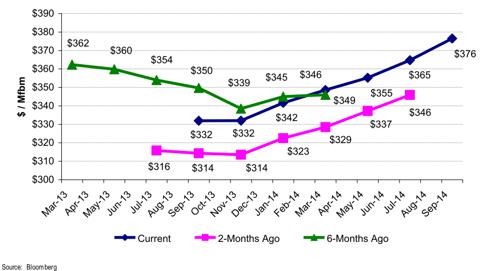 Capital Structure and Investments
While the industry Total Debt/Equity is 0.71, WFTBF.PK's Long-Term Debt/Equity is significantly lower at 0.18, the company is increasingly becoming less reliant on long-term debt, and is funding its growth out of retained earnings, which translates directly into reduced risk. The downward sloping Long-Term Debt/Equity ratio is shown in the chart below: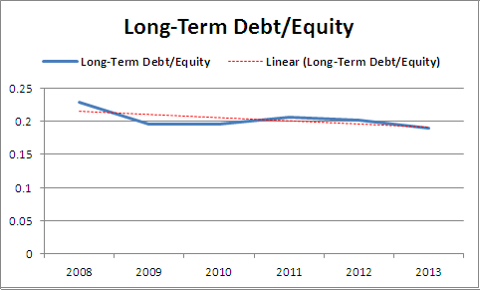 The company is aggressively investing in several modernization, energy reduction, environmental and safety projects at several sawmills in the US and Canada. These modernization projects are expected to be half completed by the end of 2013, and fully completed within a three-year period. These projects are likely to have a direct impact to the bottom line, as indicated by a decreasing reliance on costly fossil fuel based energy production to bio-energy based. 60% of the company's energy needs are internally generated from biomass.
Further analysis of the EBIT margin as contributed by each segment to its ratio of capital expenditure proportion to asset proportion, allows us to determine if the firm is investing its capital in its most profitable segments. The following two charts clearly show this trend over a five-year period. Panels and Pulp & Paper are high margin businesses as compared to lumber. Although margins are lower in the lumber business, it drives 60% of WFTBF.PK's revenue, the company seems to have been investing appropriately in this business. Pulp & Paper is the next largest segment, with 25% of revenue. Indeed, the company seems to have enjoyed a high profit margin over the last five years. Historically, Pulp & Paper have attracted significant investment interest however lately the company seems to have diverted capital away from this business to the lumber segment. Although not an alarming situation, going forward WFTBF.PK cannot ignore investment in Pulp & Paper due to its significant contribution to the EBIT Margin.

Earnings Performance and Relative Valuations
The North American wood production industry is cyclical in nature, and has faced significant challenges over the last several years. However, recent macroeconomic indicators, such as improving housing starts, high unemployment rates, manufacturing, and consumer confidence all indicate an end to this downturn, bringing some good news for the lumber industry as well. This change in the business cycle is well captured in 2012 by 9% YoY jump in revenue, and the almost 120% YoY increase in Operating Profit (EBIT).

At the time of this writing, (July 30th, 2013), the stock price of WFTBF.PK was $91.96, which is trading substantially lower at a P/E (TTM) of 16.8, compared to industry P/E of 22.4 (source: S&P Capital IQ) and its own three year historical average of 29.6 indicates that the stock is significantly undervalued.
The chart below shows that West Fraser's EPS has been on the rise since March last year, which is also reflected in the share price during the same period, as documented in the following chart. However, the share price has not gone up at the same rate. Note that the dotted lines in the charts below are forward looking. The dotted green line in the chart below is an analyst's consensus EPS estimates for 2013 and 2014. The dotted yellow line is forward looking P/E based on the EPS estimates and current share price.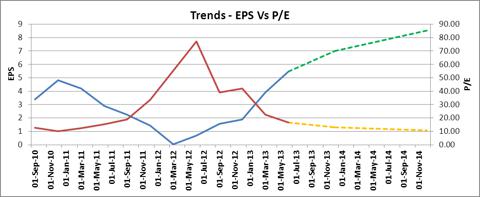 While the chart shows that the trailing EPS increased almost eight fold over the last year, this growth rate is not reflected in the trailing P/E ratio, although the share price has moved considerably over the same period.
Price/Sales and Price/Book values are still below the five-year historical average.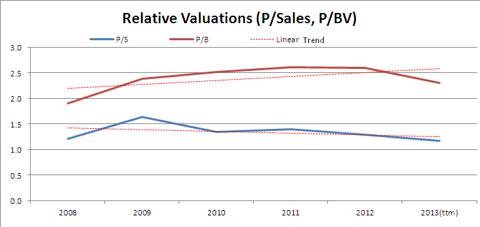 A quick look at comparable companies below also reveals that West Fraser is trading below its peer group average. Stella-Jones (OTC:STLJF) and International Forest Products both had quite a bit of run up over the last year. Canfor Corp. (OTCPK:CFPZF) performed in line with West Fraser while commanding a P/E of 22.56.


Technical Analysis Lens
Technically the chart is looking quite strong. Over the last year, the stock price had quite a bit of run up, consistently out-performing the S&P 500 with a wide margin, as shown below on the EOD chart. Resulting from the May-June mayhem, the stock found strong support around $77, and went significantly higher to around $91 within three weeks. The 50-day EMA is starting to diverge and move up away from the 100-day EMA. MACD is also in positive territory and is trending upward. RSI is close to 75, indicating significant strength in the move and Money Flow Index, and an upward trend indicating solid underlying buying pressure.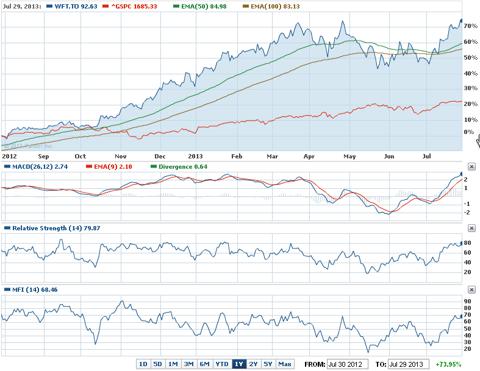 Investment Thesis
West Fraser is the largest scale, and lowest-cost lumber producer in North America. It also has leveraged pulp, plywood and newsprint.
Demand for wood products is increasing as the housing market is showing positive signs of growth.
Lumber and plywood prices are on the rise and the company is also showing strong growth in these businesses.
The company has a greater geographic lumber production footprint and access to new timber baskets.
China is another big consumer of lumber products. West Fraser is expanding aggressively in China as indicated by its increasing share of total revenue.
The company's Panels and Pulp & Paper divisions will be solid contributors going forward.
The company has strong fundamentals and the "right" strategy, which is reflected in its stock price with great upward momentum.
Disclosure: I have no positions in any stocks mentioned, and no plans to initiate any positions within the next 72 hours. I wrote this article myself, and it expresses my own opinions. I am not receiving compensation for it (other than from Seeking Alpha). I have no business relationship with any company whose stock is mentioned in this article.